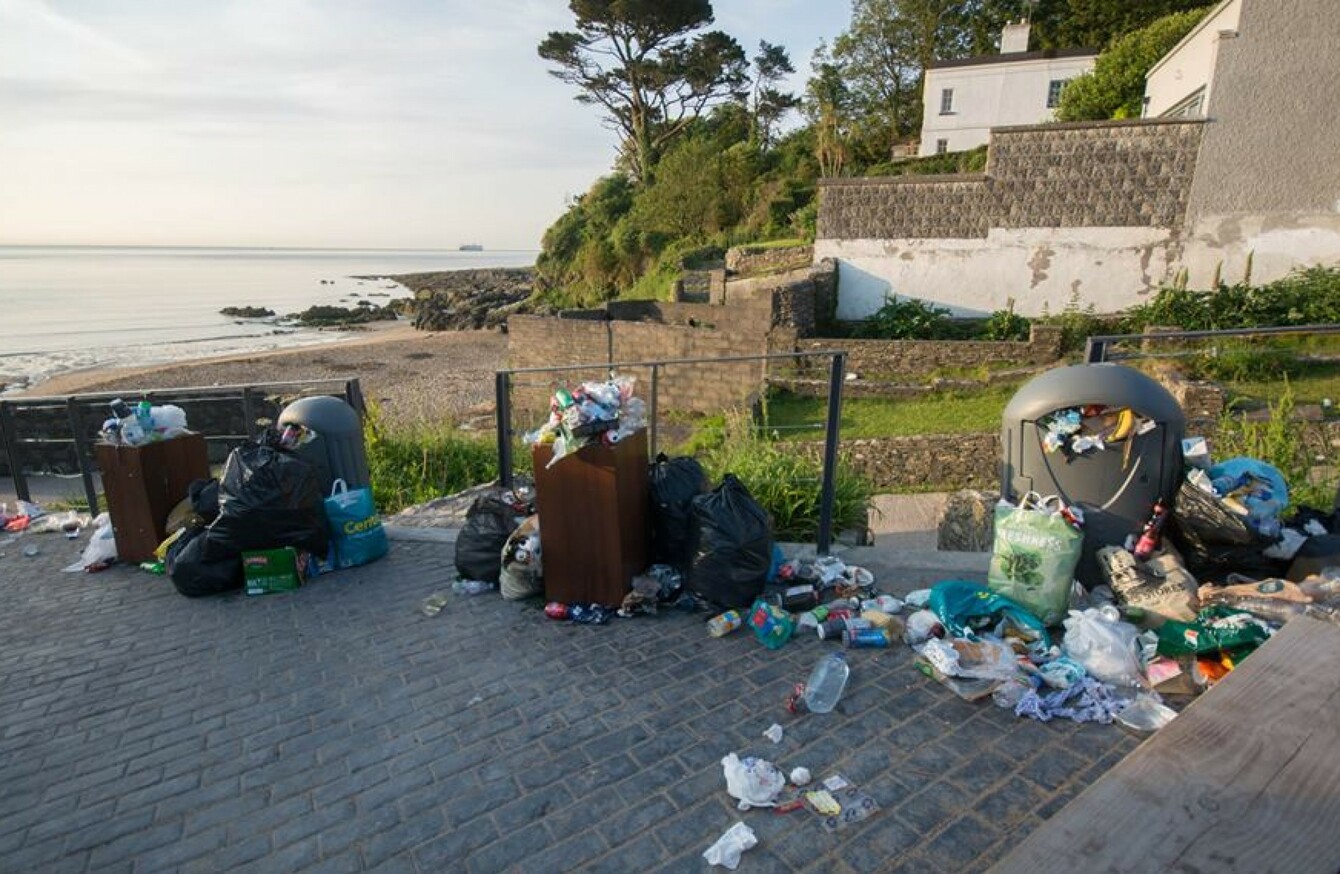 Image: Howard Crowdy/Carrig News
Image: Howard Crowdy/Carrig News
SOME BEACHES ACROSS Ireland were left in dire conditions after the warm weather this weekend.
One Cork photographer captured photos of rubbish left on a local beach this morning.
Images taken by Howard Crowdy of Myrtleville beach, 20km south of Cobh, Cork, show bins overflowing with rubbish, with items scattered along the walkways and sand.
Broken bottles, dirty nappies, discarded shoes, towels and backpacks were left behind by beachgoers.
Temperatures hit 26 degrees in some parts of Ireland over the weekend and the warm weather saw thousands take to beaches along the coasts to soak in the sun.
The scenes at Myrtleville beach this morning mirror the state of many beaches across Ireland after this weekend.
Local independent councillor Diarmuid O'Cadhla told TheJournal.ie: "Unfortunately, there are a certain minority of people who think they can be disrespectful and leave stuff behind them when they go out for a day and it's just not nice."
They should be ashamed of themselves.
"They wouldn't like a visitor to come to their front room and leave their rubbish behind and walk away, so why did they treat a public space in that manner?," O'Cadhla said.
"We have all probably heard stories about running across beaches and then all of a sudden someone steps on a broken bottle or a nail. It can be dangerous. It doesn't cost anyone anything to behave properly."
According to O'Cadhla, the issue was address at a Cork County Council meeting this morning, but no significant resolution was found.
An Taisce's Clean Coast organisation said that over 15 tons of marine litter was cleaned off Irish beaches at the start of June during the Coca-Cola Clean Coasts week, which encourages beach clean-ups.
"Seeing this destruction of stuck a stunning beach is terribly saddening especially as it follow a week where Clean Coasts programme engaged over 2300 volunteers helping to clean up their local beaches," Sinead McCoy, Coastal Communities Manager at Clean Coasts said.
"We would like to encourage as many people as possible to clean up and to take up the rubbish they have taken to the beach home with them."
Meanwhile, Fingal County Council took to Portmarnock beach in Dublin to clean up the weekend's rubbish this morning: