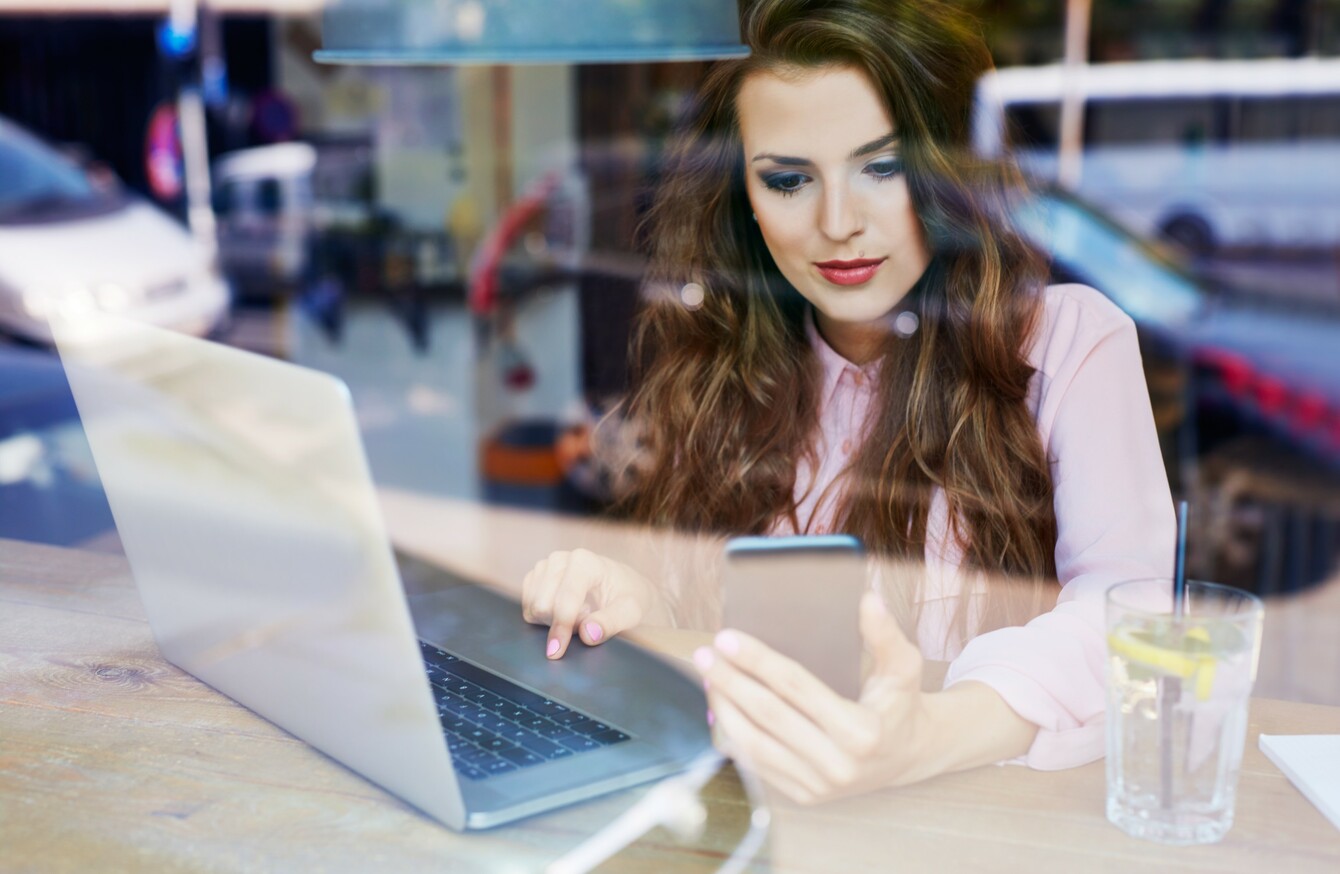 Image: Shutterstock/baranq
Image: Shutterstock/baranq
TOP IRISH BLOGGERS and social media 'influencers' can reportedly make up to €3,000 for posting just one Instagram photo – but transparency around money is increasingly being demanded by their fans and advertising watchdogs.
In recent years, the world of blogging has gone from a nerdy pastime to one that is seeing popular bloggers – known as 'influencers' – strike up relationships with brands.
These social influencers use multiple social media platforms, like Snapchat, Facebook, and Twitter – and the more popular the influencer, the wider their reach.
One of Ireland's top style bloggers, So Sue Me told DailyEdge.ie that a review of a product on her site can lead to it going "out of stock straight away".
A post by an influencer can get a product or brand name out to hundreds of thousands of followers.
But because of the fact that some bloggers and social media influencers were not disclosing their sponsored or advertising content, the Advertising Standards Authority of Ireland (ASAI) and Public Relations Institute Ireland (PRII) had to put new guidelines in place to boost transparency.
Money, money, money
Globally, brands have been able to capitalise on the power of influencers like big-name stars like Kendall Jenner, who reportedly gets paid between $125,000 – $300,000 per Instagram post. She has over 56 million Instagram followers.
In this recent post of hers, the hashtag #spon is all that shows readers that money changed hands for it:
A search of the hashtag #spon on Instagram this week brought up over 70k results – #sponsored brought up over 350k results and #ad brought up over 2.5 million posts.
Undoubtedly a certain percentage of these will belong to spam accounts, but not significant enough diminish these numbers.
Anonymous – and unverifiable – Tumblr blogs like Who Pays Influencers have also been documenting the large sums reportedly paid to social media stars across the Atlantic.
Here in Ireland, it's unlikely that bloggers are getting paid anything approaching the amount that Jenner is, but they can make very good money from sponsored content and brand relationships.
Some of Ireland's top bloggers are understood to charge brands between €1,500 and €3,000 per social media or blog post, insiders with knowledge of the business told TheJournal.ie.
In addition, some are understood to be members of an online affiliate scheme, meaning that items bought on their sites by readers using affiliate links would earn them money.
A media pack sent to TheJournal.ie for one successful Irish blogger who has been growing their business but is not yet in the above league showed that they ask brands for up to €500 for an Instagram post which would be cross-posted to two other social media sites; and up to €200 for a tweet.
Smaller bloggers can ask for €100 for a social media endorsement or competition-based blog post, with over double that charged for a feature.
It is understood that in some cases, brands can get the full analytic breakdown of the blogpost and social media engagement in return. Bloggers might also pay to boost the blogpost or video on Facebook.
It's important to note that this money is for a business transaction with a brand, which is commonplace in the blogging industry. It is these types of posts, where money changes hands in exchange for sponsorship or promotion, that need to be marked as 'sponsored' or 'ad' under ASAI guidelines.
Many PR companies send bloggers free items for them to review or feature if they wish – this is also common in the print and digital media worlds. Usually, money does not change hands for these products, and bloggers are not expected under this arrangement to give a favourable review, so the blogpost does not have to be marked as being sponsored or as an ad.
On the Irish blogs that TheJournal.ie looked at, when this situation occurred bloggers would disclose to readers that they had been sent the item by a company or brand.
Not every Instagram or blogpost that Irish bloggers post will have been paid for or will need to be marked as sponsored or as an ad.
"People can say whatever their figure is for one Snapchat story"
This rate card information recently did the rounds after being shown at a PR conference:
Blogger Sue Jordan of the long-running blog ItsCherrySue says that the above rate card is unlikely to be an actual rate card.
"That's just not the way bloggers work," she says of the appearance of the rate card. She also points out that it doesn't show what the blogger is offering, or the detail that goes into pitching for a campaign.
"It's up to every individual blogger and influencer to say what their [rate] figure is," she says. "It is a business transaction."
She says rates charged by influencers depend on the campaign and product, and what the client is looking for.
People can say whatever their figure is for one Snapchat story, their price will depend on how many snaps. Sometimes it's just a mention. I have spoken to people who have charged for just a mention – their justification is the amount of followers on Snapchat.
She says that bloggers leverage their number of followers across platforms to come up with their price.
Jordan says that since her first day introducing sponsored content, she has been totally transparent. "Blogging is basically self-regulated," she points out. She recently wrote about 'Snapchat backhanders', where people Snapchat a product but do not mark it as an ad.
"I wouldn't call out the people – I call out the practice," she says. "Your platforms are a very personal thing, but when it comes to transparency and when it comes to honesty, you are betraying them, the people who look up to you, and betraying the blogging community if you are not being transparent."
"I've put my sons through college by blogging"
She has recently begun a series advising newer bloggers. "There can be a little secrecy around blogging," she says, but believes in getting a conversation going, though she says that people should not feel forced to share their rates.
In addition, Jordan emphasises the amount of work that goes into blogging, from writing blogs to engaging with brands, scheduling social media posts and dealing with social media queries.
"It takes a lot of effort to make it look effortless," she says.
I've put both my sons through college through my blog. As a single mum, that's phenomenal. And [blogging is] so empowering for everybody.
"I have to be honest"
Caitríona Redmond writes Wholesome Ireland, a blog focusing on home-grown food, allotment growing, and budget shopping.
Redmond says that it is just a small segment of the community that makes good money from blogging.
She feels there has been somewhat of a "grey area" around brand collaboration in recent years. Her hope is that the ASAI guidelines will make things more transparent.
Redmond, who has been blogging for six years, has "always been transparent" and included if she has received an item from a company. She never receives payment for a review and over the last two years hasn't had sponsored content on her blog.
She has, however, received some remarks from people like "how much did you get paid to write this blog?" and "how much did you get paid to write this article?". This led her to put an open disclosure on her stance on her blog.
"I think there's a perception in the public that bloggers are making money, bloggers are receiving products for free," says Redmond. "I think that perception is damaging to the blog world as a whole."
I feel personally that if you put sponsored content on your blog or social media, that the level of trust your readers have goes down. If they see sponsored content popping up again and again they trust you less and are less inclined to read what you have to say.
It is a personal choice, says Redmond, but not one for her.
"For me it's more important that what I say is honest and true and I have to be honest and true to myself first," she says.
She often turns down event invites and offers because of her stance. "Because I'd rather not, I don't want to be influenced," she says.
Redmond advises bloggers to enter into a review agreement and set out their stance from the start with the PR or brand.
She says that it can be hard for food bloggers in particular not to accept invites to restaurants or events, as if you were a restaurant review blogger it would be difficult: "You'd need to have bottomless pockets".
Jordan agrees on this point, saying that it can be expensive for beauty bloggers to pay for products for review.
Do readers trust bloggers?
Irish magazine Stellar is aimed at young women and features bloggers in every issue. For its May issue it surveyed its readers – almost half of whom read blogs daily – on blogging.
It discovered:
74% have bought something based on a blogger's recommendation.
53% say Irish bloggers aren't transparent enough.
28% do not trust bloggers.
78% want bloggers to disclose income earned from their blogs.
81% want bloggers to disclose when they are given items for free.
70% don't mind bloggers doing sponsored posts
94% say bloggers should disclose when they are paid to mention a brand.
47% say that bloggers who do sponsored posts or collaborate with brands regularly are less authentic than bloggers who don't.
Editor Kirstie McDermott – who set up the award-winning beauty blog Beaut.ie with her sister Aisling McDermott in the mid-2000s (they no longer run the site) – says there is "a lot of disgruntlement" among Stellar readers about bloggers and advertising, and whether they are cheating their reader.
"I think we've moved away from what I would have considered to be blogging four to five years ago, and now it's all about online influence. That seems to be something that brands are tapping into," she says.
The issue for Stellar readers isn't about bloggers making money, says McDermott.
It's about them being honest about making money. It's not about them passing on something they are paid to recommend as something they like. People want bloggers to be more honest about what's going on their websites.
She thinks there is a disconnect between what people are reading and perceiving to be advertising, and what isn't.
"I think maybe because bloggers are doing this in isolation, maybe they feel if they don't say nice things they won't get other things," adds McDermott. "Maybe they feel under pressure sometimes, and I totally understand that."
"I'm a huge fan of sponsored content"
Freelance journalist Rosemary MacCabe runs her own blog and is very active across social media platforms like Facebook, Twitter, Instagram and Snapchat.
#Open journalism No news is bad news Support The Journal

Your contributions will help us continue to deliver the stories that are important to you

Support us now
"I used to think that commercial partnerships in some way took away from the authenticity of your content," she says. "But now, I feel like it doesn't need to detract from what you're producing. It can actually enhance what you're doing."
She is a "huge fan" of ads and sponsored content, and says that she would like to be at the point where she can make a living from her blog.
"The only way to do that is to get paid for producing that content, whether that's in the form of advertising or in the form of sponsored content," she says.
She says that a lot of brands, traditional media companies and buying agencies in Ireland "are stuck in a very 'old' way of doing things", which can lead to "a sponsored post that reads and looks exactly like an old-school advertorial, which I just don't think works online".
She says the ASAI guidelines "would be helpful, if they were enforced. Right now, they're kind of airy-fairy."
MacCabe says that some bloggers are disclosing sponsored content and others aren't, which can be confusing for readers.
Those who are disclosing are somehow seen to be selling out, and their recommendations are taken less seriously, because, "oh, she's getting paid for it", while those who aren't disclosing are still seen as mega trustworthy.
She sometimes gets asked if she has been paid or been sent an item for free. "I always answer honestly, sometimes privately or, if a few people have asked it, I'll address it in a snap or a post," says MacCabe.
Does she think blog readers understand the difference between reviewing an item sent by a PR agency, and a blog post that contains sponsored content?
"No, not really – I think, for the reader, they think a freebie is a freebie and is worth money, and therefore, is the exact same as being paid," she says.
Now, I always disclose if I've been sent something, or have been paid to speak about it.
She says that she is taken aback by PR or brand requests "all the time",  but has good relationships with the PR companies she works with.
I'll be asked to do a blog post and two Instagram posts, for example, on x brand in exchange for one piece of product – even if it's something really expensive, that's just so cheeky.
If you want guaranteed coverage, you can pay for it; I never guarantee coverage or a review in exchange for coverage, with the very odd exception. I've been to hotels or for massages, for example, that have been offered for free, and have told them I'll give them some "social media love". It's usually when someone's done me a favour, or it's a new business or hotel that's opened up. I consider that like a barter system, really – and that, I don't disclose.
She says that when it comes to being honest about a product, she doesn't "prioritise being in people's good graces".
"I think a lot of bloggers kind of skirt around this issue by saying that their blog and social media accounts are 'positive' places, and that they only cover items that they truly love, but honestly I think that's a bit of a cop-out," she says.
I would rarely write a whole blog post about something I disliked, because it takes a lot of time… but I would frequently post on Snapchat saying, 'I got sent this, and isn't it a bit rubbish?' I think it's important to show that we can be critical.
Trust and transparency
When money changes hands, the issues of trust and transparency become key, particularly when fans of bloggers and influencers go and spend their own money on recommended products.
The Advertising Standards Authority of Ireland (ASAI) and Public Relations Institute Ireland (PRII) are two bodies who advise on transparency.
"The ASAI code has always had rules around recognisability [of ads]," says Orla Twomey of the ASAI.
When brands pay or renumerate someone to say nice things about their brand, [the blogger is] acting as the publisher and they need to tell people it is a marketing communication.
The ASAI is not saying people need to curb sponsored or advertising posts, but to make sure they are clearly marked – which is why you'll see some people on Snapchat tag their videos or images with #ad.
"Each blogger or influencer has to look at 'what am I saying, what is my relationship with the brand, and what is appropriate at this stage?'" advises Twomey.
So far, the ASAI hasn't had any complaints about bloggers and advertising, but it has had a number of queries, says Twomey.
"Transparency is so important for bloggers and brands, because it builds trust," she adds. "It's [also] about ensuring that consumers know in advance when they are being advertised to. That's the rule of the code."
The Public Relations Institute of Ireland (PRII), which has 1000 members in Ireland, recently released its own guidelines for PR companies engaging with social media influencers.
It advises: "When engaging with influencers, it unethical and illegal [their emphasis] to pay for space, endorsement or positive comment without that being clearly declared as such. Fundamentally, the principles of engagement with traditional media, also hold true for social media influencers."
Failure to comply with the PRII's code of ethics could result in disciplinary action, though none has been taken since the updated guidelines were released in the past two months.
Following the money
It's clear from the bloggers that we spoke to that whether they carry sponsored content or not, they want to be transparent.
They also make it clear that they feel being paid for blogging isn't "money for nothing", and that blogging and social media engagement requires a lot of work.
However, it's also clear that they realise not every blogger adheres precisely to the ASAI's code – and it may be difficult in some instances, such as on Snapchat (where 'stories' or snaps disappear after 24 hours) to enforce the guidelines.
For now, readers are depending on their favourite bloggers and social media influencers to stay honest – but it might also interest them to know how much money is behind that Instagram post.