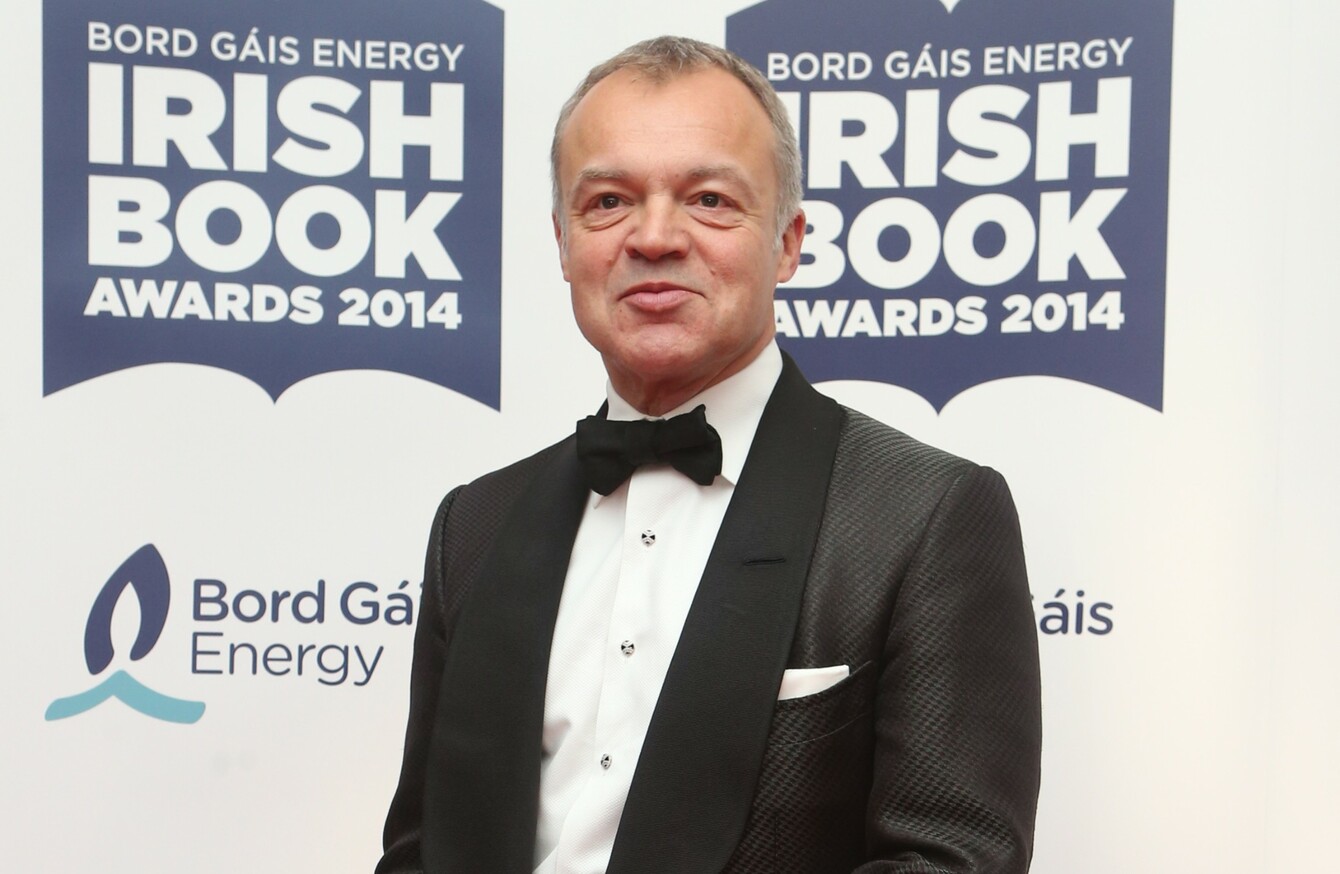 Updated 2pm
THE BORD GÁIS Energy Theatre was a who's-who of the Irish literary world today as the nominations for the 2016 Irish Book Awards were unveiled.
From first-time authors like Kathleen Watkins to established names such as Paul Howard (who's venturing onto a new path with his book I Read the News Today, Oh Boy), the nominees gathered to toast a successful year in Irish publishing.
While a team of judges will now get to work in determining who should win each category, the public are also able to vote for their favourites on the awards website.
At the launch of the nominations today, we caught up with some of the featured authors. They included Donal Ryan, who is nominated in two categories for his latest book, All We Shall Know.
"There's been a bit more buzz about this book before it came out than the previous books," he told TheJournal.ie. "I think the premise itself is a bit more explosive than my other premises."
Telling the story of a woman who's pregnant with a teenage Traveller boy's son, the book steps things up a gear for Ryan. "I never really considered it a risk until afterwards," he said. "I don't normally wilfully take risks – it didn't occur to me, I just tried it."
Nominated in the Avonmore Cookbook of the Year category are healthy foodies the Happy Pear twins and Indy Power. "It's very surreal," said Power. "I wasn't expecting it at all obviously so I am very excited just to be here, it's amazing."
She said that as a teenager she planned to become a doctor, but changed her mind and went on to study business. Now she works for herself.
"I think I'm definitely the kind of person where I have to love it to do it properly," she said. "It is just the dream job."
The Happy Pear brothers David and Stephen Flynn were as full of energy as always. When we inquired about whether they ever get any downtime, they told us they "don't have too much time to stop" and it's on to the "next adventure, next project, full steam ahead".
"It's really natural and then it's very fulfilling," said David of their lifestyle. "I think the difference in doing something you're engaged in and really fulfilled by, you get so much reward from, I think you probably don't need that much sleep."
Added Stephen:
We started the Happy Pear to start a happier healthier world and I think if we don't live it and embody, it then how can we try to encourage others to be part of it?
He said that it is really important to the brothers that as their business grows they "take time to be centred and time to really genuinely feel healthy and happy in ourselves".
Dave Rudden's first novel, The Knights of the Borrowed Dark, is nominated in the Specsavers' Children's Book of the Year (senior) category. He is currently working on the final of his three books in the series, and said the past year has been "really amazing".
"Its been wonderful, I can't believe that it's happening, I really can't," said the young author.
"[Fans] seem to really like it and that's all I care about because you can't know how your audience is going to take it. I would never presume to put myself in the heads of kids and guess they would really like it. There have been some lovely little moments – the book is quite new but kids are coming up with the book ripped to pieces and coming apart and saying they read it a few times. And I'm like 'that's me!' because that's what I used to do with books."
Another book nominated in the same category is Anna Carey's The Making of Mollie, about a young girl who discovers her older sister is a suffragette.
"It feels really lovely, especially because it's a really different sort of book, my previous books were set in the 21st century and this is set in 1912," said Carey of her nomination. "It felt like a gamble when I was writing it so it's absolutely lovely to be on the list – and especially as it's such a good shortlist."
I think every writer when you write something you're not thinking of a reader the whole time, but you're ultimately writing it for someone else to read, and to get any acknowledgement of that is just really nice. And it makes you feel slightly better spending a lot of time sitting in a shed as I was and writing something that you weren't sure would work.
One of the debut writers in the room was Kathleen Watkins, whose book Pigín Goes to Howth is nominated in the Specsavers Children's Book of the Year (Junior) category.
"It's astounding," she told TheJournal.ie. "I mean I'm surprised; in no way did I expect what happened really, and they're sold out so they have to do another print. It's astonishing. I'm meeting all these lovely book people, it's such a joy to be around people who know and love books. To think that my own little book is out there is so exciting."
Watkins said she's had huge support from her family, including husband Gay Byrne, and is enjoying the reaction young readers are having to the story of Pigín.
"People are telling me children love it, they have to have it every night, they have it under their pillow," she said. "They are asking questions about Pigín, is he real, does he really go on the Dart? He does go on the Dart, he's on the Dart every day…"
It's lovely to be nominated, that's an amazing thing that happened because I never considered myself a writer, I still don't, but it's all happening and here we are. That's life, isn't it – what's around the corner we just don't know.
Now in its 11th year, the Bord Gáis Energy Irish Book Awards was founded to celebrate and promote Irish writing. Hundreds of books were submitted for consideration this year and the public can cast their votes on the best books of the year online on the Bord Gáis Energy Irish Book Awards website.
Votes can be cast until midnight on 11 November 2016 and the winners will be announced at the awards ceremony in Dublin's Double Tree by Hilton Hotel on Wednesday 16 November.
TheJournal.ie is proud to sponsor the Best Irish Published Book award, with the category featuring everything from poetry to photography.
Larry McHale, Bord Gáis Energy Irish Book Awards chairperson, described the awards as "the flagship event for the Irish book industry".
This year's awards will also see novelist Jilly Cooper being honoured with the Bord Gáis Energy International Recognition award.
"This is the most heavenly compliment I've ever received," said Cooper. "I've always adored Ireland and love so many Irish writers, I cannot believe the Bord Gáis Energy Irish Book Awards have singled me out for this honour. I love any excuse to come back to Dublin and the ceremony sounds like a fantastic party."
Bord Gáis Energy Irish Book Awards 2016 Shortlist
Eason Novel of the Year
All We Shall Know – Donal Ryan (Doubleday Ireland)
Days Without End – Sebastian Barry (Faber & Faber)
Solar Bones – Mike McCormack (Tramp Press)
The Lesser Bohemians – Eimear McBride (Faber & Faber)
The Wonder – Emma Donoghue (Pan Macmillan/Picador)
This Must Be The Place – Maggie O'Farrell (Tinder Press)
The Journal.ie Best Irish published Book of the Year
All Through the Night – Edited by Marie Heaney (Poetry Ireland)
Dublin since 1922 – Tim Carey (Hachette Books Ireland)
Looking Back: The Changing Faces of Ireland – Eric Luke (The O'Brien Press)
Modern Ireland in 100 Artworks – Edited by Fintan O'Toole (Royal Irish Academy)
The Invisible Art: A Century of Music in Ireland 1916-2016 – Michael Dervan (New Island Books)
The Glass Shore – Sinéad Gleeson (New Island Books)
Sunday Independent Newcomer of the Year
Himself – Jess Kidd (Canongate Books)
Red Dirt – E.M. Reapy (Head of Zeus)
The Last Days of Summer – Vanessa Ronan (Penguin Ireland)
The Maker of Swans – Paraic O'Donnell (Weidenfeld & Nicolson)
The Things I Should Have Told You – Carmel Harrington (HarperCollins)
This Living and Immortal Thing – Austin Duffy (Granta Books)
National Book Tokens Nonfiction Book of the Year
I Read The News Today, Oh Boy – Paul Howard (Picador)
Ireland The Autobiography – John Bowman (Penguin Ireland)
The Hurley Maker's Son – Patrick Deeley (Doubleday Ireland)
The Supreme Court – Ruadhán Mac Cormaic (Penguin Ireland)
Time Pieces: A Dublin Memoir – John Banville & Paul Joyce (Hachette Books Ireland)
When Ideas Matter – Michael D. Higgins (Head of Zeus)
RTE Radio One Ryan Tubridy Show Listener's Choice
Lying In Wait – Liz Nugent (Penguin Ireland)
Conclave – Robert Harris (Hutchinson)
Dictatorship: My Teenage War With OCD – Rebecca Ryan (On Stream Publications Ltd)
All Through the Night – Edited by Marie Heaney (Poetry Ireland)
All We Shall Know – Donal Ryan (Transworld Ireland)
Victim Without A Face – Stefan Ahnhem (Head of Zeus)
Listowel Writers' Week Poem of the Year
In Glasnevin – Jane Clarke (From: The Irish Times)
Patagonia – Emma McKervey (From: The Compass Magazine)
Suppose I Lost – Andrew Soye (From: Abridged Magazine)
Love / Hotel / Love – Michael Naghtan Shanks (From: Poetry Ireland Review)
Specsavers Children's Book of the Year (Junior)
A Child of Books – Sam Winston and Oliver Jeffers (Walker Books)
Goodnight Everyone – Chris Haughton (Walker Books)
Historopedia – Fatti and John Burke (Gill Books)
Pigín of Howth – Kathleen Watkins (Gill Books)
Rabbit and Bear: Rabbit's Bad Habits – Julian Gough & Jim Field (Hachette Children's Group)
Rover and the Big Fat Baby – Roddy Doyle (Pan Macmillan)
Specsavers Children's Book of the Year (Senior)
Knights of the Borrowed Dark – Dave Rudden (Puffin)
The Book of Shadows – E.R. Murray (Mercier Press)
The Making of Mollie – Anna Carey (The O'Brien Press)
Needlework – Deirdre Sullivan (Little Island Books)
Nothing Tastes As Good – Claire Hennessy (Hot Key Books)
Flawed – Cecelia Ahern (HarperCollins Children's Books)
Avonmore Cookbook of the Year
Recipes For A Nervous Breakdown – Sophie White (Gill Books)
The World of The Happy Pear – Stephen and David Flynn (Penguin Ireland)
Natural Born Feeder – Roz Purcell (Gill Books)
The Little Green Spoon – Indy Power (Ebury Press)
Neven Maguire's Complete Family Cookbook – Neven Maguire (Gill Books)
The Brother Hubbard – Garrett Fitzgerald (Gill Books)
Irish Independent Popular Fiction Book of the Year
Game of Throw-Ins – Ross O'Carroll-Kelly (Penguin Ireland)
Lyrebird – Cecelia Ahern (HarperCollins)
Rebel Sisters – Marita Conlon-McKenna (Transworld Ireland)
The Girl From The Savoy – Hazel Gaynor (HarperCollins)
The Privileged – Emily Hourican (Hachette Books Ireland)
Holding – Graham Norton (Hodder & Stoughton)
Ireland AM Popular Nonfiction Book of the Year
Adventures of a Wonky-Eyed Boy – Jason Byrne (Gill Books)
Fat Chance – Louise McSharry (Penguin Ireland)
Making It Up As I Go Along – Marian Keyes (Michael Joseph)
Pippa – Pippa O'Connor (Penguin Ireland)
Talking to Strangers – Michael Harding (Hachette Books Ireland)
Mr. Pussy: Before I Forget to Remember – Alan Amsby/David Kenny (New Island Books)
Bord Gáis Energy Sports Book of the Year
Blood, Sweat & McAteer – Jason McAteer (Hachette Books Ireland)
Coolmore Stud, Ireland's Greatest Sporting Success Story – Alan Conway (Mercier Press)
My Life in Rugby – Donal Lenihan (Transworld Ireland)
Out of Control – Cathal Mc Carron (Simon & Schuster)
The Battle – Paul O'Connell (Penguin Ireland)
Win or Learn – John Kavanagh (Penguin Ireland)
Writing.ie Short Story of the Year
Here We Are – Lucy Caldwell (Faber&Faber)
K-K-K – Lauren Foley (Ol Society – Australia)
The Visit – Orla McAlinden (Sowilo Press)
Green Amber Red – Jane Casey (New Island)
The Birds of June – John Connell (Granta Magazine)
What a River Remembers of its Course – Gerard Beirne (Numero Cinq Magazine)
Books Are My Bag Crime Fiction Award
Distress Signals – Catherine Ryan Howard (Atlantic Books (Corvus)
Little Bones – Sam Blake (Bonnier Zaffre)
Lying In Wait – Liz Nugent (Penguin Ireland)
The Constant Soldier – William Ryan (Mantle)
The Drowning Child – Alex Barclay (HarperCollins)
The Trespasser – Tana French (Hachette Ireland)
This year, anyone who casts their vote on the www.bgeirishbookawards.ie website, will be in with the chance of winning a €100 voucher from National Book Tokens.