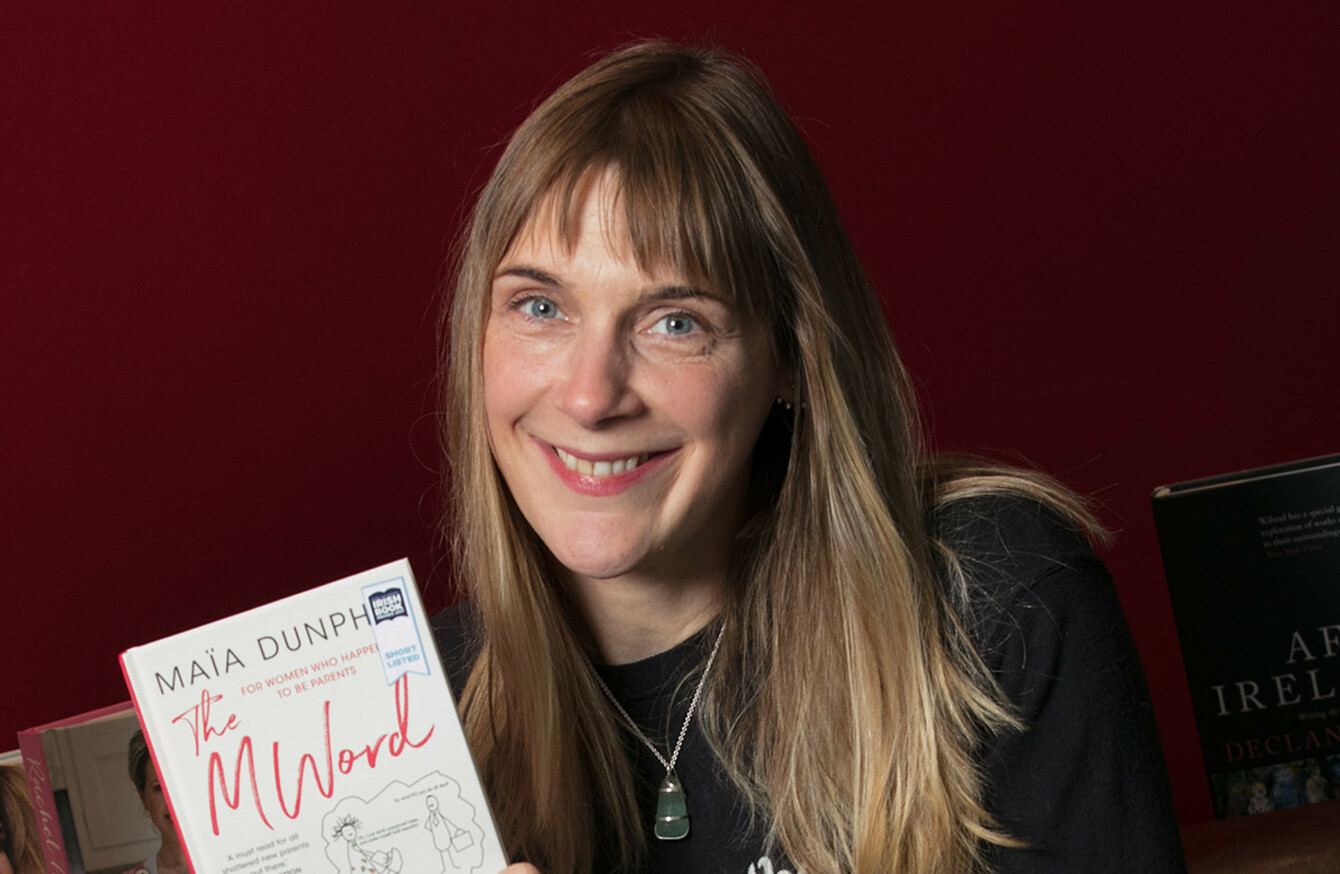 Ruth Fitzmaurice at the launch of the nominations for the Irish Book Awards.
Image: Patrick Bolger
Ruth Fitzmaurice at the launch of the nominations for the Irish Book Awards.
Image: Patrick Bolger
WHEN RUTH FITZMAURICE wrote about the 'tribe' of people she met swimming in Greystones, a tribe who had helped her through the ups and downs of her life – which has included her husband being diagnosed with Motor Neurone Disease – she perhaps thought it was a one-off.
But the essay, published in the Irish Times, was so beautifully-written and captured her situation so well that it touched readers deeply – and it led to the publisher Random House asking her to write a book.
That book, I Found My Tribe, details how Fitzmaurice (a mother of five) found solace, fun and laughter with a group calling themselves the Tragic Wives' Club, who discovered throwing themselves into the freezing sea can be a balm for the soul.
Sadly, Simon Fitzmaurice died at the age of just 43 on 26 October. The filmmaker's funeral was held last Saturday, and was filled with mourners who wanted to pay tribute to his spirit, energy and love for life.
Award nominee
On Thursday morning, it was announced that Ruth was nominated for an Irish Book Award, in the Sunday Independent Newcomer of the Year category. At the event, she generously gave her time to TheJournal.ie to talk about the nomination and how she found her voice as a writer.
"As surreal as my life is in general, to be honest with you, it was 'oh yeah another mad thing's happened'," she joked of the nomination. Asked why she thinks people connected with the book so much, she said:
"I think it's a combination of circumstance, and I think that thing they talk about, finding your voice as a writer. Ironically it was the tragedy or the harsh circumstances we were living with, it just channelled everything and it was really important – the writing just came out, it was raw inside me."
Ruth is very open about how her life has contained some crushing blows, but some beautiful highs too – and it seems she can always find light in the darkness.
"It's always been the way for me that the good stuff and the bad stuff coincide, and it's just that idea that out of the worst times of your life you discover a measure of who you are and what you're made of," she said. "And I think that's how my writing voice came out because it's what I was made of."
But even though her talent as a writer was immediately obvious to anyone who read that first essay, she still suffered the nerves of making her work public and wondering what people would think.
"It's nice when you put it out there and people go 'oh we like it'. You go: 'Oh they like me, they really like me'," she smiled. "I'm lucky people weren't really mean to me, so I'm grateful for that."
Much of I Found My Tribe was written in 'real time', said Ruth, but some came from earlier writing in her diary.
"I'd been writing just journal entries in my diary so it all came from that," she said. "It was a real intense process really, it flowed very well, there wasn't very much editing involved at all. The chapters were just coming out of me.
"And by the end of the book I was just writing in real time, I didn't know how it was going to end but then the moon swim happened and all of that. So it was weird, life and the book were coinciding; I was sending chapters off week by week as things were happening to me – it was very strange, it all just came together."
At the moment, she's working on the script to I Found My Tribe with Element Pictures, which she says is a whole new thing for her – though she worked with Simon on his own films.
"I'm kind of winging it a bit but I've got lots of help and it's exciting, it's nice to do, it's a much more collaborative process than sitting in your friend's kitchen when the kids are at school manically typing away," she said. "I'm really enjoying it. It's kind of Simon's world, movies, so I would have helped him with his scripts through the years so it's not completely alien to me, that world."
She was keen from the get-go to be involved. "I felt if they were going to do it that I'd like to be involved. Just the script to be what it should be, and I'll give it a go," said Ruth.
"And this seems to be the way things happen, things come along and I say yes. I have a problem with saying no. It gets me in a lot of trouble, but anyway."
The Bord Gáis Energy Irish Book Awards 2017 take place on Tuesday 28 November. The public are being asked to cast their votes online for the best books of the year on the Bord Gáis Energy Irish Book Awards website. You can cast your votes until midday on Thursday 23 November.