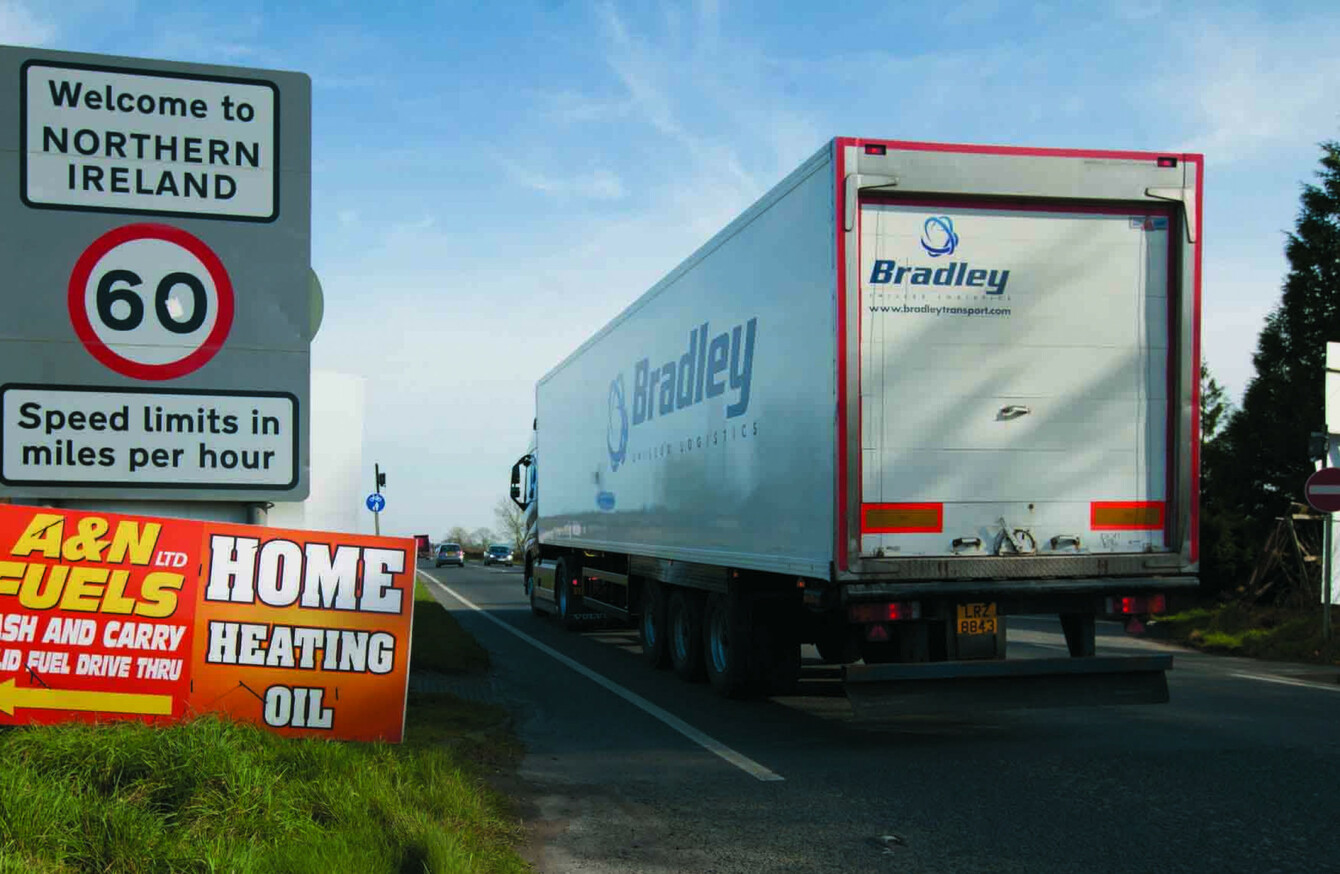 THE EUROPEAN UNION has been working on estimations for what different types of borders for the island of Ireland could cost, TheJournal.ie understands.
Preparations are underway for a number of scenarios that could have been caused by Brexit, including a 'Norway plus model' border and a 'no deal' scenario, which would mean a hard border would automatically go up on the island of Ireland.
A "Norway plus model" would involve infrastructure on the border but would use technology to ensure that it wouldn't disrupt the movement of people. A no deal or hard border scenario would likely involve checkpoints and border police.
Although officials from Ireland and the EU don't like speculating on the likelihood of a no deal scenario, one official said that the chances of it happening "are not zero".
When asked about whether the Irish government had estimations on how much an Irish border would cost, a spokesperson for the Department of Foreign Affairs said:
"In December's joint report of EU and UK negotiators, the UK gave a guarantee that a hard border, including any physical infrastructure and associated checks and controls, will be avoided.
The EU's focus is now on reaching an agreement with the UK on the legal text in the EU-UK withdrawal agreement which implements this guarantee and provides absolute certainty unless and until another solution is found through the EU's future relationship with the UK.
It's been a tense few months for those involved in Brexit talks; May's team has yet to put forward a practical solution that would allow the UK to leave the single market and the customs union, but would avoid an Irish border. So far, the two suggestions put forward have been dismissed by Europe as unworkable.
One of those suggestions was that technology could be used to track the goods that cross the border; UK Foreign Secretary Boris Johnson recently cited people's ability to tag Oyster cards on and off at train stations as ways of tracking people's movements. But the EU has said that technology hasn't yet been invented to track goods and products.
Last week Finance Minister Paschal Donohoe said that 12 Revenue staff "are dedicated to Brexit work full-time"; included in this is examining the range of scenarios that Brexit could produce and updating its IT systems.
But more detailed information on what Irish border Brexit preparations are being done is being closely guarded by officials due to sensitivities in Brexit negotiations.
This is crucial timing in those talks – the two sides have until October before they're scheduled to vote on the final Brexit deal. Of all the issues that need to be debated, around three-quarters have been agreed upon – but the final issues are considered to be the ones most difficult to overcome.
The trade arrangement between the EU and the UK must also be finalised after it officially leaves in March 2019.
Tomorrow the President of the European Commission Jean-Claude Junker will visit Dublin to discuss Brexit with Taoiseach Leo Varadkar ahead of next week's European Council summit. He will be accompanied by Phil Hogan, EU Commissioner for Agriculture and Rural Development, and Michel Barnier, the EU's Chief Negotiator for Brexit.