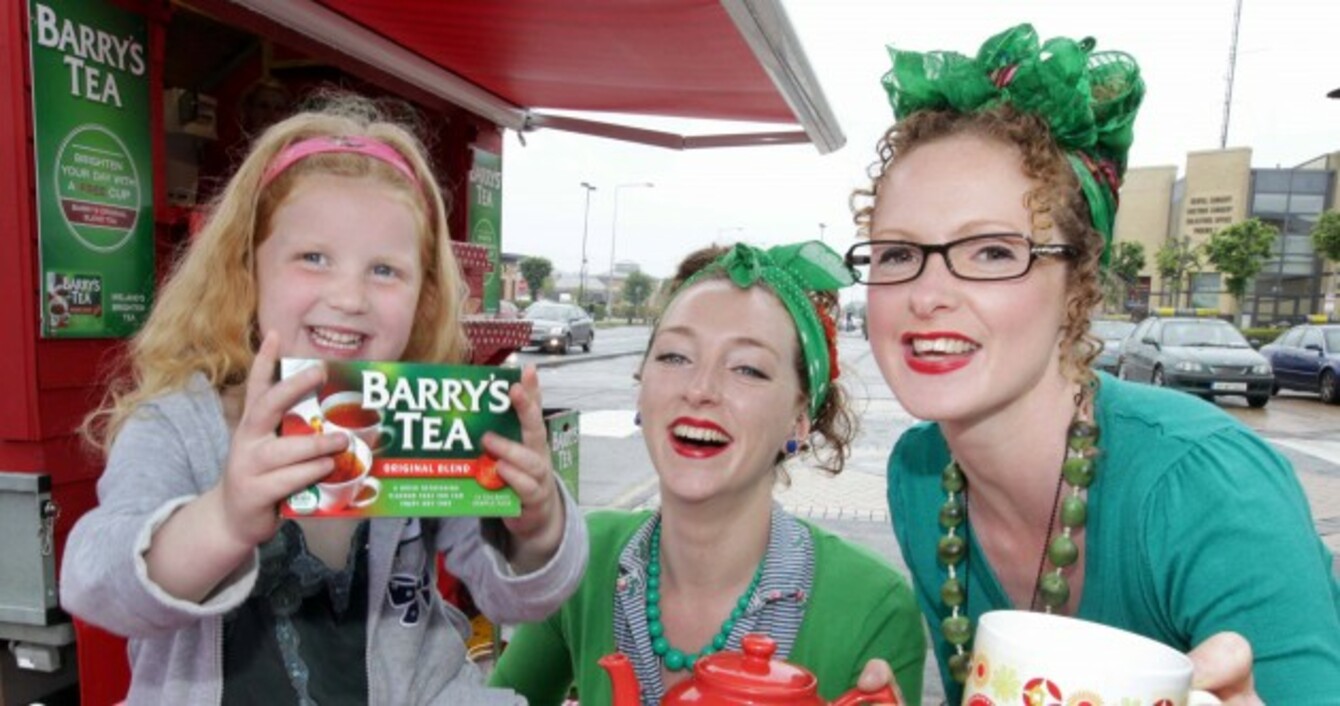 Yes, Barry's Tea is still Irish
Image: Mark Stedman/Photocall Ireland
Yes, Barry's Tea is still Irish
Image: Mark Stedman/Photocall Ireland
MANY ICONIC IRISH brands remain true to their roots and are still being made in their home country – although often they rely on imported ingredients for the final product.
Yesterday TheJournal.ie looked at the growing number of well-known Irish brands which are now in the hands of multinationals and are being manufactured offshore.
But lobby group Love Irish Food also has an extensive list of member brands whose products are made in Ireland – and whose products carry its logo in the absence of mandatory country-of-origin labelling for food and drink items.
Its recent survey found 95% of local consumers supported source labelling on all grocery products, not just on fresh produce like meat and fish.
Executive director Kieran Rumley said the basic criteria for products to carry the Love Irish Food branding was that 80% of its value had to be produced in Ireland using locally-sourced ingredients "where possible".
There will obviously be exceptions where a product's raw material is not available here in Ireland," he said.
That covers Love Irish Food-endorsed coffee and tea products, for example, although Rumley added that the key processes for those goods – the roasting and blending procedures – would still have to be done locally.
The group said over €3 billion was being spent on food and drink imports each year in Ireland, while 300,000 people were employed either directly or indirectly in the domestic agri-food industry.
So what IS still made in Ireland?
While Lyons Tea was bought out by Anglo-Dutch consumer goods giant Unilever in 1996 and now manufactures its products in the UK, main rival Barry's Tea is still blended in Cork – although the raw product is sourced in Africa and India.
Avonmore, which merged with Waterford Foods in 1997 and later became Kilkenny-headquartered global food group Glanbia, sources all its dairy products from Irish farms and makes them in various local factories.
Similarly, Avonmore's soups are made in Kilkenny City, while another Glanbia brand, Kilmeaden Cheese, is also made in Ireland, although production has been shifted from its namesake town to Ballragget in Co Kilkenny.
Meanwhile, Glanbia has become an international food player and is listed on both the Irish and London stock exchanges, and has joint ventures in the US, UK and Africa.
Water, burgers and coffee
When it comes to water, one of Ireland's biggest brands, Deep RiverRock, was introduced to the island by parent company Coca-Cola in 1994 – but the water is sourced and bottled in Northern Ireland's Co Antrim.
In contrast, Ballygowan's water comes from a spring next to its Co Limerick factory – where the product is also bottled – although the brand is owned by UK company Britvic, which inherited the label when it bought out C&C Soft Drinks in Ireland.
Home-grown fast food chain SuperMac's has also signed up to the Love Irish Food campaign and sources all its meats from Irish farms – but beyond that, it only guarantees to use "quality Irish product whenever possible".
The company's beef burgers and breakfasts carry the Irish branding, while other products like its processed chicken and fries don't.
Robert Roberts has been roasting its coffee in Dublin for over 100 years and its teas are also blended in the capital although, no big surprises here, the ingredients are again imported.
Valeo Foods, the same Anglo-Irish firm which manufactures Irish brands Fruitfield and Jacob's Biscuits offshore, bought Robert Roberts from DCC Food & Beverages only a few months ago.
A full list of Love Irish Food-endorsed products can be found on the group's website.