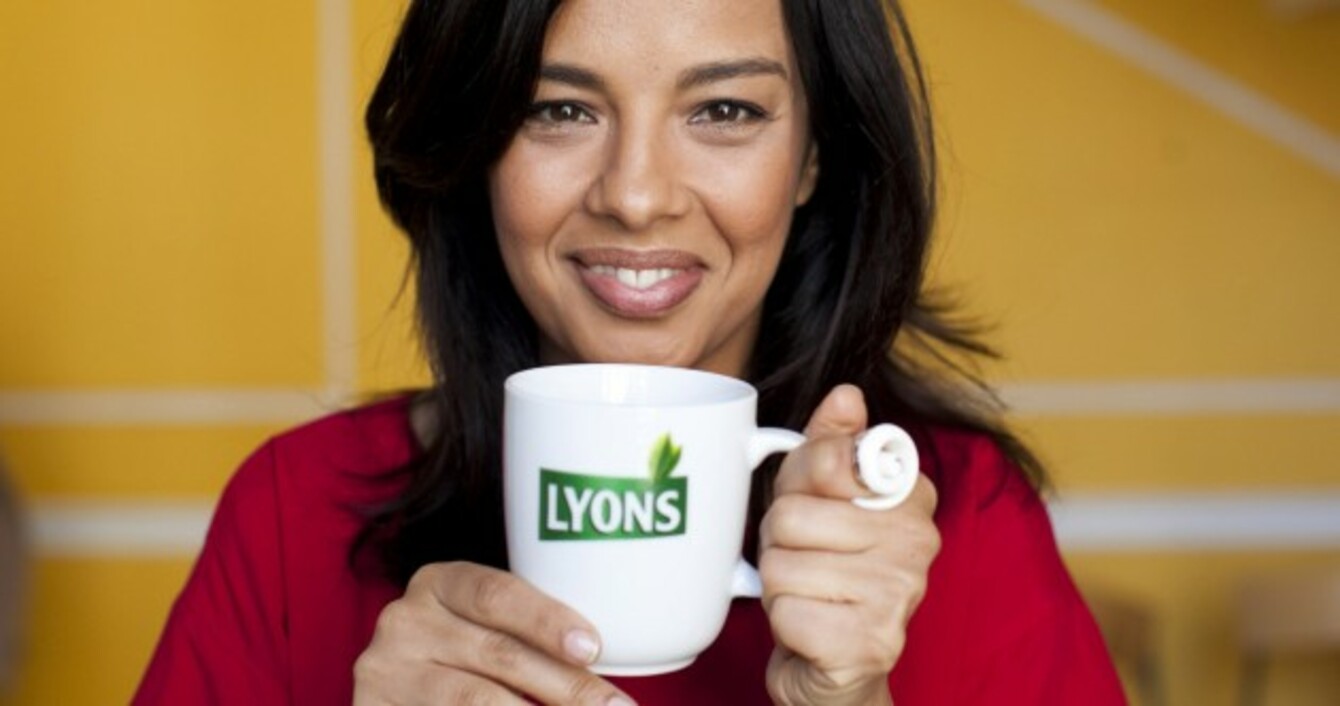 TV presenter Liz Bonnin plugs Lyons Tea's "bring the talk home" promotion last year
Image: Leon Farrell/Photocall Ireland
TV presenter Liz Bonnin plugs Lyons Tea's "bring the talk home" promotion last year
Image: Leon Farrell/Photocall Ireland
THEY MARKET THEMSELVES as some of Ireland's "best-loved brands", but many household names like Lyons Tea and Siúcra sugar now have little more than historic ties to the Emerald Isle.
The products are among a string of brands that lobby group Love Irish Food says consumers wrongly think are locally-made.
Other well-known products on the list include HB Hazelbrook Farm Ice Cream, named after the Rathfarnam farm where the business was started nearly 100 years ago.
Multinational grocery giant Unilever bought the brand in 1973 and now manufactures the product in one of its UK factories.
Fruitfield Old Time Irish marmalade, despite its name, is made in the UK by its Anglo-Irish parent company Valeo Foods.
The manufacturing for another Valeo-owned brand, Jacob's Biscuits, has also been taken offshore to several European countries (although the company wouldn't tell us where).
Consumers want to know the source
Love Irish Food executive director Kieran Rumley told TheJournal.ie consumers wanted to know where their food came from and the rules about source labelling which applied to products like beef should be extended to all groceries.
"It gives shoppers the information they need to decide if they want to keep buying food from a particular country," he said.
They want to know where their fish comes from and where their meats come from, why shouldn't that expand right through to branded and own-label groceries?"
Love Irish Food's survey of 1,000 domestic shoppers found 95% wanted "country-of-origin" labelling on all groceries and drinks, while 87% tried to buy local products when they could.
Over €3 billion in food and drink products are imported into Ireland each year, but Rumley said most brands didn't voluntarily state the source of the item.
The Cully & Sully story
Cully & Sully's soups and hot pots have been an Irish success story since the company was started in 2004 using recipes from co-founder Cullen "Cully" Allen's native Co Cork.
Source: AV3 Productions Youtube/YouTube
However the company, which was sold for about €10.5 million to US firm Hain Celestial last year, recently shifted its food manufacturing to the UK where its owner already has significant operations.
Allen said that personally he liked to know the origin of his food, but as a businessman he had taken a necessary step to get investment and see his enterprise grow.
"We are now selling in Belgium and we are looking to be selling soon in France and probably the UK – and we are an Irish brand which uses a lot of Irish ingredients, we fought hard for that," he said.
We tried (to) expand three times and foundered. We are, relatively, such a small island compared to England and the rest of Europe."
Allen said food provenance was "very complicated" for groceries because many products, like tea, might be manufactured in Ireland but all of the ingredients were still sourced overseas.
Not so Irish after all
Lyon's Tea
History: Started out as a family business in Dublin's High Street in 1902. Bought out by Anglo-Dutch grocery giant Unilever in 1996
Made: UK
Siúcra sugar
History: Began life as Irish Sugar in 1926, but the brand was later given the name Siúcra (Irish for sugar) to make it stand out. The company was privatised as Greencore before German refiner Nordzucker bought the brand in 2009
Made: Germany, the UK and other European countries
Jacob's Biscuits
History: Started at Waterford in 1851 by brothers William and Robert Jacob. Later became part of the Jacob Fruitfield group before being bought out by major Irish food firm Valeo Foods in 2011
#Open journalism No news is bad news Support The Journal

Your contributions will help us continue to deliver the stories that are important to you

Support us now
Made: Several different European countries, although Valeo doesn't want to say exactly where
HB Hazelbrook Farm Ice Cream
History: Founded by the Hughes brothers at Hazelbrook Farm in Rathfarnam, Dublin in 1926. Bought by Unilever in 1973
Made: UK
Fruitfield Old Time Irish marmalade
History: Fruitfield preserves started in 1886 and it joined Jacob's Biscuits as part of the Jacob Fruitfield group, later bought out by Valeo
Made: UK
Cully & Sully soups
History: Launched by Cullen Allen and Colum O'Sullivan in 2004 using recipes from the Ballymoe region in Co Cork. Sold lost year to US firm Hain Celestial for about €10.5 million
Made: UK