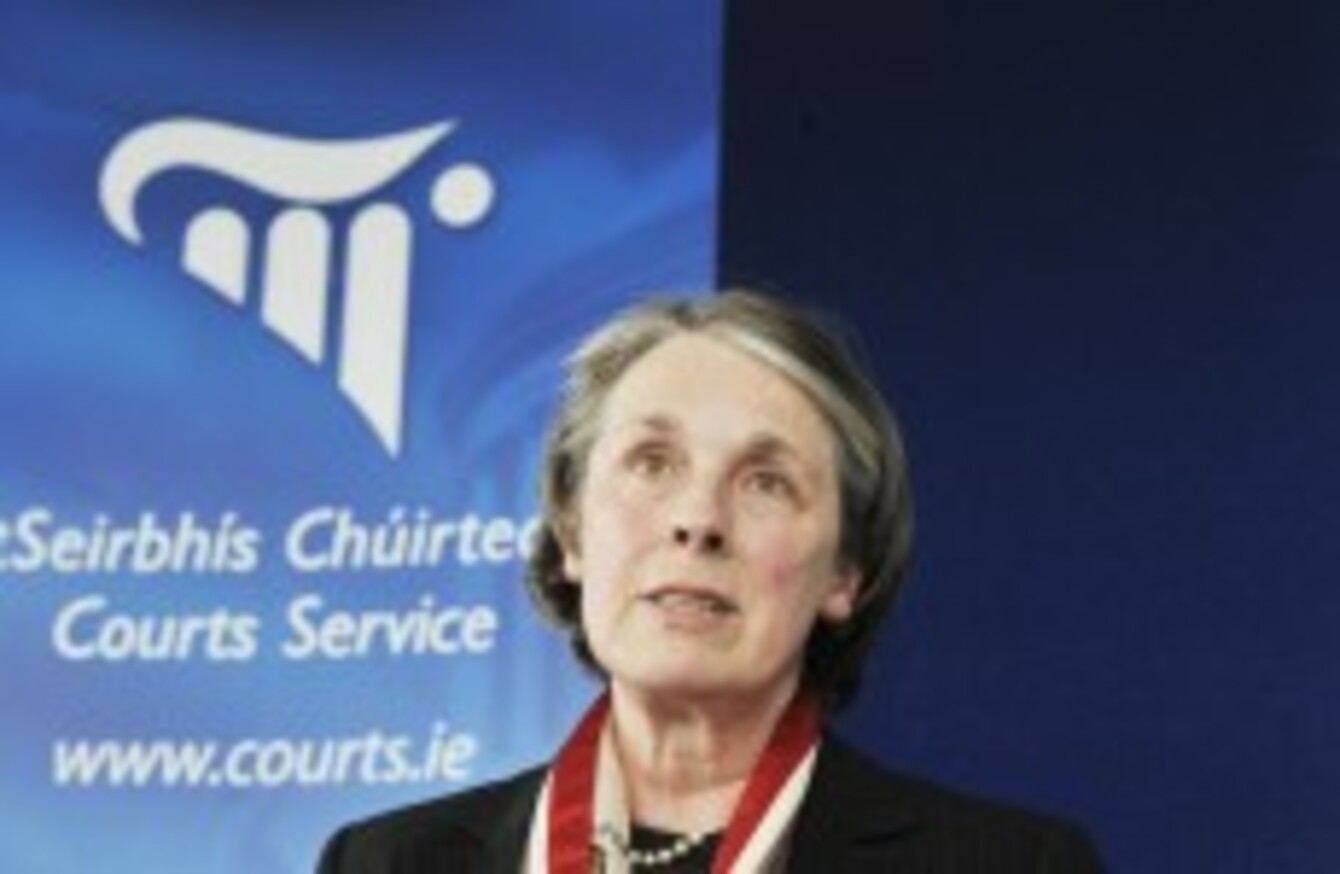 Supreme Court Chief Justice Susan Denham
Image: Sasko Lazarov/Photocall Ireland
Supreme Court Chief Justice Susan Denham
Image: Sasko Lazarov/Photocall Ireland
SUPREME COURT CHIEF Justice Susan Denham today pleaded with Government not to impose any further cuts on the courts budget, warning that they would inflict harm on the Irish courts system.
Speaking at the launch of the Courts Services Annual Report, Denham predicted that any further cuts in staff or resources would do "great and lasting damage" to the courts system.
She noted that gross state funding for the Service had dropped by 25% since 2008, and that the net cost to the State of running Irish courts had gone down by 42% in the same period.
"Ireland's courts are amongst the least costly in all the countries of the Council of Europe," she claimed.
The Irish Courts Service has lost 157 staff members in the last five years, said a spokesman, a cut of 14.5% which has "put a strain on our ability to do our job."
Despite this, however, the Annual Report notes improved efficiencies and shortened waiting times in most categories.
The Supreme Court, for example, dealt with 23% more appeals in 2013, and the Court of Criminal Appeals disposed of 41% more cases.
A large part of this increased productivity came from traditional holiday time, well as evenings and weekends, being given over to extra sittings across the Irish courts system.
Justice Denham also welcomed the establishment of the new Court of Appeal with last year's referendum, which will further cut waiting times and reduced backlogs when it gets up and running by the end of 2014.
Speaking to the media after the event, Justice Minister Frances Fitzgerald emphasised the investment the government had made in the new court, in light of Denham's warning about further cuts.
The government has shown its commitment to reform in the justice area.[The new Court of Appeal] is the biggest reform since the foundation of the state, and we've just put that through and given the funding for it.
Source: Video TheJournal.ie/YouTube
Some €2 million in savings were made by the Courts Service in the last year, according to the Annual Report.
This was achieved by consolidating and amalgamating court offices throughout the country (although not in Dublin), as well as a 40% drop in travel and subsistence costs for judges in recent years.
Justice Denham issued the following warning, however:
Any further or continued subtraction of monies and staff from the Courts Service budget will cause a great and lasting damage to our courts system.
Scroll down to read the 2013 Annual Report of the Irish Courts Services in full.
Additional reporting by Christina Finn.
Read: The High Court has two new judges, both women>
http://cdn.thejournal.ie/media/2014/07/courts-service-annual-report-2013.pdf