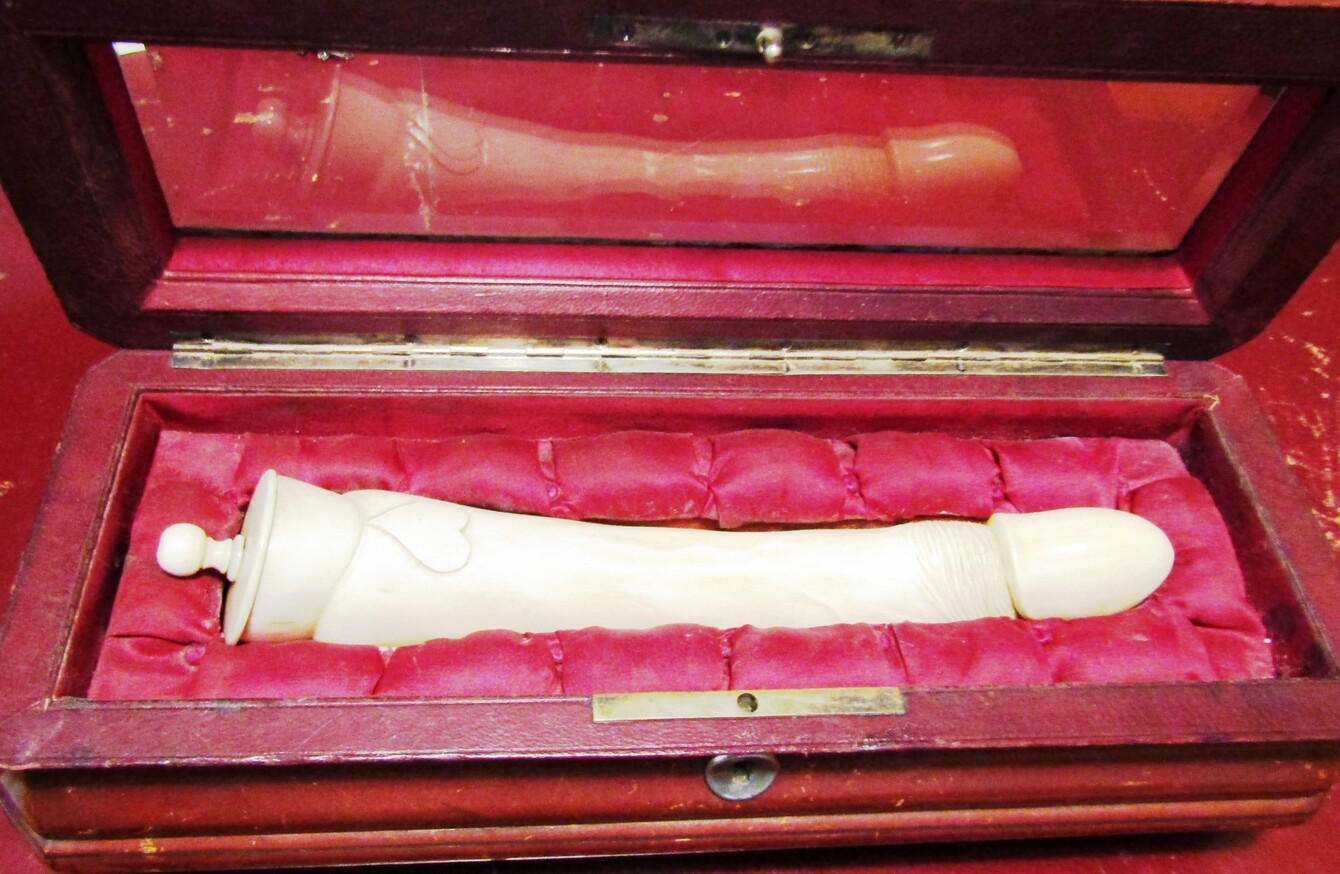 Image: Matthews Auction Rooms
Image: Matthews Auction Rooms
A RARITY OF Irish erotica will go on sale this Saturday in Meath.
The lot, "a Victorian carved ivory life-size realistically depicted penis" is part of a two-day auction at Matthews Auctioneers in Oldcastle, County Meath this weekend.
Lot 483 is described by the auctioneers as being:
"A forget-me-not in from an Old Anglo-Irish Military family – the Victorians had needs too, (especially while their men were at war).
"It's very Fifty Shades of Grey and the genuine article."
It has a reserve price of €500-800.
While the view of Victorian-era Ireland and Britain may be one of repression, the situation was more complex than that.
Historian Holly Furneaux says that Victorians weren't all that repressed.
"Sex was spoken everywhere in the 19th century in a wide range of contexts including the law, medicine, religion, education.
"The Victorian period is a key moment in the history of sexuality; it is the era in which the modern terminologies we use to structure the ways we think and talk about sexuality were invented.
"Queen Victoria herself reflected on 'dearest Albert's' physical perfections in her journal:
Albert really is quite charming, and so excessively handsome, such beautiful blue eyes, an exquisite nose, and such a pretty mouth with delicate moustachios and slight but very slight whiskers; a beautiful figure, broad in the shoulders and a fine waist.
"Victoria's frank expression of her desire cuts across another received view of the period; that the enjoyment of sex was an exclusively male prerogative."
In fact, a Victorian doctor by the name of Dr Joseph Mortimer Granville was the first person to patent a mechanical vibrator he called "Granville's Hammer". The machine was used for the treatment of muscular disorders and hysteria.
The massagers were respectable among upper-class woman who visited doctors to be treated by them. In fact, a 1909 Woman's Home Companion article called them "delightful companions" that would bring about "all the pleasure of youth".
#Open journalism No news is bad news Support The Journal

Your contributions will help us continue to deliver the stories that are important to you

Support us now
In her 1999 book The Technology Of Orgasm, historian Rachel P Maines says that use of the machines and other instruments was a pretty routine medical procedure until the the turn of the 20th century.
"There is no evidence male physicians enjoyed providing pelvic massage treatments. On the contrary, these male elites sought every opportunity to substitute other devices for their fingers."
While masturbation in Victorian women was frowned upon, but the vibrators were ok because "there was no penetration".
"[Doctors had] the comforting belief that only penetration was sexually stimulating to women. Thus the speculum and the tampon were originally more controversial in medical circles than was the vibrator."
According to the Good Vibrations Antique Vibrator Museum, the sex toys were later advertised as a cure-all home appliance.
The vibrator was later marketed as a home appliance in women's magazines and mail order catalogs. Ads proffering "health, vigor and beauty" promoted the vibrator as a health aid. By the 1920s, doctors had abandoned hands-on physical treatments for hysteria in favor of psychotherapeutic techniques.
"But vibrators continued to have an active commercial life in which they were marketed (much like snake oil) as cure-alls for ills ranging from headaches and asthma to "fading beauty" and even tuberculosis."