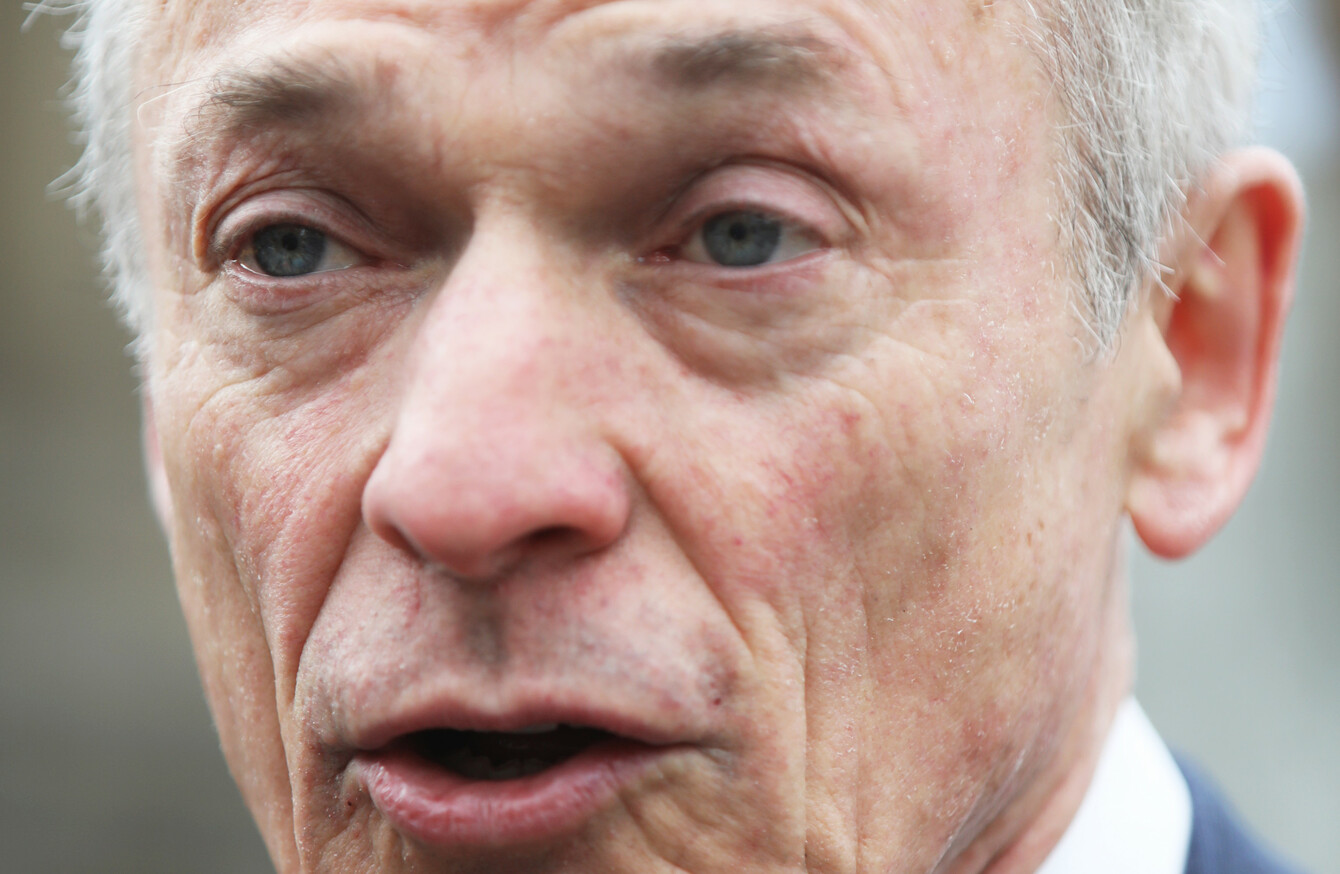 Image: Leah Farrell/RollingNews.ie
Image: Leah Farrell/RollingNews.ie
Updated Apr 5th 2019, 10:26 PM
MINISTER RICHARD BRUTON has defended an initiative which is advising children to reduce the amount of meat they eat, following backlash from the Irish Farmers Association.
An Taisce's Green-Schools programme, which promotes measures to reduce carbon footprints and works towards environmental sustainability, published a climate action resource pack for teachers this week.
It included a foreword from Environment Minister Richard Bruton who said it was developed "with support provided by [his] Department under the National Climate Change Action and Awareness Programme".
However, with suggestions such as "Meatless Mondays" in schools and measures to "reduce the amount of meat and dairy" consumed by students, the IFA has called for the withdrawal of the resource.
"This is beyond the remit of An Taisce and it is not consistent with dietary advice given by the Department of Health, the competent authority, on balanced diets," IFA president Joe Healy said.
Speaking on Today with Sean O'Rourke, Bruton defended the initiative and when asked if he had informed himself enough before endorsing it, he said he had.
The Minister also told RTÉ that it wasn't dietary advice but a debate around what people might do, citing Joe Healy's claim that An Taisce is crossing a line by including dietary advice in a resource pack.
On 'Meatless Mondays', Bruton said that families are asked to discuss the issues and debate the carbon impact of different food choices.
It is, of course, true that the impact on eating meat compared to eating grain is very different in terms of its carbon footprint.
"This is an important debate that young people are leading and we must show that we are capable of making the changes and providing a road map for people to follow," Bruton said. 
When asked whether or not he thought farmers are under enough pressure at the moment, the Minister said that farmers are leading change and have "bought into this, we shouldn't be defensive about a debate that is being led by young people".
'Must be withdrawn'
Following Bruton's interview today, Healy said there is mounting anger among farmers because he is supporting "a call for teenagers to consume less meat and dairy products".
"This pack must be withdrawn and amended before it goes back into circulation."
The revised nutritional guidelines from the Department of Health in 2017 recommended one serving of either meat, poultry, fish, eggs, beans and nuts, for a lunchtime snack or after-school meal. 
Farmers are extremely angry that packs like this would be distributed in schools advising students to consume less meat and dairy when both are an important part of a balanced diet.
"What our children are taught in school should be based on scientific findings proofed by the appropriate state agencies and government departments," Healy added. 
A spokesperson for the Green-Schools programme said it would not apologise for outlining measures to help tackle climate change. 
"The resource, which is part of the Green-Schools voluntary programme, has not – as claimed by the IFA – been distributed in schools," she said. 
"Rather, through a nationwide press release and the Green-Schools social media channels, its availability to download has been promoted. It is a complementary resource for teachers taking part in this optional, voluntary programme.
Green-Schools cannot apologise for promoting actions to help our environment.
"International research has long been suggesting that in order to meet our climate obligations and reduce our carbon footprint, we should reduce our meat and dairy intake."
A spokesperson for the Department of Education said it was not the lead department for the Green-Schools programme and "it is a matter for individual schools what material they use to support teaching the curriculum". 
With reporting from Adam Daly