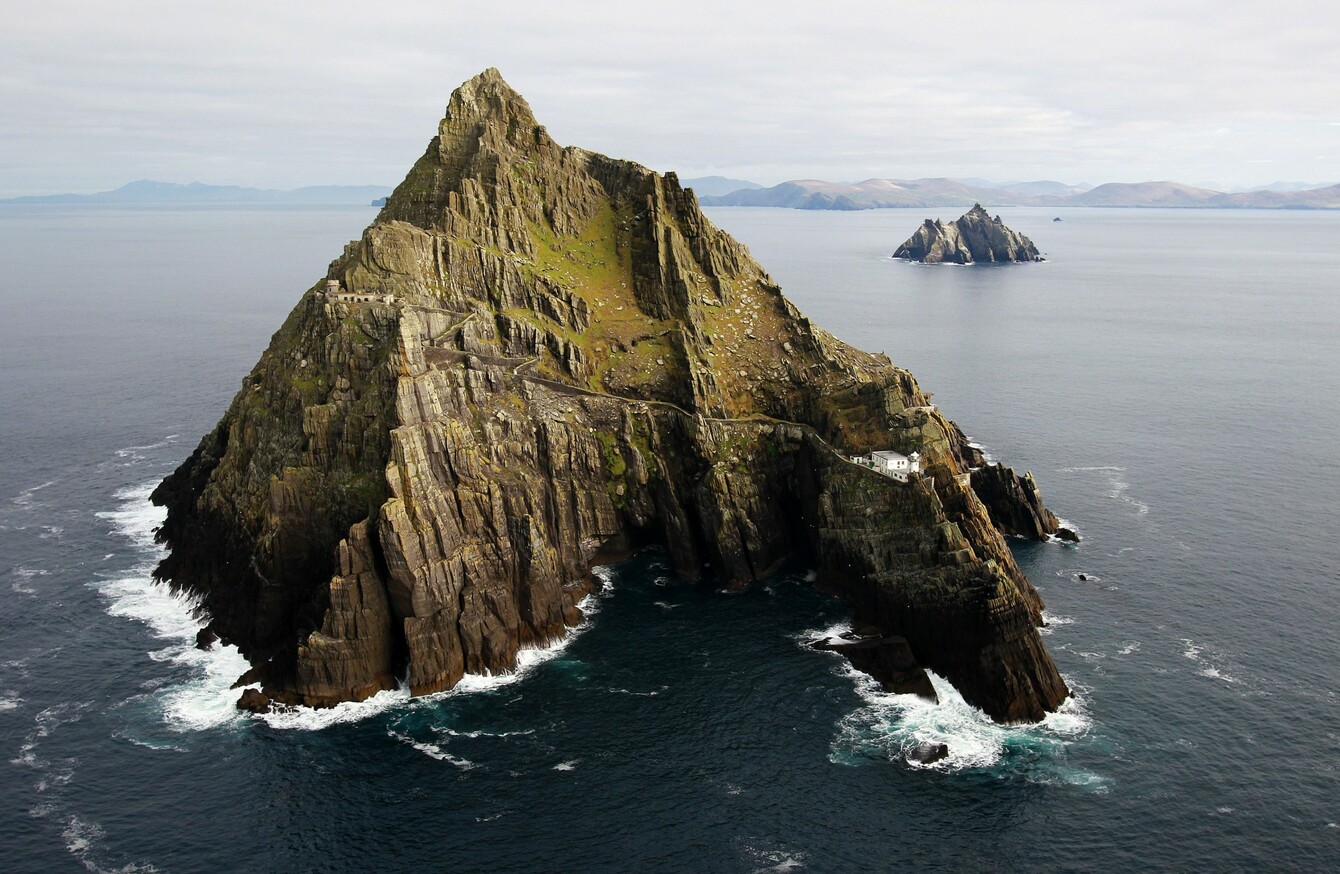 Skellig Michael, Co Kerry, where part of Star Wars: The Force Awakens
Image: PA Wire/PA Images
Skellig Michael, Co Kerry, where part of Star Wars: The Force Awakens
Image: PA Wire/PA Images
IRISH FILM IS raking in millions of euro – but funding still needs to be bumped up to pre-recession levels if the country wants to make even more great movies.
That's according to the Irish Film Board, which launched its latest slate of productions for 2017 yesterday.
It has also outlined how it is enticing more international film productions to Ireland with an international marketing campaign.
Films like Star Wars, The Lobster and Love and Friendship have all been filmed in Ireland, bringing in money and jobs to areas like Cork, Kerry, Donegal and Dublin.
The board aims to launch an advertising campaign aimed at the North American market which it hopes will entice international filmmakers to Ireland "where they can discover and create new worlds, working with award-winning Irish talent and crew".
"Supporting Irish filmmakers is a key priority for the Irish Film Board and at the same time we want to attract major international productions to Ireland," said an IFB spokesperson. "Film and television production is huge business internationally."
This year, we aim to build on the success Ireland has experienced to date in attracting major international productions such as Star Wars Episode VII and VIII, The Man Who Invented Christmas and The Professor and the Madman starring Sean Penn, all of which filmed in Dublin this year.
It's understood that the board is keen to keep a balance between productions coming to Ireland to film, and indigenous Irish film being supported. A raft of actors and filmmakers were present at yesterday's launch who emphasised the importance of financial support and funding for their work.
The IFB plans on putting increased focus on regional production, working with local authorities under the government's Creative Ireland plan in order to create new regional hubs for filmmaking.
Last year was a record-breaking one for the Irish film industry, with production activity surpassing €250 million for the first time.
In addition, films like The Young Offenders, Brooklyn and Room earned millions at the box office.
The Young Offenders' – a comedy set in Cork and based on the story of Ireland's biggest cocaine seizure – earned €1.2m at the box office, which is particularly remarkable given that it was made on a the equivalent of a shoestring in the industry.
Brooklyn, starring Saoirse Ronan, grossed over €3.1m, while Lenny Abrahamson's Room grossed €1.3m as well as garnering Oscar nominations.
Last year, the IFB launched a five-year strategic plan, Building on Success, to mark the record-breaking Oscars nominations.
This year, it said its focus will be on increased investment in Irish creative talent; growing and developing sustainable career paths for Irish creative talent; and continued investment in training.
One of the chief concerns for the IFB, said outgoing chairperson Annie Doona, was that the pre-recession funding of €20m be restored. This is something the board has continually called for over the past number of years, and 2016 did see a bump in funding of €1.1m, bringing to €15.5m the total provided to it in 12 months by the Department of Arts, Heritage and the Gaeltacht.
Another focus for the board is on gender balance within the industry, with Doona saying that despite an increase in applications from female writers, directors and producers, progress is "too slow".
She said that the board had been raising awareness of the issue and had put a target in place of funding a gender-balanced number of films within three years.
"If it's not fast enough we won't reach this 50/50 target in three years," said Doona. But she said that the IFB is putting "lots of positive action" towards bringing more diversity into Irish films – and not just in gender.
Brexit
The looming prospect of Brexit was also addressed by the IFB, with Chief Executive of the IFB James Hickey saying that it is both a "challenge and an opportunity for Irish film". He said that he hoped there would be a continuation of free movement as "the easier it is to move around, the better it is" for the industry.
"It will be very interesting to see how Brexit affects [the industry]," actor Pat Shortt told TheJournal.ie.
"I know as much as anybody else does – I would have talked to my agent in London going 'where is this going to lead us'. It's such an international business anyway, I don't know how it's going to affect the ordinary day-to-day working things, nobody knows yet, so it's kind of a 'watch and see'."
At the launch, the IFB also highlighted some films to watch out for in 2017, including the forthcoming Handsome Devil, directed by The Stag's John Butler.
Meanwhile, Cillian Murphy, Catherine Walker and Killian Scott are working on director Mark O'Rowe's Delinquent Season, which is shooting in Ireland.
Read more about the 2017 Irish films to watch out for this weekend on TheJournal.ie