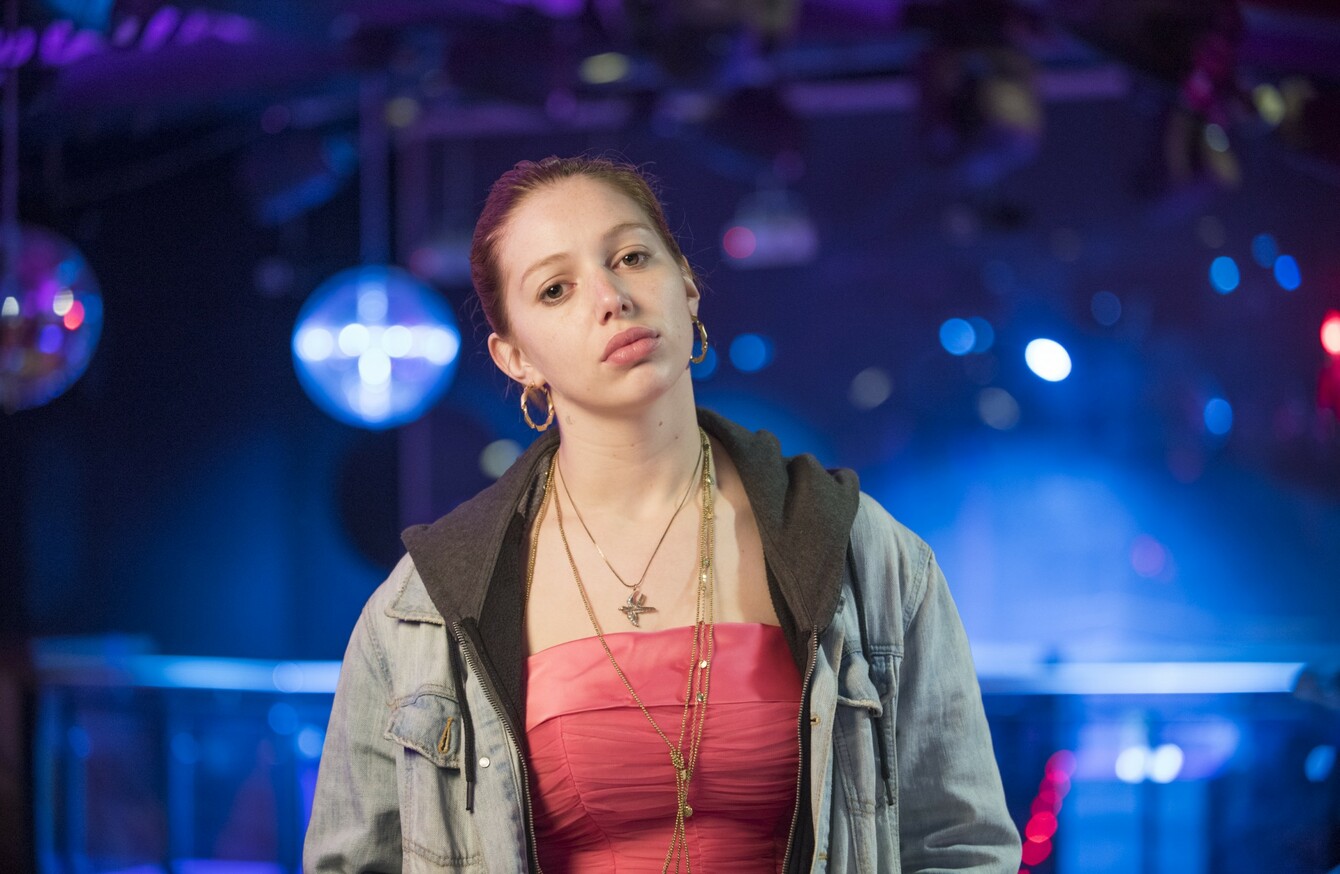 Seana Kerslake in A Date For Mad Mary
Seana Kerslake in A Date For Mad Mary
2016 WAS A massive year for Ireland on the big screen – from Oscar nominations to box office success for indie films.
14 January 2016 will go down as a landmark day for Irish cinema, when three of the country's films scooped a total of nine Oscar nominations. Room, one of the films – directed by Lenny Abrahamson – later saw its lead actor Brie Larson walking away with the Best Actress award.
As the year went on, the box office success grew – the popularity of Sing Street, A Date for Mad Mary, the Young Offenders, and Viva helped ticket sales to grow to in excess of €125 million.
And as the year came to a close, the Irish Film Board got a Christmas boost of an extra €1.1m in funding from the government, capping off 12 months of success.
What has become clear in 2016 is how much diversity there is in Irish film – and that's just among the releases that made it as far as the cinema.
LGBTQ-related themes in particular were given a focus in films like A Date for Mad Mary and Viva, while the life of people in modern Ireland was explored through comedy in The Young Offenders and documentary in Mattress Men, to name but two releases.
That's before we get to the many young and upcoming directors, screenwriters and producers crafting shorts, films and as-yet-unseen works that cover a plethora of topics.
As for next year, there's even more to come. Frankie Fenton's It's Not Yet Dark, about Irish film-maker Simon Fitzmaurice and his diagnosis with Motor Neuron Disease, and Neasa Ní Chianáin and David Rane's In Loco Parentis are both set to screen at the Sundance Film Festival, for example.
Source: Guth Gafa International Documentary Film Festival/YouTube
But challenges in the sector remain – not least of all, funding. The Irish Film Board continued to call for more funding from the government, and launched a five-year strategy this summer.
The IFB is funded by the Department of Arts, Heritage and the Gaeltacht and up to 19 December received an annual capital allocation of €12,702,000m for 2017.
On that date, the Department of Arts, Heritage and the Gaeltacht had some good news for the board, announcing that it was to give the IFB an extra €1.1m in funding. The Christmas gift would bring to €15.5m the total amount of funding provided to the IFB by Minister Heather Humphrey's department this year.
Still, funding levels haven't yet reached those of previous years. In the five-year strategy, the IFB called on the government to help foster future success by reinstating its previous funding level of €20m.
But there was other good news for the IFB – in recognition of the recent success, the audio-visual sector was identified as a priority area by the government in its Action Plan for Jobs.
In addition, throughout 2016 the IFB has been working with partners in the Department of Arts, Heritage, Regional, Rural and Gaeltacht Affairs and the IDA to drive and support sustained growth in the industry, and to promote Ireland internationally as a "premier film location". We saw this in how yet another Star Wars production headed to Ireland for filming, while stars like Mel Gibson visited for shoots.
"Established and emerging Irish film talent have been making their mark in both the international and domestic markets in 2016," said James Hickey, CEO, of the Irish Film Board.
The success is not only measurable in box office figures and awards, but also in deserved recognition from critics and industry peers. Much has been achieved in 2016 and in our five-year strategy which we launched this July, we remain ambitious in our plans and aspirations for industry.
The IFB's funding is used to provide production funding to on average 12 Irish originated feature films, seven feature co-productions, 10 feature documentaries and four TV animation series as well as development funding, cinema distribution funding and funding for training.
The year that was
One of the people who has been casting a keen eye over the Irish film scene this year has been Niall Murphy of the site Scannáin.com.
"2016 has probably been the greatest year on record, or close to it," he told TheJournal.ie. "We had multiple Oscar nominations and wins, and more films at Toronto [International Film Festival, TIFF] than we ever had before. It's pretty much the crest of the wave that we've been enjoying."
But Murphy pointed out that it's "unlikely we'll see it repeated at [the 2017] Oscars or at next year's Toronto".
There are a number of Irish films which debuted in Toronto that we will get to see next year – Gerard Barrett's Brain on Fire, John Butler's Handsome Devil, and Aisling Walsh's Maudie.
Murphy also emphasised the need for funding for filmmakers.
If you look at the budget for an average indie film, it's €10 – 20 million. The Irish Film Board cannot give any film more than €1 million, so it has to be a co-production so there has to be a source of money.
There's nobody in this country that's backing film to that extent other than the film board.
For Murphy, movies like Star Wars have been a boon for the country. "It's brilliant to get that international recognition and now Donegal has been recognised as one of the places to visit off the back of Star Wars being shot there, and that can lead to an increase in tourism.
"You can see any investment in the creative arts can lead to further investment – not only does it keep money within the country, keeps jobs in the country, but it also leads to presenting the country on an international stage. So the better Irish film does, it is an ambassador, it is going out into the world saying this is us; look at us; visit us. It's vitally important that we support our arts because of that, because of what it can do."
His personal highlights for 2016? A Date for Mad Mary, which got multiple standing ovations when he saw it. "It was like a religious experience," he said. As for next year, Handsome Devil and Brain on Fire are ones he's looking out for.
"And then I want to see what independents come out, because they are always the ones you're not aware of so you just hear about them out of nowhere," said Murphy.
"For producers, it's an exciting time"

Source: Tailored Films/Vimeo
One of those looking ahead to 2017 and what it might bring is Ruth Treacy of Tailored Films, which is producing forthcoming film The Lodgers. Written by David Turpin and directed by Brian O'Malley, it's a gothic horror about a pair of twins who live in a haunted house.
The film was almost entirely shot in Ireland's 'most haunted house' Loftus Hall, which is celebrating its 666th birthday this year. The project came about when Turpin – a musician who knew the staff at Tailored through college – asked was there a way he could repay them for loaning him lights for gigs.
Their response? Come up with an idea for a film. The team then approached Rory Gilmartin of the Irish Film Board with Turpin's two-page idea, and began the development process with the IFB in mid-2014.
"It has been quite smooth running from development to production," said Treacy. Funding for the film, which stars Charlotte Vega, Bill Millner, Moe Dunford and Deirdre O'Kane, was received from the IFB and also Epic Pictures.
"The film board are very open to talking to producers about types of project development," said Treacy. The idea was submitted through the IFB's online system, and sent on to external readers, who send a reader report to the production company.
These reports are helpful for figuring out why projects might get rejected. When a project is accepted, a script editor is assigned to it, and a few months later the script must be resubmitted. The production goes through a number of stages before it gets near production funding.
"It's so competitive"
Though projects usually move at different paces, about three years from script to screen would be a fast process. "For us this has gone quite smoothly," said Treacy of Lodgers.
"There are so many people making films at the moment, it's just so competitive," she said. "The ratio of people submitting things [to those receiving funding] is huge. For us the film board was an absolutely amazing support during the whole process."
The aim with 2017 is to show the film at festivals, and there already events lined up, such as Cannes. "It has sold in a number of territories already," she said.
For Tailored, the key has been making real-life relationships with people in the industry, which has made pitches all the easier.
One thing Treacy has noticed which shows the current strength of the Irish film industry is just how busy things are.
One thing that would prove it to me is we are planning these pick-up shots in January. Normally no crew would be working in January because usually it is a very quiet month, but we are finding everyone is busy and that's testament to the fact so much is going on.
People aren't taking breaks, they are going from project to project.
There are also more international crews working in Ireland, which Treacy said is very welcome, but can make it "tricky for Irish productions with smaller projects to compete".
"For producers it's a good time too, it's exciting," she said.
"It's great that Irish film abroad is doing so well, and that Irish film is being recognised," said Treacy. "Anytime we talk to producers and you say you're an Irish producer there is a really positive response, which is great."
They associate Ireland with really high-quality productions and stories as well. That is really positive for us.
However, Treacy also reiterated how much extra funding would benefit the industry. "It would be great if the film board had more funding or the BAI [Broadcasting Authority of Ireland] supported more films," she said.
As for looking ahead to 2017, Treacy said she can't wait to see the features Black 47 – described as a 'Famine western' – and Third Wave, starring Ellen Page. "We're just excited to finish The Lodgers and hopefully launch it at a festivals later next year," she said.
Catch up with our film coverage from 2016: