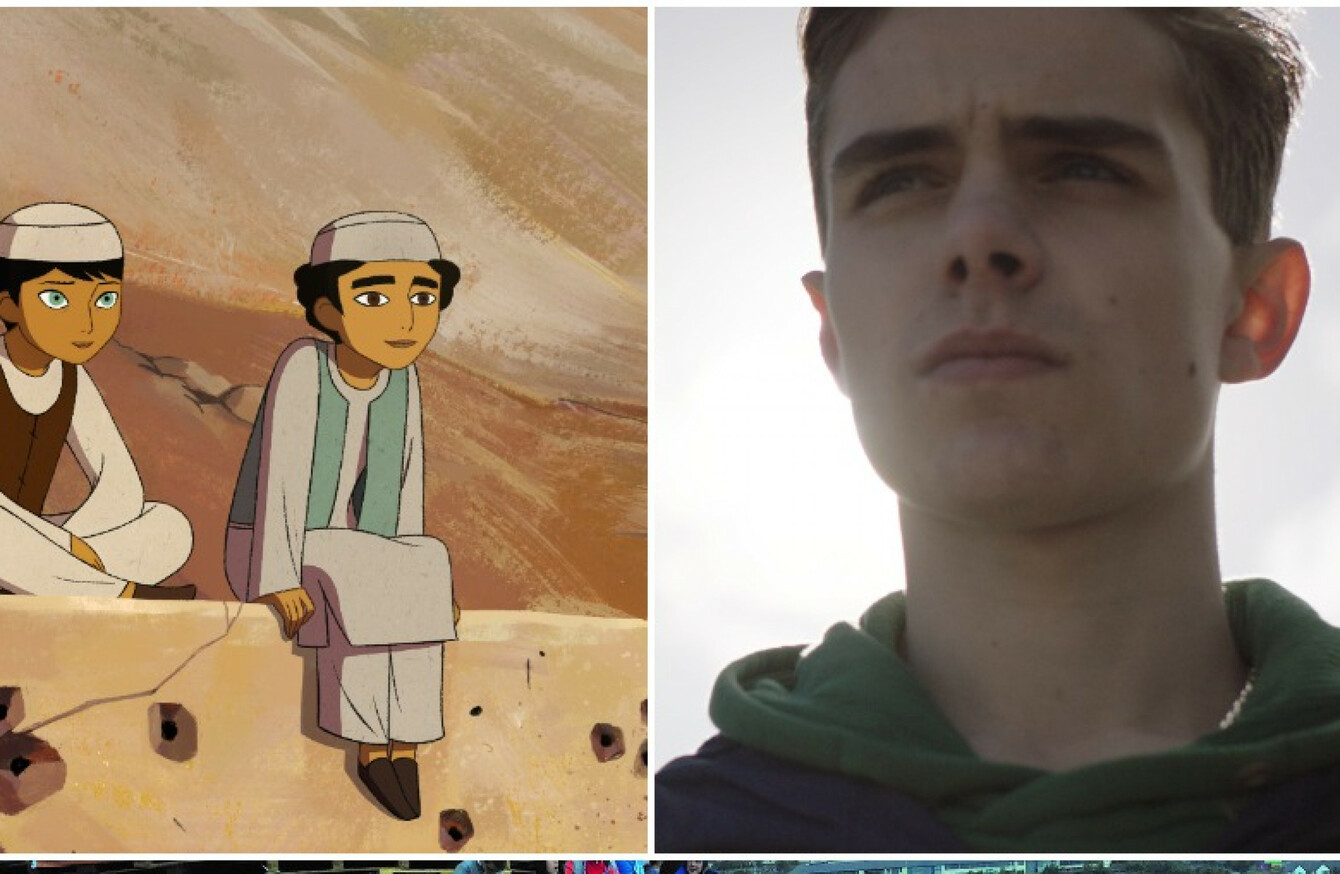 Image: Irish Film Board
Image: Irish Film Board
A YEAR AGO, we told you about the Irish films you'd be watching in 2017 – and brought you news of Handsome Devil, Maudie, Maze, The Drummer and the Keeper, and Song of Granite.
It has been another fantastic year for Irish cinema, with the above films all garnering great reviews and solid box office performance. Maze had one of the biggest box office openings of the year, while Cardboard Gangsters could end up being the biggest Irish film of 2017 (following in the footsteps of last year's Young Offenders).
Ireland also had a good stake in the nominations for next year's Golden Globes, with Saoirse Ronan getting a mention for her role in the forthcoming Lady Bird, while Martin McDonagh picked up two nominations for his much-anticipated Three Billboards Outside Ebbing, Missouri and Nora Twomey's The Breadwinner was nominated in the best animation category.
But for Irish filmmakers to do well globally, they must first start here at home, and it's usually their first feature films that highlight who are the ones to watch in the future. So keeping a close eye on the year's new homegrown releases is essential for knowing who the top Irish filmmakers of the future are likely to be.
So with that in mind, here are some of 2018′s Irish release highlights.
The Breadwinner
Source: Movieclips Film Festivals & Indie Films/YouTube
Directed by Nora Twomey, produced by Cartoon Saloon and executive-produced by Angelina Jolie.
One of Ireland's Oscar hopes in 2018, this animated movie – nominated for a Golden Globe – brings us the story of Parvana, who gives up her identity to provide for her family and try to save her father's life. Expect a film about self-empowerment and imagination in the face of oppression, and a celebration of Afghanistan's history and culture.
It has already won Best Animation at the LA Critics Association Awards, the Audience Award and the Grand Jury Prize at the inaugural Animation is Film event in LA.
Kissing Candice
Directed/written by Aoife McArdle, produced by Venom Films
This is Aoife McArdle's first feature-length film (she has directed music videos for U2 and a range of TV commercials), and is described as "an unconventional love story and coming-of-age drama set in a seaside town along Ireland's north/south border". Critics are already describing her as "a bold cinematic voice".
Float Like A Butterfly
Directed by Carmel Winters, produced by Martina Niland (Sing Street)
A film set in 1970's Ireland which tells the story of Irish Traveller Francis, who's determined to pursue her one love, boxing. She wants to show her father just how tough she is, but soon realises he's got other plans for her.
A Girl From Mogadishu
Directed by Mary McGuckian, produced by EG Films
This film is based on the testimony of Ifrah Ahmed, who escaped war-torn Somalia to become a prominent activist.
Highway
Directed by Alexandra McGuinness
US-shot road movie about a small-town diner waitress "searching across the desert for her missing best friend/rodeo queen who has disappeared with a mysterious stranger". Stars Eiza Gonzalez (Baby Driver) and Lucy Fry (Wolf Creek).
The Limit Of
Source: Alan Mulligan/YouTube
Directed by Alan Mulligan
Starring IFTA rising star Laurence O'Fuarain (Vikings, Can't Cope, Won't Cope), this is about a young bank working in finance who loses his soul during the boom. Much of the soundtrack is by Irish musician Mick Flannery.
Vita and Virginia
Directed by Chanya Button and produced by Katie Holly of Blinder Films
This Irish co-production was filmed on location in Dublin and Wicklow, and has an all-star cast including Elizabeth Debicki, Gemma Arterton and Isabella Rossellini. The film is based on the true story of the relationship between Virginia Woolf (Elizabeth Debicki) and socialite Vita Sackville-West (Gemma Arterton) in 1920's London.
A Mother Brings Her Son To Be Shot
Directed by Sinéad O'Shea and produced by Ailish Bracken at Blinder Films
This documentary is about a dissident Republican community in Derry, who are still at war despite the Good Friday peace agreement. They respond to 'anti-social behaviour' with kneecap shootings, banishment and even murder. This was filmed over five years and looks at "the complexities of a post-conflict society".
Michael Inside
Source: WildCard Distribution/YouTube
This incredible Irish film is about a young teenager who ends up in prison due to a small and believable act – and it's an unflinching look at how one thing changes the course of his life forever.
The Little Stranger
Directed by Lenny Abrahamson, produced by Element Pictures
Based on the book of the same name by Sarah Waters, this supernatural thriller is set in the aftermath of the Second World War. It's Lenny Abrahamson's follow-up to his Oscar-winning film Room.
The Lodgers
Source: Epic Pictures Group/YouTube
Directed by Brian O'Malley, produced by Ruth and Julianne at Tailored Films
We've featured this film before on the site – based on a script by David Turpin, it's set in 1920′s rural Ireland during the war of independence. It features a pair of Anglo-Irish twins, Rachel and Edward, who are just about to turn eighteen and live in a spooky house.
The Cured
Directed by David Freyne, produced by Titled Pictures
This film was lauded by critics at TIFF for its exploration of social issues through horror.  It's essentially a zombie film, set six years after a virus has devastated Europe, transforming people into zombie-like monsters. All is lost until a cure is found. But things can't be that simple…
The Hole in the Ground
Directed by Lee Cronin, produced by Savage Productions
Lee Cronin's directorial debut stars Seána Kerslake as a young single mother who becomes convinced her little boy has been transformed by something sinister from the depths of a mysterious sinkhole.
Dark Lies the Island
Directed by Ian Fitzgibbon, produced by Grand Pictures
Starring Pat Shortt, Moe Dunford, Charlie Murphy and Tommy Tiernan, the film follows the characters in a long-standing family feud in a small Irish town over the course of a week. It's based on the Kevin Barry story of the same name.
Black '47
Directed by Lance Daly, produced by Macdara Kelleher at Fastnet
A revenge thriller set in 1847 Ireland, which is devastated by the Great Famine.
The Widow
Directed by Neil Jordan, produced by Metropolitan
Frances is a young woman who arrives in Manhattan and forms an unlikely friendship with a widow, played by Huppert, whose motives "soon reveal themselves to be untoward".