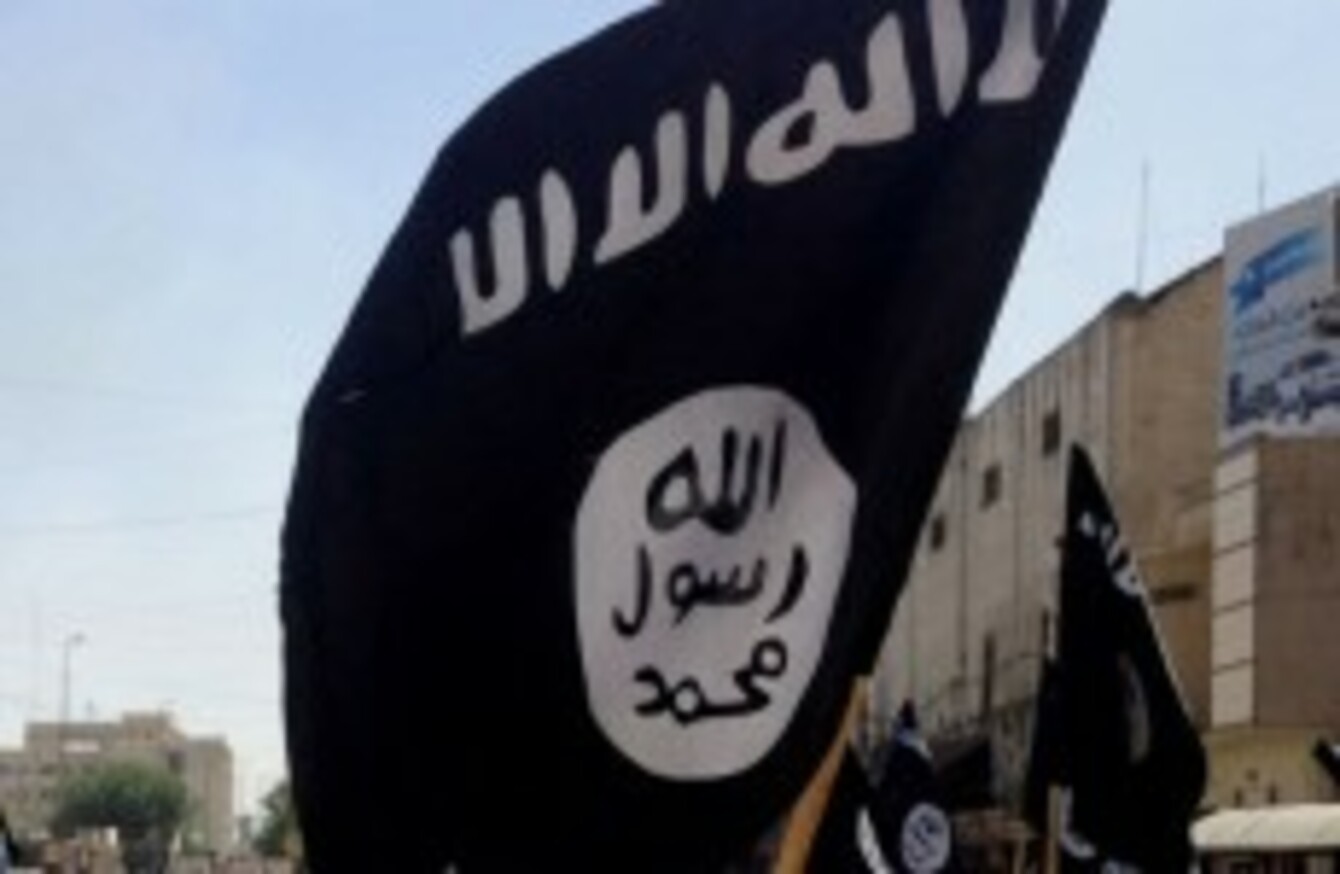 ISIS flag
Image: STR/AP/Press Association Images
ISIS flag
Image: STR/AP/Press Association Images
IRISH TROOPS STATIONED in the Golan Heights have taken to the bunkers of their base, as a battle between a group linked with  Al-Qaeda and a group aligned with ISIS is fought "within a kilometre" of their camp, Defence Minister Simon Coveney has said.
Two UN peacekeepers – who are not Irish – were wounded by mortar bombs in the area yesterday.
The Minister confirmed in the wake of that attack that the 48th Infantry Group, based at UNDOF Headquarters in Camp Ziouani, were all safe and accounted for.
Speaking on Morning Ireland today, Coveney said there had been an increase in fighting in the area surrounding the camp in recent days.
"There's been a lot of fighting between two anti-government Syrian forces – one linked to the Al Nusra Front, the other linked to an ISIL faction," the Minister said, using another widely-used name for the Islamic State group.
They're fighting literally within a kilometre of Camp Ziouani, which is where the Irish troops are.
He said a number of shells that had  "gone astray" in the fighting between the two groups had landed in the camp, and that as a result all troops stationed there had taken to their bunkers.
It was not a "satisfactory situation," Coveney added.
"We'd like to see this round of fighting very close to where the peacekeepers are ending sooner rather than later."
Who's fighting?
Clashes between Al-Qaeda's Syria affiliate and the jihadists linked to ISIS in an area close to the Golan Heights ceasefire line were reported by AFP last Tuesday.
"These are key battles, because IS now has a presence in Syria's south and because they are close to the ceasefire line with the Golan," Rami Abdel Rahman, the head of the Syrian Observatory for Human Rights, said.
"This is the first time these groups have clashed with each other," he added.
Fatalities have been reported on both sides of the battle.
Irish troops have been stationed in the Golan Heights, which straddles the border between Syria and Israel, since late 2013.
The United Nations Disengagement Observer Force was set up in 1974 to police the ceasefire between the two countries, following the Arab-Israeli war of the previous year.
The 48th Infantry Group operates in the role of a 'Quick Reaction Force', which is on standby to assist with ongoing operations by troops from other nations.
As part of that 'reaction force' Irish troops were tasked to evacuate the two injured UN observers yesterday.
"I am fully aware that peacekeeping operations are not without risk, however the safety of our troops is my priority. I am concerned at the recent incidents and will continue to monitor developments in the region," Coveney said, in yesterday's statement.