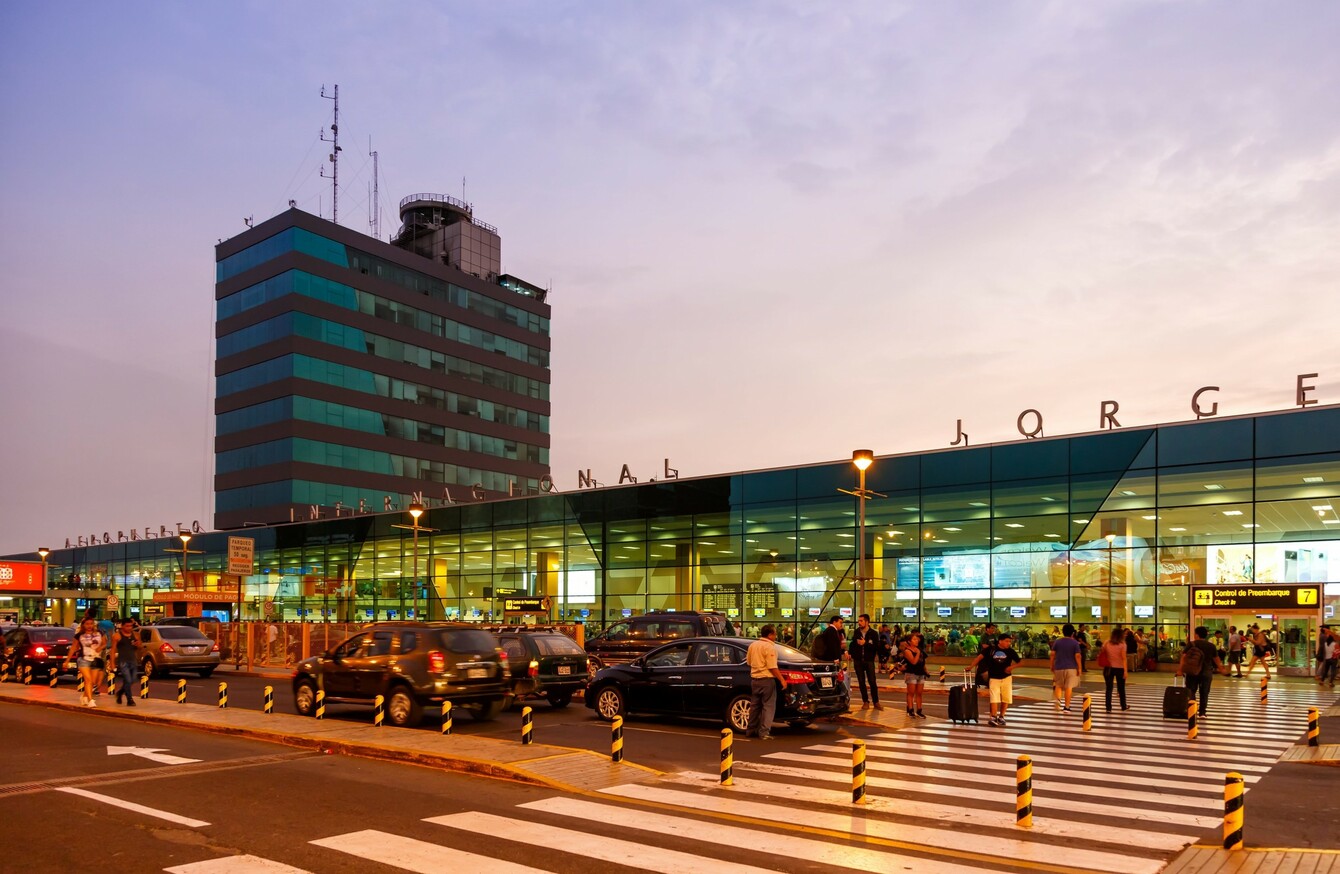 Terminal of Lima airport, 3 February.
Image: DPA/PA Images
Terminal of Lima airport, 3 February.
Image: DPA/PA Images
THE IRISH GOVERNMENT received over 20,000 queries from Irish citizens abroad, and spent almost €900,000 on repatriation flights from Peru, India and Nigeria at the height of the Covid-19 crisis.
Figures released under a Freedom of Information request to TheJournal.ie and other news outlets show that the Irish government spent €889,800 on flights to repatriate citizens from Lima in Peru, Goa/New Delhi in India, and Lagos in Nigeria.
In total, 93 people were returned from Lima, 68 from Goa/New Dehli, and 95 from Lagos at the height of the Covid-19 pandemic when many flights were suddenly cancelled, leaving some citizens stranded.
The FOI released to TheJournal.ie also showed that as of 9 July, the Department of Foreign Affairs' dedicated centre for travel queries related to Covid-19 had received over 13,000 calls and engaged in 5,000 webchats.
The countries from which the top 10 highest volume of queries came were the UK (1,619), the US (878), Australia (859), Spain (741), France (282), Germany (241), New Zealand (215), Italy (185), Poland (173) and the Netherlands (164).
There were also a significant number of calls from Portugal (163), Nigeria (159), and Canada (139).
This is in addition to the thousands of calls received by Irish missions overseas from citizens in distress or seeking advice.
'More complex' queries in Cabhair
The Department said that it also received a number of queries related to Covid-19 through its case management system called Cabhair (the Irish word for 'help') to record queries which require "more complex and sustained forms" of consular assistance.
Although officials are continuing to collate data, as of 8 July, there were approximately 7,548 cases recorded for the year-to-date in Cabhair. Of these, approximately 90% were primarily Covid-19 related, the Department said.
In general, half of the assistance provided was specifically concerned with repatriating to Ireland. The other half was on immigration, health, medical support and other issues relating to return.
The purpose of the Cabhair system is to ensure that all information related to a consular case is stored and accessed, in compliance with GDPR, by case officers assisting Irish citizens.
The Department stressed that the system "has no way to identify" a caller's occupation or the detail of what advice was requested unless each of the thousands of files are read individually with a manual record kept of the detail.
While responding to hundreds of flights being cancelled in March as countries closed borders in an attempt to slow the spread of Covid-19, the Irish government said that it was leaving "no stone unturned" to return Irish citizens stranded in countries around the world.
The Department of Foreign Affairs said at the time that "we are witnessing the biggest shutdown in global aviation since the dawn of commercial flight".
What we have seen in recent days is not only countries, but entire regions, close off airspace and ground airlines at short notice.
"We have never seen anything like it before, it eclipses the shutdowns following the September 11th attacks and the volcanic ash crisis.The situation is fast-moving and volatile," it said.
#Open journalism No news is bad news Support The Journal

Your contributions will help us continue to deliver the stories that are important to you

Support us now
Where in the world?
The number of queries received from Irish citizens is broken down by country, below. 
Afghanistan 7
Albania 8
Algeria 11
Andorra 2
Angola 4
Antigua and Barbuda 5
Argentina 60
Armenia 1
Australia 859
Austria 41
Azerbaijan 2
Bahamas 2
Bahrain 1
Bangladesh 14
Barbados 7
Belarus 5
Belgium 89
Bolivia 10
Bosnia and Herzegovina 2
Brazil 52
Bulgaria 11
Burkina Faso 1
Cabo Verde 1
Cambodia 10
Cameroon 10
Canada 139
Central African Republic 1
Chile 18
China 53
Colombia 9
Congo (Congo-Brazzaville) 8
Costa Rica 2
Cote d'Ivoire 2
Croatia 40
Cuba 8
Cyprus 15
Czech Republic 24
Democratic Republic of Congo 2
Denmark 30
Dominican Republic 9
Ecuador 2
Egypt 10
El Salvador 1
Equatorial Guinea 3
Estonia 4
Ethiopia 4
Fiji 2
Finland 10
France 282
Gabon 2
Gambia 1
Georgia 3
Germany 241
Ghana 13
Greece 31
Grenada 2
Guatemala 1
Guinea 2
Guinea-Bissau 1
Honduras 7
Hungary 25
Iceland 2
India 127
Indonesia 22
Iran 1
Iraq 12
Ireland 5,136
Israel 6
Italy 185
Jamaica 7
Japan 31
Jordan 2
Kazakhstan 4
Kenya 2
Kuwait 7
Kyrgyzstan 1
Laos 6
Latvia 19
Lebanon 3
Lithuania 19
Luxembourg 10
Malaysia 10
Maldives 7
Mali 1
Malta 22
Mauritius 6
Mexico 37
Moldova 11
Monaco 1
Mongolia 2
Montenegro 1
Morocco 27
Mozambique 2
Myanmar 1
Namibia 1
Nepal 9
Netherlands 164
New Zealand 215
Nicaragua 4
Niger 1
Nigeria 159
North Macedonia 2
Norway 9
Oman 1
Pakistan 43
Panama 4
Papua New Guinea 1
Peru 83
Philippines 37
Poland 173
Portugal 163
Qatar 12
Romania 48
Russia 11
Rwanda 3
Saint  Lucia 1
Samoa 1
Saudi Arabia 20
Senegal 3
Serbia 6
Seychelles 1
Singapore 9
Slovakia 16
Slovenia 4
Somalia 1
South Africa 102
South Korea 5
Spain 741
Sri Lanka 6
Sudan 8
Sweden 41
Switzerland 62
Syria 2
Tanzania 10
Thailand 117
Togo 1
Trinidad and Tobago 3
Tunisia 4
Turkey 30
Uganda 4
Ukraine 15
UAE 77
UK 1,619
US 878
Uruguay 5
Venezuela 3
Vietnam 47
Zambia 2
Zimbabwe 10
Information not provided 439