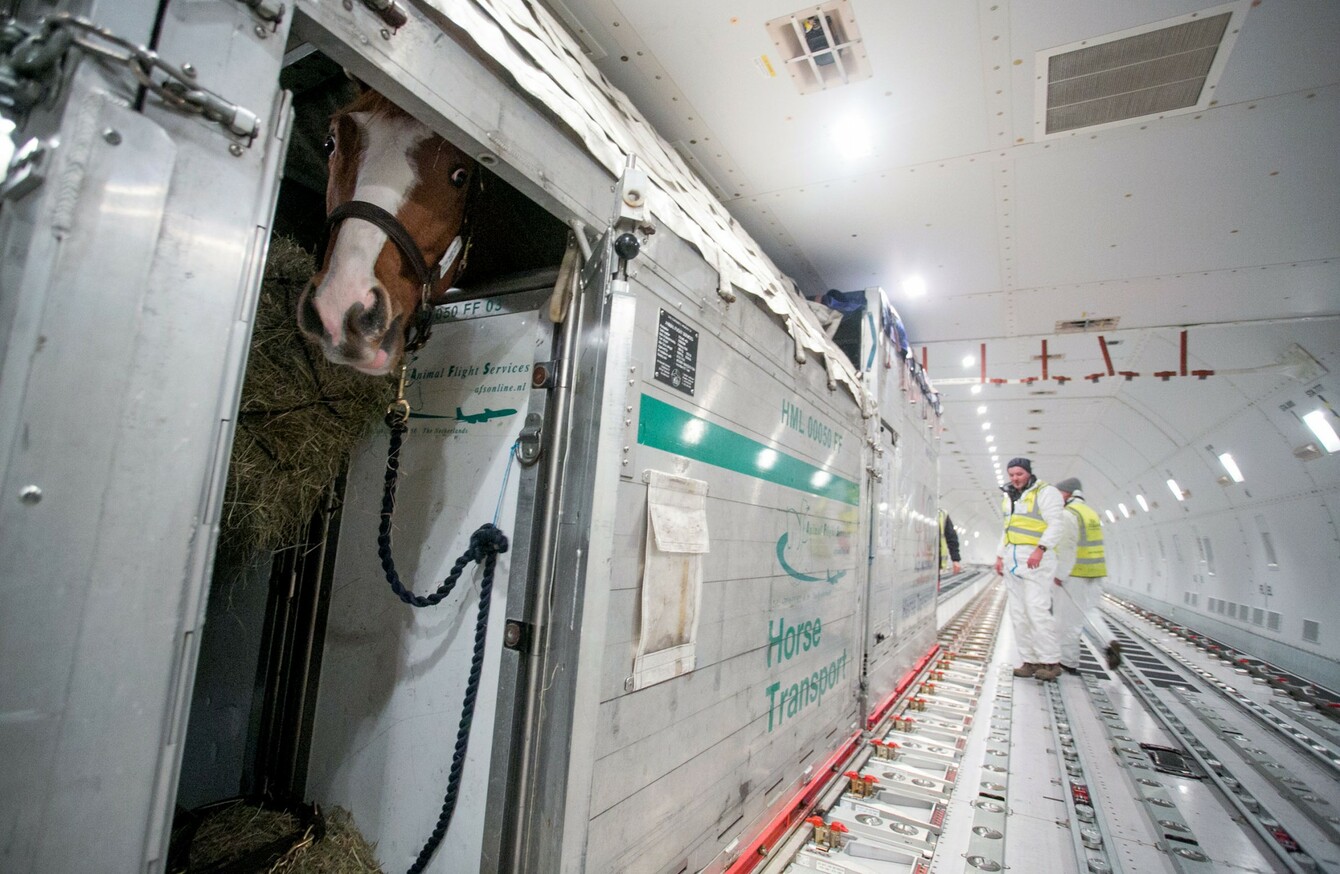 Image: Arthur Ellis
Image: Arthur Ellis
A CHINESE BILLIONAIRE has bought up 76 Irish thoroughbred horses which were airlifted to the Asian country from Shannon Airport.
All were purchased for Zhang Yuesheng by Kildare based bloodstock agency BBA Ireland at sales in Goffs last autumn.
The 76 horses were airlifted in a four-month-old Boeing 747 cargo plane from Shannon, landing in Beijing late on Thursday night. They are being transported to stables over the weekend.
The cargo, valued at over €2 million, was the biggest single movement of Irish horses to China ever, more than doubling the previous high.
It was the biggest success to date for the Irish thoroughbred industry in terms of the Chinese market and the culmination of a number of years work by BBA Ireland, supported by Irish Thoroughbred Marketing (ITM).
Source: Brian Ruane/YouTube
If you can't view the video, please click here. 
The airlift, it is hoped, will lead to further purchases by Chinese horse racing/breeding interests.
Over 90% of thoroughbred horses in China are imported from Australia and New Zealand but industry experts have claimed that this airlift confirms the growing Chinese interest in the more expensive, higher-quality Irish horse.
Zhang Yuesheng, for whom the horses were purchased, was introduced to the Irish market through sales director Michael Donohoe.
Industry
"This is really good business for the Irish equine industry, not least for small breeders from whom most of these horses were purchased. Many of these horses might not have met the high standards of the Irish and European market but they are still of a higher standard than the average horse currently racing in China."
"So, Irish breeders get a good price for horses they might not otherwise have got, the industry here further develops the emerging Chinese market and China gets a higher quality race horse. Everyone wins with this," said Declan Murray, managing director at BBA Ireland.
The horses travelled with a team of professional flying grooms and a vet, with a team of 30 handlers on the ground involved in the three-hour process of loading the animals at Shannon.  The horses will go into training in China before becoming local racers.