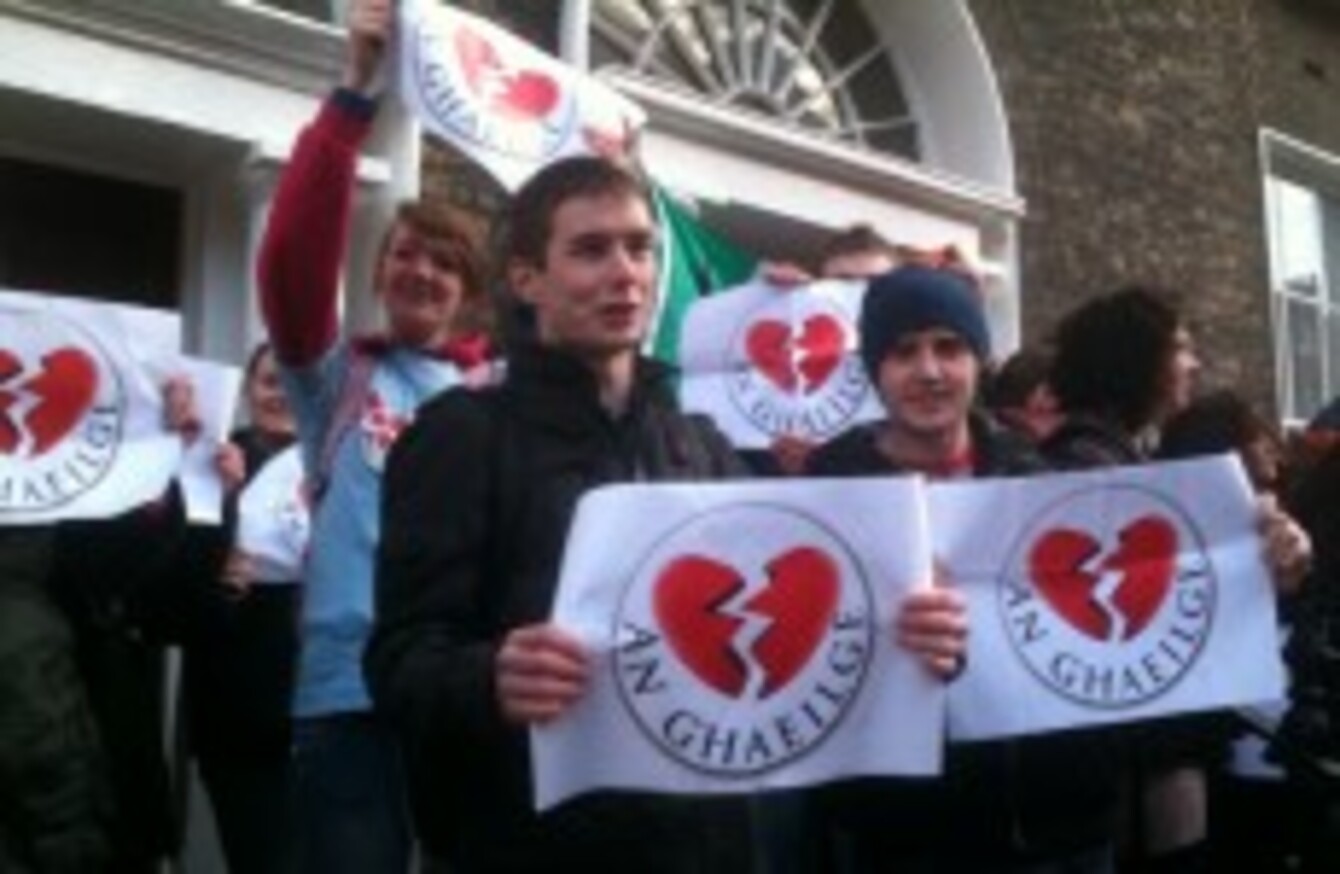 Irish language students protest across from FG headquarters at lunchtime today
Image: Susan Daly
Irish language students protest across from FG headquarters at lunchtime today
Image: Susan Daly
A CROWD OF around 200 Irish language students have gathered at Fine Gael headquarters this Valentine's lunchtime, accusing party leader Enda Kenny of "dumping" them.
Placards and banners urged Fine Gael and Kenny to reverse their stated policy that Irish should no longer be a compulsory subject in the Leaving Certificate cycle.
Kenny told Raidio na Gaeltachta last week that making Irish non-compulsory after Junior Cert would actually strengthen the language, meaning that those who studied it at senior cycle would be doing so because they were drawn to the language. He said it was "clear" that Irish as a mandatory subject had been a failure.
The protest today, organised by the USI (Union of Students in Ireland), was meant to be a "silent" protest but while some students wore masking tape in an 'X' across their mouths, most joined in a chorus of chants and singing outside FG party headquarters on Dublin's Upper Mount Street. They had marched there from nearby Leinster House on Merrion Square.
Grainne Campion, a student at St Patrick's College of Education, Drumcondra, who attended the protest said that it was "ironic" that Fine Gael was the only party to propose reducing the status of Irish in the senior cycle when Enda Kenny is a fluent Irish speaker himself and also a primary school teacher.
Fianna Fail's Mary Coughlan said at the start of the month that the Fine Gael intention to make Irish non-compulsory at Leaving Cert level was a "retrograde" step. Her party leader Micheal Martin, who meets Kenny in the five-way leaders' debate this evening, said yesterday that the proposed move would sound a "death knell" for Irish.
This is not the first time that Irish language students have marched on Fine Gael's party headquarters. In 2005, a similar number of protestors gathered outside the Upper Mount Street office and booed Enda Kenny after he had (again) proposed the scrapping of Irish as a mandatory subject in the Leaving Cert curriculum.
That time, Kenny had emerged to address the crowd as Gaeilge. However, Enda Kenny is today in Germany for a meeting with German Chancellor Angela Merkel. He is expected to fly back to Ireland in the early evening to attend the leaders' debate at RTE.
Irish language students at the 'silent' protest

Irish language students at the 'silent' protest

Irish language students at the 'silent' protest