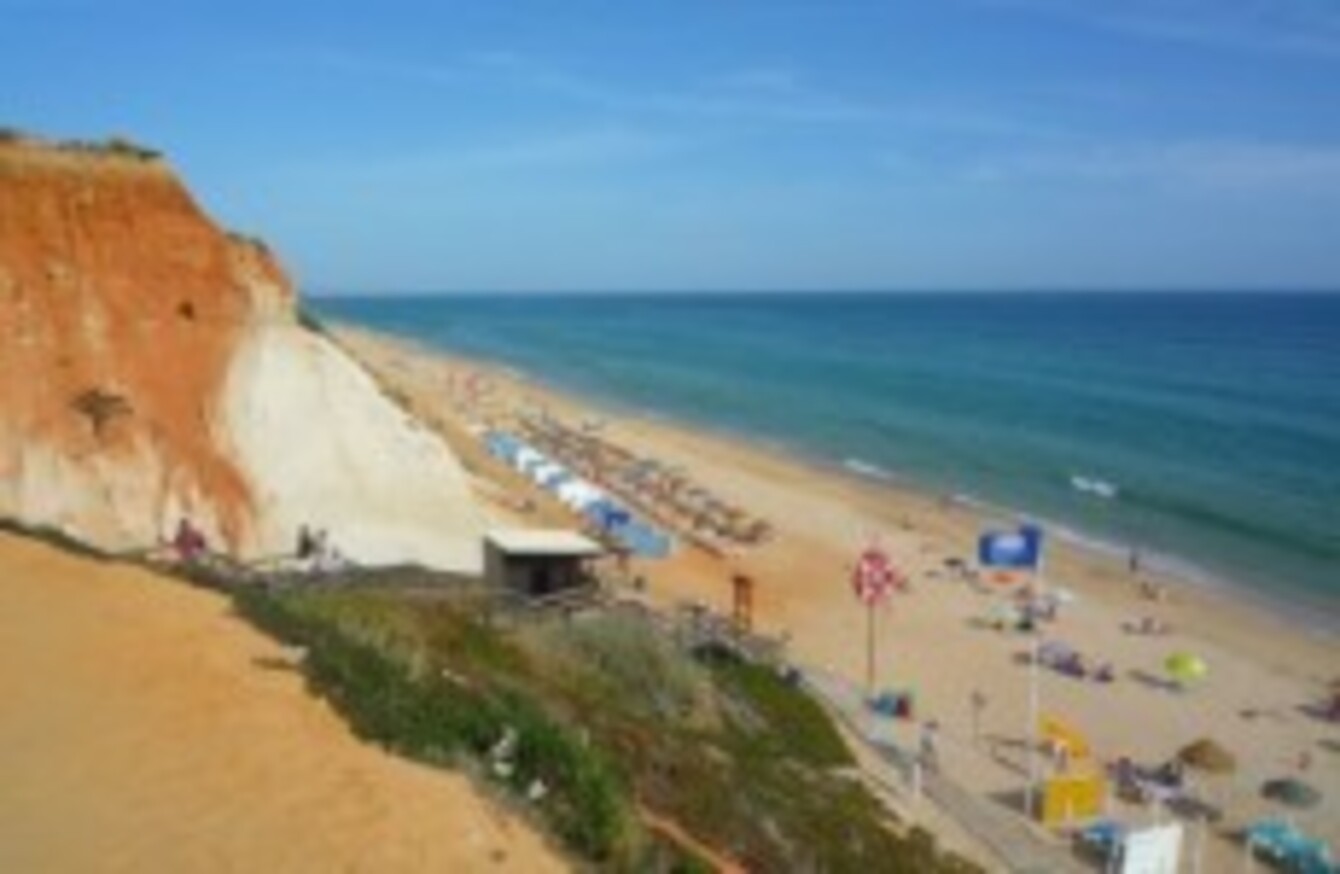 Praia da Falésia beach in Albufeira, Portugal (where the incident occurred).
Image: Timo Newton-Syms via Flickr
Praia da Falésia beach in Albufeira, Portugal (where the incident occurred).
Image: Timo Newton-Syms via Flickr
THE SISTER OF an Irishman who died while on holiday in Portugal has spoken of the family's "nightmare" at trying to bring him home.
David Keogh died on 31 August after falling into a pool while on a family holiday.
His sister Karena spoke to Joe Duffy on Liveline about the events that unfolded after David's death.
"The nightmare just, if you could imagine, got worse the following five days after the actual tragedy itself."
Karena noted that her mother had taken out travel insurance with the AA, which was underwritten by Axa, because "She was sure (David) would lose his phone or something."
Karena said when she called the number on the policy she got through to Axa in Barcelona. She described the conversation as "very clinical, very formal" and compared it to reporting lost luggage.
She said the family was asked to provide a police report, a statement from his GP in Greystones about his health, and statements from his nephews Ben and Oisín – the last people to see him alive.
All of these documents were faxed to the insurance company.
"They implied there wouldn't be a problem once they received all this," Karena said.
Ten days after his death the insurance company told the family they should repatriate David themselves and might be able to recoup the cost afterwards, pending an investigation.
Karena said that during this period her brother was "put on ice until the Portuguese funeral director was guaranteed their money", noting: "Nobody would embalm or repatriate him until they knew they were getting paid."
An Irish charity, the Kevin Bell Repatriation Trust, paid €2,900 to bring David back to Ireland. He arrived at the family home just before midnight on 10 September.
"He was buried on his 30th birthday on the 12th," Karena said.
She noted that an AA Insurance assessor was sent from China to interview Ben and Oisín, adding it looks like the company was "trying to make the apartment block take liability".
'A very rare, catastrophic event'
Conor Faughnan, Director of Consumer Affairs for AA Ireland, also appeared on Liveline.
"This is a very rare, catastrophic event and I'm not for a minute going to defend the experience that Karena and her family had."
He said the correct protocols were not followed by Axa, who failed to inform the AA of David's death until four days after it happened.
When we did find out the distress that had been caused to the family had already occurred … We have apologised, we have already refunded the family the cost that was incurred by the Kevin Bell Repatriation Trust. But I won't for a minute pretend for a minute that this was acceptable. It was a very, very serious communications failure.
Karena said the Trust has not yet been refunded but she believes the cheque is in the post.