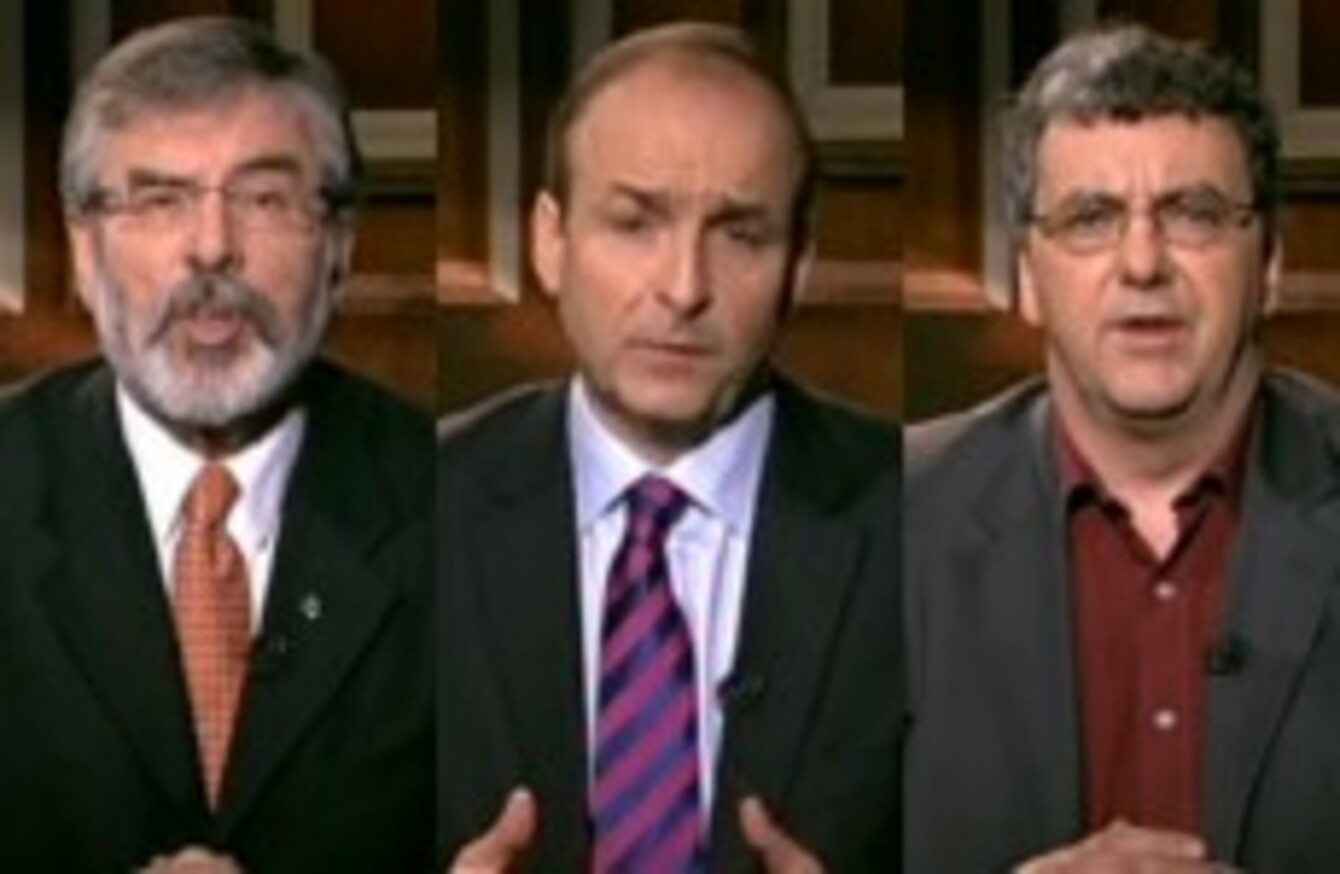 Adams, Martin and Pringle made separate televised addresses this evening
Image: RTÉ
Adams, Martin and Pringle made separate televised addresses this evening
Image: RTÉ
Updated, 11.12am
OPPOSITION LEADERS HAVE slated the Government's plans for Budget 2012, saying that the measures are a "missed opportunity" that will prove a "body blow" to people and businesses.
Fianna Fáil leader Micheál Martin, Sinn Féin president Gerry Adams, and Dáil technical group representative Thomas Pringle set out their objections to the Budget plan in a series of televised addresses this evening.
They were responding to today's announcement by Minister for Public Expenditure Brendan Howlin of €2.2billion in spending cuts – including cuts to child benefit and an increase in the student registration fee.
Micheál Martin said some decisions announced were "far from fair", would "cost jobs, not create them" and would "do nothing to help vulnerable families".
He said that a two per cent rise in VAT would amount to a "body blow" to the retail sector, and cause "significant damage".
Martin also called for the Government to focus "tax increases on the highest incomes" when tax measures are announced by Minister for Finance Michael Noonan tomorrow.
This was echoed by Sinn Féin's Gerry Adams, who urged the Government to adopt "a fairer tax system that taxes wealth".
'Missed opportunity'
Adams said the Budget was "the same old story from this conservative goverment", adding that ministers were "on the wrong road" in their decisions. "Irish people deserve better," he said.
"Citizens with special needs, carers, the unemployed… all are expected to pay for the greed of golden circles," he said. Adams called for an end to the bailing out of bondholders, as well as cuts to "excessive" pay and pensions in the public service.
Independent TD Thomas Pringle also called for a tax increase on the wealthy. "If we asked the higher-paid and wealthy people to pay the EU tax average, we could help to avoid this" hardship, he said.
Pringle said the Budget was a missed opportunity to get away from 'politics as usual'. "It is said that recessions give an opportunity to change the way things are done – but this government has missed that opportunity," he said, adding that in the end the Budget was "much ado about nothing".
The three Opposition representatives were invited to address viewers after Taoiseach Enda Kenny made a televised 'state of the nation' speech on Sunday evening. They were collectively given the same airtime as the Fine Gael leader.