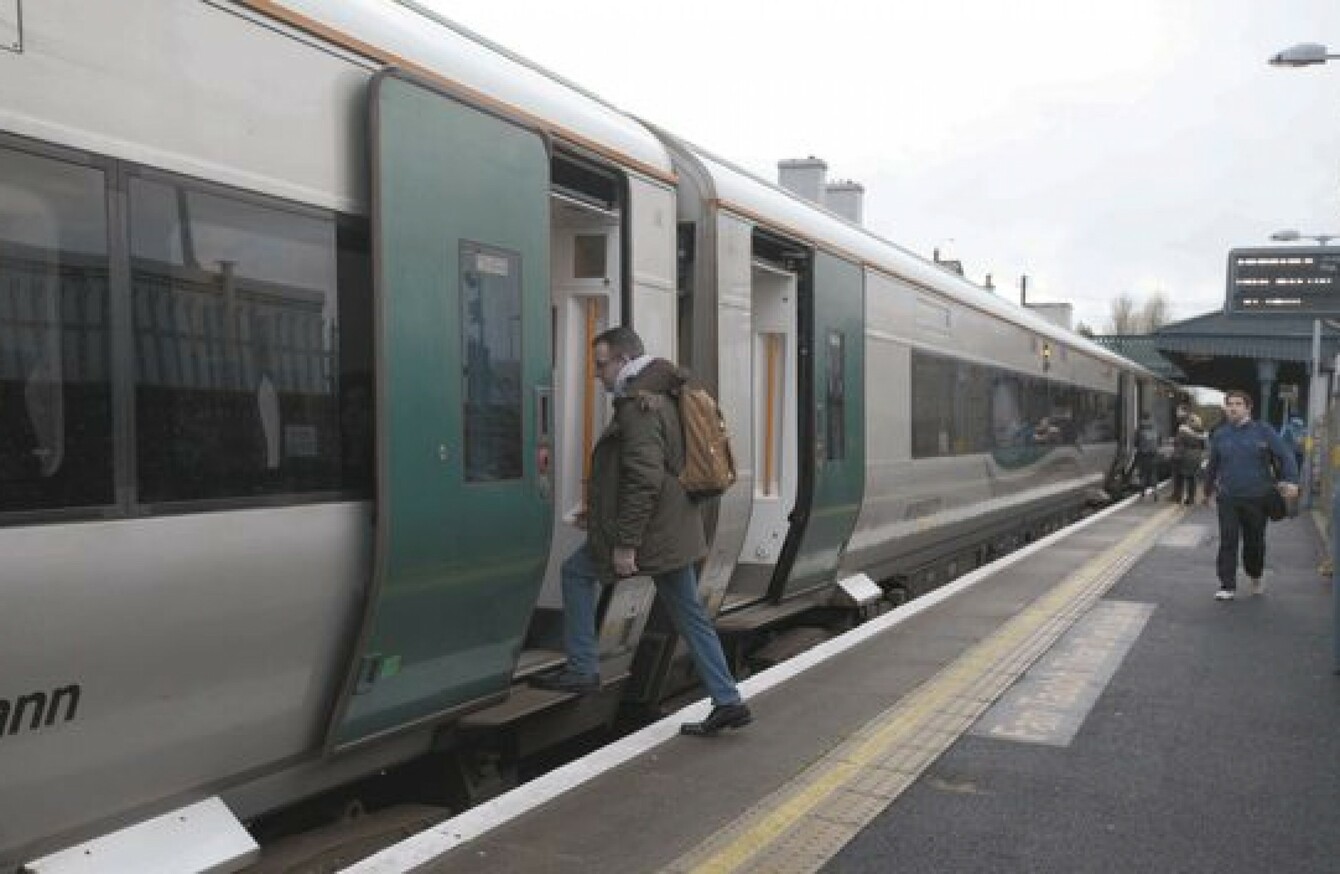 Image: Eamonn Farrell
Image: Eamonn Farrell
IRISH RAIL CUSTOMERS are still encountering problems with pre-booked seats where their names do not appear and people are sitting in their designated seat when they board.
In an interview with this website over two years ago Irish Rail spokesperson Barry Kenny said it was working on fixing the issue by changing the technology system.
However it seems the issue has not gone away.
A passenger on an Iarnród Éireann service to Dublin Heuston told TheJournal.ie that she got on at Limerick Junction last weekend with a seat number allocated on her pre-booked ticket, but she found another passenger sitting in her seat.
Even though she showed her ticket to him to show the seat number, he refused to move because no names were displayed in the electronic display above any seat in the carriage. She said:
He was quite rude about it, saying that he didn't care what was on my ticket, there was no name on the display and so he was entitled to sit where he liked.
"I was embarrassed and didn't want to make a big show of it so I moved to an empty seat nearby and said that if the train filled up at later stops that I would have to claim my seat back but he told me that he still wouldn't move."
The passenger said that there was a similar incident at Thurles but in that case, the person sitting in the pre-booked seat was more gracious about moving.
"It shouldn't be up to the passengers to have to ask when they have gone to the bother of booking their seat," said the passenger.
I visit my daughter in Dublin every month and sometimes my name is there and sometimes it isn't but I never know until I get on the train. My heart sinks when it's not.
Advice for passengers
For the reserved names to be displayed above the seat, the driver of the train needs to enter the train's ID number into the system before leaving the station.
Up until two years ago, the efficiency of this depended on the station's Wi-Fi, which could be patchy. Irish Rail then started using 3G SIM to transmit the information.
Irish Rail's Barry Kenny said, "Reliability of seat reservation displays has significantly improved as we have both the SIM and Wi-Fi features available".
Mark Gleeson from Road Users Ireland told TheJournal.ie, "It kind of goes through phases of good and bad, we've seen good improvement but we started at a very low point.
"There are days when it doesn't work and reservations don't switch on."
#Open journalism No news is bad news Support The Journal

Your contributions will help us continue to deliver the stories that are important to you

Support us now
Gleeson added that Irish Rail do offer to refund customers if they have to stand, but added that that's not much use if a parent is travelling with children and they need to be seated together.
The big problem now is that when you book your seat, the website presumes it's a train of a certain type and length and if the train is smaller, then your seat, or carriage, may no longer exist.
He said Irish Rail is trying but the problems are a combination of human and technical errors.
He added, "No passenger should be allowed to board until seat reservations are turned on, it's just frustrating."
In a statement to this website, Irish Rail stated:
We would ask customers to respect seat reservations at all times.
"We are moving to a situation where we will have more customer service personnel on board Intercity services – one of the issues they will be able to assist with is where a display is not shown for any reason, the customer service personnel will have a booking manifest and be able to ensure seats aren't incorrectly occupied.
In the meantime, we would ask customers to move if the seat is reserved, particularly to facilitate customers who have booked seats to sit together, and that where customer service personnel are available, they can assist.
Gleeson's advice to anyone who is concerned is to show up early – unfortunately that only works if you're traveling from the first station the train is departing from.