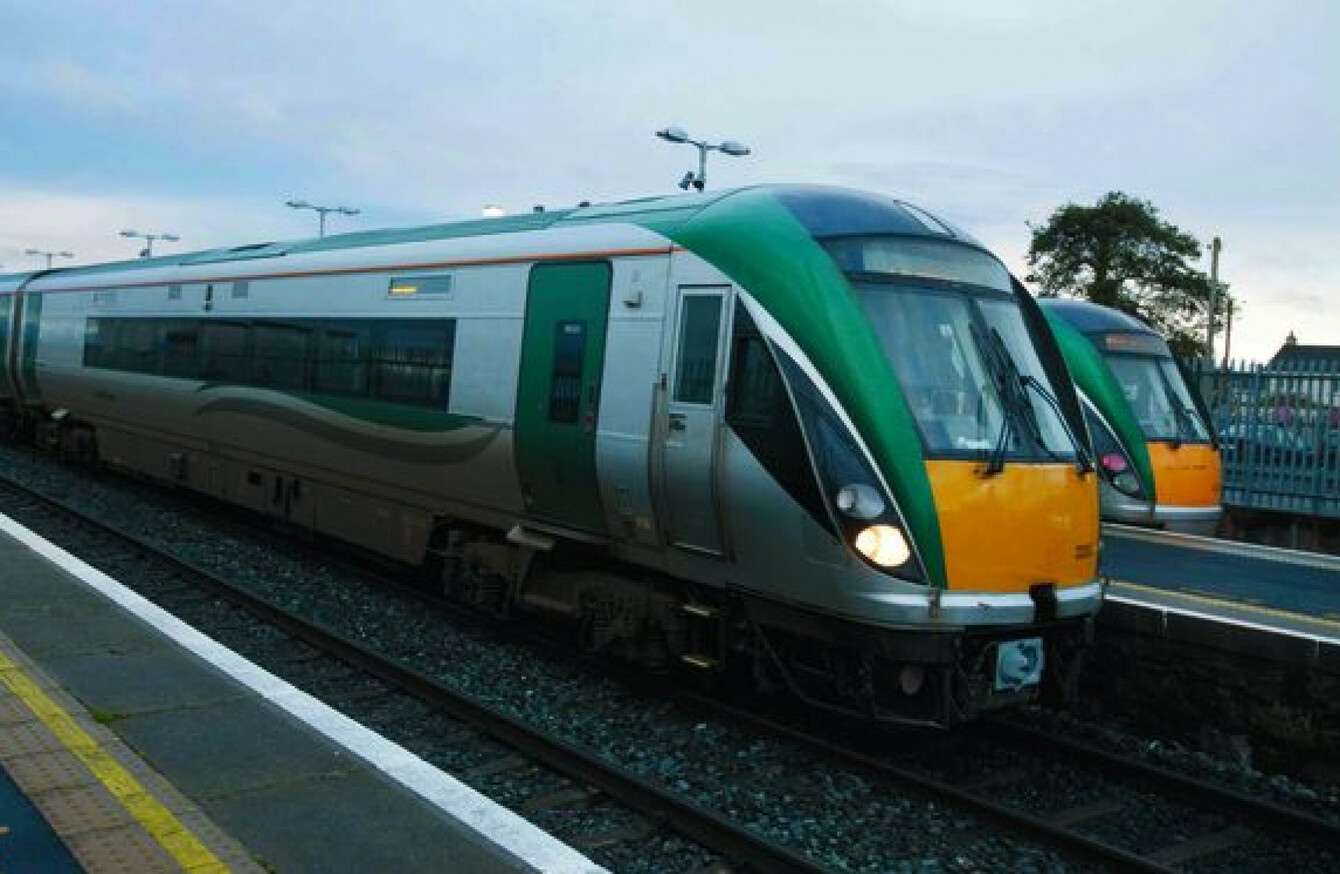 File photo of an Irish Rail train.
Image: Eamonn Farrell/RollingNews.ie
File photo of an Irish Rail train.
Image: Eamonn Farrell/RollingNews.ie
IRISH RAIL IS adding extra services to a number of train lines from next month onwards.
The timetable alterations will come into effect from 9 December, subject to the approval of the National Transport Authority.
Key changes include:
An increase in the number of off-peak and weekend services between Maynooth/Drogheda and Connolly, including extended morning and evening operating hours between Maynooth and Connolly on Sundays
Introduction of Monday to Friday off-peak services between Hazelhatch and Grand Canal Dock, via Phoenix Park Tunnel
An additional Monday to Friday service each way between Sligo and Dublin Connolly
Time alterations on Rosslare Europort/Dublin Connolly services
More even intervals on Dart services on Saturdays
Iarnród Éireann said, due to customer feedback received after changes to schedules in September, the following further alterations are planned:
A number of morning Northern Commuter services will additionally serve Portmarnock, Clongriffin and Howth Junction; and one evening Northern Commuter service will additionally serve Clongriffin and Portmarnock
Additional 6.52am Connolly to Malahide Dart service to provide connection to northbound Northern Commuter service for Dart customers at intermediate stations
Revised timings on Sligo/Dublin Connolly route services to improve punctuality
A number of other minor schedule alterations to improve punctuality
Irish Rail added extra Dart services in September following complaints about overcrowding and capacity issues after a new timetable was introduced. 
Customers are invited to submit feedback on the proposed revisions through this form, before 5pm on Thursday 15 November.
Full draft timetables are available here and a summary is outlined below.  
Separately, Irish Rail is also in the process of increasing capacity on four Dart services in each of the morning and evening peaks, which will be complete by the end of November.
The company expects to carry record passenger numbers in 2018, exceeding last year's record total of 45.5 million journeys by 6%.
Summary of proposed changes from 9 December 2018
Dublin/Maynooth/M3 Parkway/Longford
New earlier 5.58am service from Maynooth to Connolly
Six additional off-peak services each way daily from Dublin Connolly to Maynooth (Monday to Friday) delivering half-hourly off-peak service during the day up to 9pm
13 additional off-peak services each way on Saturday from Dublin Connolly to Maynooth delivering half-hourly service from 8am to 7pm approximately 
11 additional off-peak services each way on Sunday from Dublin Connolly to Maynooth delivering: Earlier first service from Maynooth at 8am; half-hourly service on Sundays from 11am to 7pm approx
Services extended to 11pm approx on Sunday evenings
M3 Parkway hourly service extended on Sunday evenings to provide connections at Clonsilla to and from later Maynooth services
Alteration to running time of 5.17pm Connolly to Longford between Mullingar and Longford
Northern Commuter
Three additional services from Connolly to Drogheda on Mondays to Fridays at 7.50am, 9.10am and 3.22pm
Additional 6.52am Dart from Connolly to Malahide, to connect to northbound Northern Commuter service for customers from intermediate Dart stations
Three additional services from Drogheda to Connolly on Mondays to Fridays at 9am, 10.10am and 4.28pm
Results in increase in service to at least two trains per hour in each direction for majority of the day
10.05pm Connolly/Drogheda service on Saturdays advanced to 9.45pm
New service on Saturdays from Connolly to Dundalk at 10:45pm
11 additional services on Sundays, delivering hourly service all day in each direction
Phoenix Park Tunnel (Grand Canal Dock to Hazelhatch)
Hourly off-peak service on Mondays to Fridays between Grand Canal Dock and Hazelhatch during the day and up to 11.20pm
Dublin / Sligo
Additional service from Connolly to Sligo Monday to Friday: 6.55am and 9.05am Connolly to Sligo will operate, replacing existing 8am Connolly to Sligo
Saturday only: 9.05am Connolly to Sligo will operate, replacing existing 8am Connolly to Sligo
Additional service from Sligo to Connolly Monday to Saturday: 4.55pm (5pm Saturday) and 7pm Sligo to Dublin Connolly, replacing existing 6pm Sligo to Connolly
Altered running times to a number of existing services, including 7.05am Sligo to Dublin Connolly advanced to 6.40am
#Open journalism No news is bad news Support The Journal

Your contributions will help us continue to deliver the stories that are important to you

Support us now
Dublin / Rosslare Europort
Monday to Friday: 5.33pm Connolly to Wexford extended to Rosslare Europort; 6.35pm Connolly to Rosslare Europort will terminate at Wexford
Saturday: 9.40am Connolly to Rosslare Europort advanced to 8.05am
Sunday: 9.45am Connolly to Rosslare Europort deferred to 10.25am; 9.30am Rosslare Europort to Connolly deferred to 9.40am
Dart
Minor Saturday and Sunday time alterations
Iarnród Éireann has said it will review all feedback received from customers about the new timetable.
A spokesperson said suggested alterations which cannot be implemented as part of this timetable change "will be retained in a database for consideration at future timetable reviews".
They added that peak frequency "cannot currently be increased, as all available fleet and infrastructure capacity is in use".