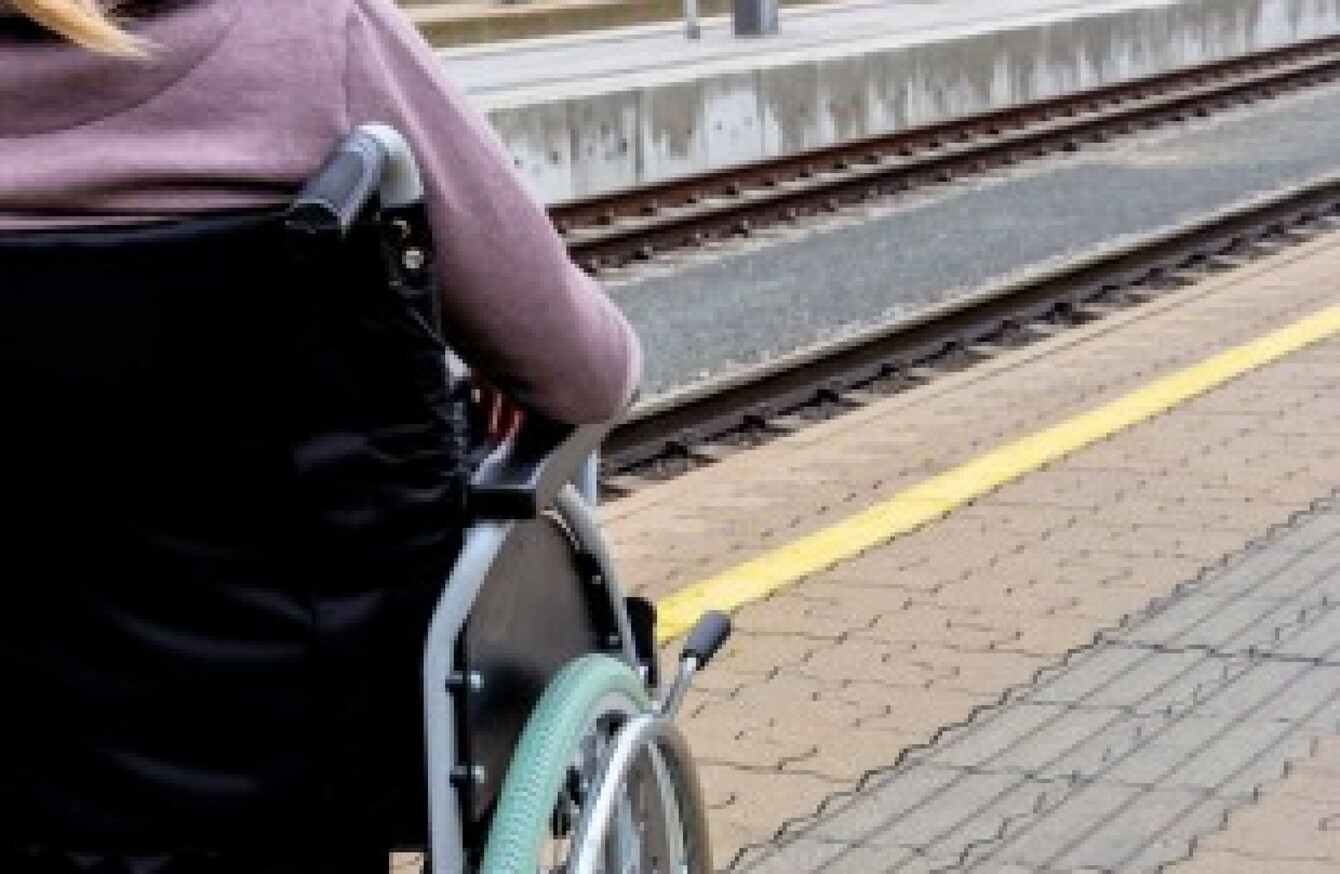 File photo
Image: Lisa S via Shutterstock
File photo
Image: Lisa S via Shutterstock
CALLS ARE BEING made to end the need for wheelchair users to give 24 hours notice to use Irish Rail trains.
In a parliamentary question, Independent TD Tommy Broughan raised the issue of a lack of access to rail services for people with mobility or sensory impairments.
He asked to see the steps Minister for Transport Shane Ross is taking to address the fact that people with impairments must give at least 24 hours notice before travelling by rail.
Major issues
A spokesperson for the Irish Wheelchair Association (IWA) told TheJournal.ie that providing at least 24 hours notice is a major issue for its members.
"This is quite a major issue for quite a few of our members, especially people with disabilities living in rural areas because there are many trains and train stations that are unmanned throughout the country," the spokesperson said.
The mandatory notice is specifically troubling to those who need to travel last-minute, according to the IWA.
It's a barrier for people if they want to travel spontaneously, or in emergency situations they will be unable to travel because they haven't provided the local station with 24-hour notice.
In a response to Broughan, Irish Rail said that if a station is unmanned, it will send a member of staff to the relevant station to assist the passenger to board or alight the train with a ramp. If this isn't possible, the train driver will be notified and will help the passenger, as required.
However, earlier this month a wheelchair user, Saoirse Smith, told RTÉ Radio One's Liveline that she was forced to wait 15 minutes for Irish Rail employees to help her exit a train.
"When I got to Connolly then, I had to wait 15 minutes for someone to come get me off the Dart," she said.
They didn't know I was on my way. Thank god for these kids that stood in the door and made sure it didn't close. I just felt really embarrassed. I'm holding up everybody and they can't go where they want to go, because I'm waiting to get off the Dart.
Echoing Smith's comments, the IWA said that its members still live with the uncertainty over whether there will actually be someone at the alighting station.
"While in one place there would be assistance from an Irish Rail staff member, there's an uncertainty that there would be someone at the other end of their journey," the spokesperson said.
Irish Rail requirements
Currently, people with mobility disabilities must provide the following information to Irish Rail at least 24 hours prior to travel:
Date of travel and departure time
Departure and destination station and any intermediate stations where a change train is necessary
Nature of disability and assistance required
Means of transport to and from departure and arrival stations
Whether they'll be travelling alone or with a partner
Whether assistance will be required at both the departure and arrival stations
How staff will be able to identify them
Government solution
In his reply to Broughan, Minister Ross stated that "accessibility features are built into all new public transport infrastructure projects and vehicles from the design stage".
#Open journalism No news is bad news Support The Journal

Your contributions will help us continue to deliver the stories that are important to you

Support us now
"With regard to existing infrastructure, there is an ongoing Accessibility Grants Programme to upgrade public transport infrastructure and facilities to help improve transport accessibility across the country," he said.
He confirmed that funding is being provided to the National Transport Authority this year for accessibility upgrade works at a number of rail stations, bus stations, and for a Wheelchair Accessible Taxi Grant Scheme.
Irish Rail's response to Broughan stated that a full review is taking place for mobility impaired users.
Iarnród Éireann are currently undertaking a full review of the DART customer experience for mobility impaired users which includes input from the Irish Wheelchair Association and the NCBI.
"As part of this review, a significant reduction in time for advance notice by customers who need assistance is under consideration as previously mentioned."
Irish Rail did not outline whether a review of services other than the DART will be undertaken.
The recommendations are set to be released before the end of the year.