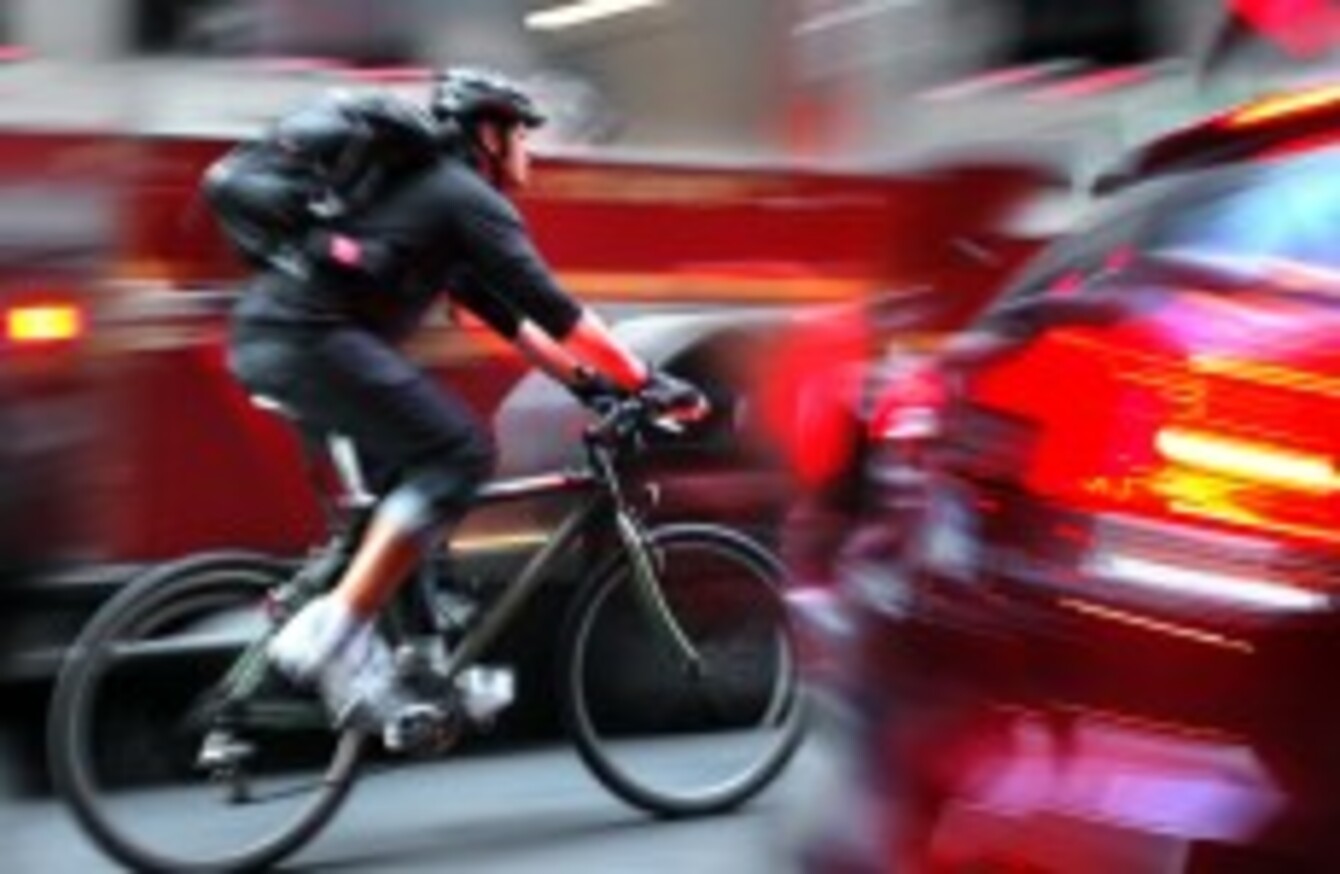 Image: Shutterstock/blurAZ
Image: Shutterstock/blurAZ
NEW FIGURES FROM the Road Safety Authority (RSA) have shown a sharp increase in danger for cyclists on Ireland's roads.
In a new report which looks at a 10-year period between 2002 and 2012 – a significant increase in injuries was noted. 
The biggest jump was between 2011 and 2012 when a 59% spike occurred. 
This saw 630 cyclists injured on Irish roads compared with 395 the year before.
The majority of these accidents happened in Dublin – where 335 cyclists were injured.
The figure for 2012 also showed the number of injuries to have more than doubled in the ten years since 2002.
These figures coincide with a growth in the popularity of cycling. Between 2006 and 2011, CSO figures showed a 9.6% increase in the number of people cycling to work across Ireland.
Worse affected
The new report found that cyclists were most likely to be injured during evening and morning rush-hour. Of the injuries that happened in 2012 – 56 took place between 6am and 7am.
The evening peak hour saw 66 people injured between the hour of 4pm and 5pm.
There was also a trend for the months between May and September to be the most dangerous time of year for cyclists.
The capital was the most prominent place for injuries – with more than six-times more incidents than second-placed Cork – which had 46 injuries reported.
The counties with the fewest injuries were Cavan and Carlow – with each having only one incident occurring.
It was also notable that almost half (49%) of injuries occurred at a junction – with T-junctions proving the most dangerous.
Killed 
While there has been an increase in the number of people injured – the number of deaths has fallen since peaking in 2007.
In that year 15 cyclists were killed on Irish roads. Last year the number of people killed on Irish roads reached 11. This more than doubled the figure from 2013 when only five cyclists were killed.
Advice
To avoid accidents, the RSA has advised cyclists to:
Ensure that they cycle with adequate lighting while on the roads.
Always to wear luminous clothing while cycling. 
To wear a helmet. 
To use hand signals. 
To always ensure that your bike is kept in good condition.
Drivers are encouraged to:
Pay greater attention to their speed – especially in urban areas.
To be aware of their surroundings and environment.
To check their blind spots – particularly at junctions.