Mollie Powell and Sean Thompson
Image: Olga Thompson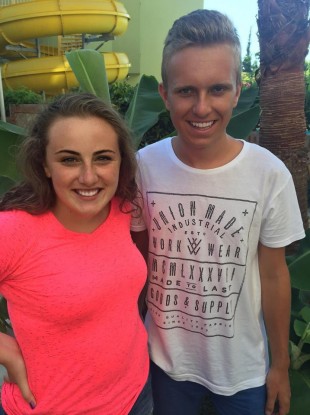 Mollie Powell and Sean Thompson
Image: Olga Thompson
TWO IRISH TEENAGERS are being heralded as heroes after saving the life of a young boy while on holiday in Turkey.
Sean Thompson, from Wexford, leapt 25 feet into a river to help a Turkish boy who had hit his head and was drifting underwater in Dim Caye River, a water park near Mahmutlar on the south coast.
Mollie Powell, a member of the Rush scout troop in north Co Dublin, then helped to drag him to safety.
The pair, both aged 16, then cleared the boy's airways and administered CPR, before a nurse arrived on the scene.
The local mayor now wants to honour the two teenagers, Sean's father Emmet said.
"I think they did a great thing," he told TheJournal.ie.
Lifeboat
Sean took courses in first aid and CPR as part of his training at 6th Wexford Sea Scouts, where his father is a leader.
"He put it all of it into practice and used it," Emmet said.
They didn't even think about, just dived in.
Sean, who will volunteer next year with the local RNLI lifeboat, was crossing the water park's river bridge, when he saw that one boy had dived into the water on top of another, rendering the latter unconscious.
"Once he saw that that boy was in trouble, he had no hesitation, no hesitation at all," his father said.
The police said it was only for the quick reaction of the kids, he was alive.
Fingal Scouting
In a statement, Fingal Scouting said: "It is just incredible to hear about the actions of Mollie and Sean.
"Giving young people the skills and confidence to do what is needed in difficult situations is what scouting is all about.
"When a young person first gets involved in scouting at the age of six they are taught very basic first aid and as they progress through scouting they learn more advanced skills like CPR and how to deal with life or death situations.
It is one thing to do it in the scout den, but something totally different to do it when someone's life depends on it.
Youth membership of Scouting Ireland recently passed the 50,000 mark.