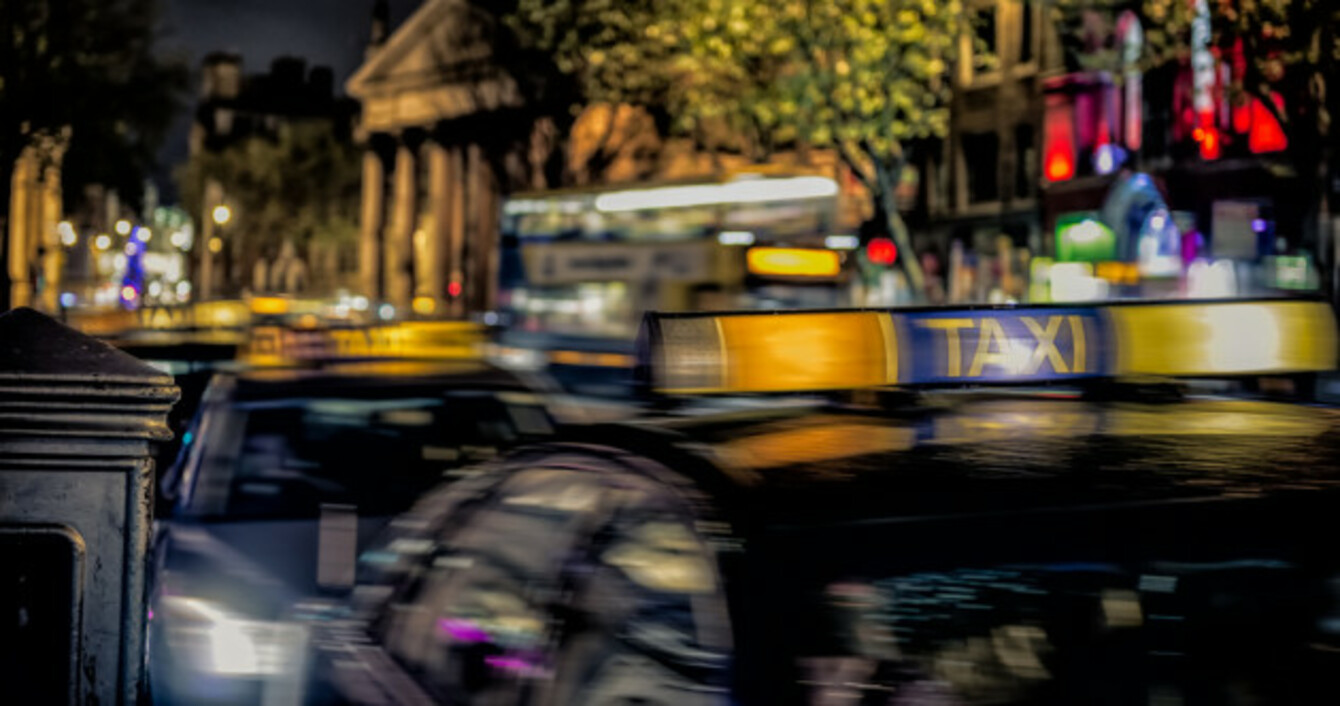 Image: Shutterstock/massimofusaro
Image: Shutterstock/massimofusaro
TAXI DRIVERS. THEY'RE a unique breed. Not only do they ferry us from A to B but they also have to make small talk, serve as confession boxes, and see humanity at both its best and its worst. 
We spoke to three taxi drivers who love their jobs about the day-to-day reality of working behind the meter. 
Brendan Fox, Dublin ('The Best Taxi Driver In Ireland')
Back in 2003, Brendan Fox decided it was time for a career change and explored the possibility of becoming a taxi driver. He had friends who worked in taxis and thought it sounded like a good Plan B. 
After giving hackneying a go and getting a sense of what it was all about, he quit his job and started driving full-time. 
One night, he was out in UCD and had an experience that would change the course of his career for the better.
"I was in UCD with one of my mates and a third driver," he says. "We were waiting for students to come out of the residence and we saw about 15 students coming out."
He started gearing himself up for a fare when suddenly the students took a turn and disappeared. 
"I said, 'What the hell just happened?' One of the lads said, 'They got a Venga Bus.'" 
Fox wanted to know why he had just lost out on the fare and started trying to wrap his head around the concept of a Venga Bus.
"I asked a few questions. 'What does a Venga Bus have that we don't have?' The other guy we didn't know said, 'Thirty seats.' I said, 'What else?' My mate says, 'Music.' I said, 'We have music.' He said, 'They've got lights.' I said, 'What kind of lights?' He explained it to me and I said, 'Sure we could do that, couldn't we?'"
The third guy laughed his head off and my mate says, 'Yeah we could do that.'" 
Fox and his friend decided to set up their own disco taxis where they would play upbeat tunes and get people buzzed for their nights out. They made their own playlists and experiment with different sets of disco lights.
A few days later, they reconvened on Harcourt Street to ascertain what worked and what didn't work. The rest, as they say, is history.
These days, Fox is one of the most popular taxi drivers in the capital with loyal regulars and a significant following on social media. In fact, he bills himself as the 'best taxi driver in Ireland'.
"The title came about because people kept telling me that it was the best taxi in the world," he says. "After five or six years, I decided to embrace the idea." 
If you get inside Fox's taxi, he lets you sing, dance and record videos on his phone to be shared on his Instagram page.
"It's a bit of fun and people love it so what the hell? 
In fact, he's become somewhat of a celebrity now. When I speak to him, he recalls being out on O'Connell Street at 2.30am on a recent night when a girl crossing the road started pointing at his car.
"I was going, 'What's wrong with her?'" 
He eventually rolled down the window to see what the fuss was about.
"She said, 'That's him! That's him!' She goes, 'You're the best taxi in Ireland. I follow you on Instagram!'" 
Fox was bowled over by the interaction. 
"I said, that's incredible. That's how powerful the whole thing is. I was very touched by it."
One tip? Don't get into Fox's car if you're dead set on having a quiet night.
"The other night, I had two girls in the car. I picked them up in Rathmines and they were going home. I put on the lights and the music, and they said, 'Nah, we're going to House.' So I turned the car around and brought them to House."  
Frank Drohan, Waterford
For the past thirty years, Frank Drohan has been shepherding people across Waterford City in his taxi. He took it up after returning home from England with his family and hasn't looked back since.
"I must say I have enjoyed it and it has been good to me in the sense I can come and go as I like," he says. 
These days, Drohan works with Rapid Cabs, a taxi service based in the city. A typical day for Drohan involves getting up in the morning and doing a couple of hours before returning home for a break and possibly putting in another shift that evening if he's up to it.
At 74 years of age, his days of working nights are long behind him but he still enjoys having something to keep him busy during the day. 
"One of the reasons I'm at it so long is due to the fact that I lost my wife eight years ago and it's something to do during the day," he says.
It's sociable work that gets him out and about meeting people, something he enjoys. What's his preferred conversation starter?
"The weather is the usual topic," he says. "The last couple of months now, it's the Brexit thing people are talking about. The Budget thing was a big thing over the last couple of weeks and everyone had their own take on it. It's genuinely interesting conversations you have."
"Some people get into the car and they're moaning about this, moaning about that – as we do ourselves – but by and large most people who get into taxis are genuine people and you have no problems with them at all." 
That said, he can always tell if somebody isn't up for a chat.
"You need to talk to people if they want to talk and if they don't want to talk, don't talk at all," he says. "You get the feeling when someone sits into the car. You can try talking about the weather, the match, whatever."
You'll know in ten seconds if they're interested in talking and if they're not, just keep your mouth shut and drive away and say, 'Thanks very much' when they pay you.
He cites working with the local community as another aspect of the job he enjoys.
"We have a contract here with the hospital where we collect and bring back the patients, which is very, very important," he says. "You have a chat with them, they have a chat with you and we have a good rapport with them, you know."
After thirty years behind the wheel, he's showing no signs of slowing down. 
"As long as I'm enjoying it, I'll keep doing it," he says. "The day it becomes a chore to me or the day I don't like it, I'll pack it in. 
Diarmuid Begley, Dingle
Diarmuid Begley works as a hackney driver in Dingle, Co Kerry. ("We don't have taxi drivers in Dingle.") He fell into the business nearly 25 years ago following a brief illness.
"I had a short illness and just had to get money," he recalls. "I did a little bit of it in London so I said I'd look into getting a licence and I did get the licence and I've loved it ever since." 
These days, Begley runs his own business with the assistance of his wife Dolores. The bulk of his work these days involves taking tourists on guided day tours to the likes of Ring of Kerry, Cliffs of Moher and Dingle Peninsula. He is fascinated by local history, culture and the Irish language, and loves to impart his knowledge to visitors.
"I like to share it with them and put a picture in their eyes of what we see and what we are proud of as a nation," he says.
"Then of course I would have local work – bringing people to hospital and everything else." 
So, is driving around one of the most beautiful parts of the country as idyllic as it sounds? Pretty much, says Begley.
"I was just driving past Inch here when you rang me. I was taking a picture of Dingle Bay and Carhiveriveen Mountains and Glenbeigh across the way. It's so beautiful. If you had this day in July, you'd be laughing." 
"If you look at photos I put on Facebook, that's what I do everyday and that's what I see everyday. What's not to like about it?"
Begley regards himself as friendly and helpful, and attributes his longevity in the business to exactly that. His advice for fellow taxi drivers is simple: treat others as you would like to be treated yourself. 
"One story I have that I thought was amazing altogether," he recalls. "My nephew was coming down from college for Christmas and he stopped at a garage in Abbeyfeale. He had €35 in his pocket and his tyre was bald. The price of the tyre was €40. He said to the garage man, 'I only have €35'. The garage man said, 'I'd rather put in the new tyre and get €35 than to have it on my conscience if something happened to you.'"
"I hope that's the way I treat people. I think it is because I like it and I like helping people. I'm not trying to say I'm a God or anything, but you help people and people help you back. "
In short?
"Be decent and respect people and help people."