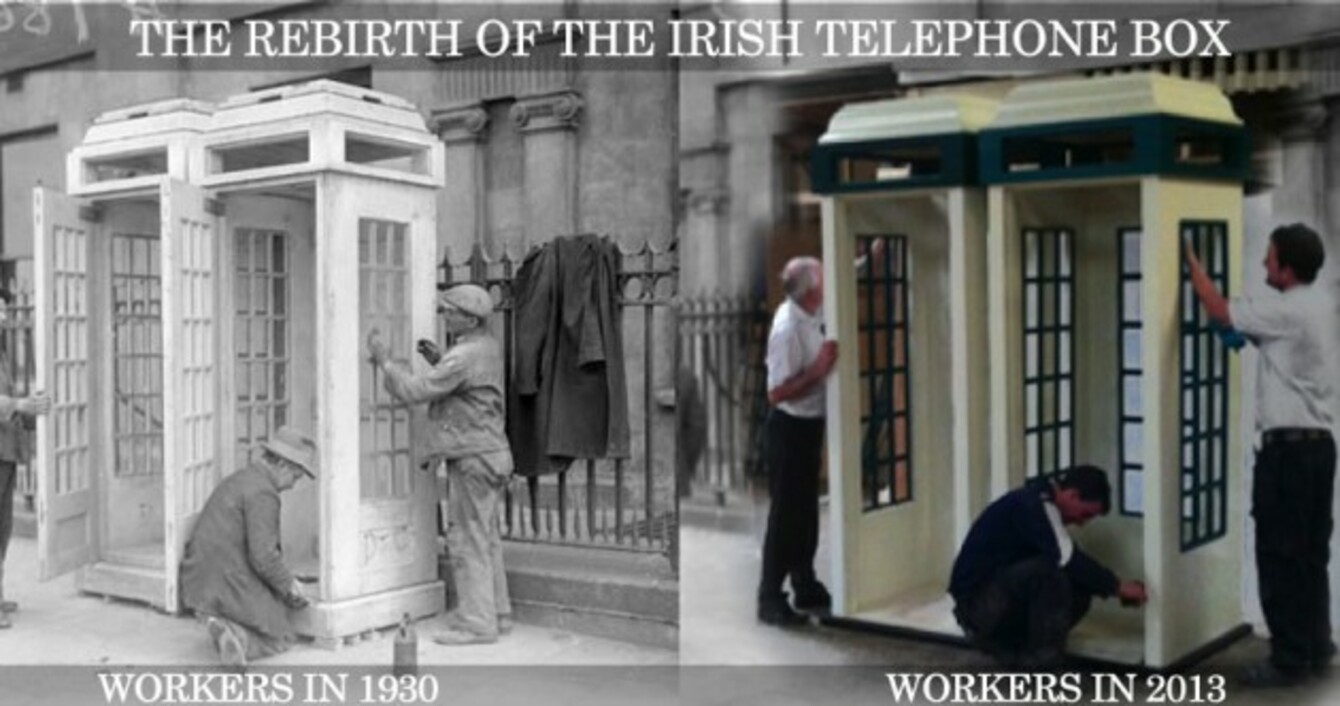 The Burke Joinery company recreate an archive scene of a phonebox being constructed.
The Burke Joinery company recreate an archive scene of a phonebox being constructed.
CALL US, BARACK. That's the hope of a family company in Ireland which has served up an alternative vessel to the Waterford Crystal bowl normally used to present shamrock to the US president on St Patrick's weekend.
Instead, there is a distinct possibility that tonight's presentation of shamrock from Taoiseach Enda Kenny to President Barack Obama could be made using a miniature traditional Irish phonebox. The box was handcrafted by Burke Joinery Ltd, a Dublin family joinery business set up in 1985.
The MD and founder of the company, John Burke, told the Ray D'Arcy Show on Today FM this morning that he had approached the Department of the Taoiseach with his idea and had hand-delivered the model phonebox, measuring just under a foot tall, to Kenny's team on 6 March.
The phonebox miniature has gone to Washington DC with the Taoiseach and protocol will make a decision later today on whether it will be used in the presentation.
Burke said that he was inspired to begin manufacturing replicas of the iconic wooden-frame Irish phoneboxes by this award-winning short film, Bye Bye Now, by Ross Whitaker and Aideen O'Sullivan of True Films.
Watch it here:

via TrueFilmsTV/Youtube
John Burke said:
I looked at a short film Youtube called Bye Bye Now which was directed by Ross Whitaker and Aideen O'Sullivan. When I looked at it, it was a 15-minute short film that won awards in America, believe it or not. It was all about the destruction of the Irish telephone box. When I saw them being taken down and broken and dumped, I just couldn't believe it.

Sympathy struck and I thought, 'No, I have to do something about this,' so it went on the back boiler, I'm a joinery constructor by trade. We were doing great in the boom, 2005, 2006, everything was going great but then construction went through the floor.

So I had to start thinking outside the box, pardon the pun.
The phoneboxes made by the Burke company are now being shipped around the world – in some Irish-themed pubs the largest ones are being used for exactly what one might think: as a "quiet zone". The irony, of course, is that the calls being made from inside them tend to be on mobile phones – the rise of which led to the decline in use in street phoneboxes in Ireland.
John Burke explained:
People are asking me, why are you making these when everybody has a mobile phone? The reason is, if you're in a pub, a restaurant, your offices, your phone rings, you've a private call coming to you, a personal call, you step inside the phonebox, take your call or make your call, step out and it's all done in your privacy.
The phonebox reproductions come in a range of sizes from lifesize to an ornamental version. They are named after famous Irish writers, from Yeats (the biggest) and in descending order of size, the Shaw, Joyce, Wilde, and the Beckett, which is the one that has headed to the White House.
Here's John and the team: