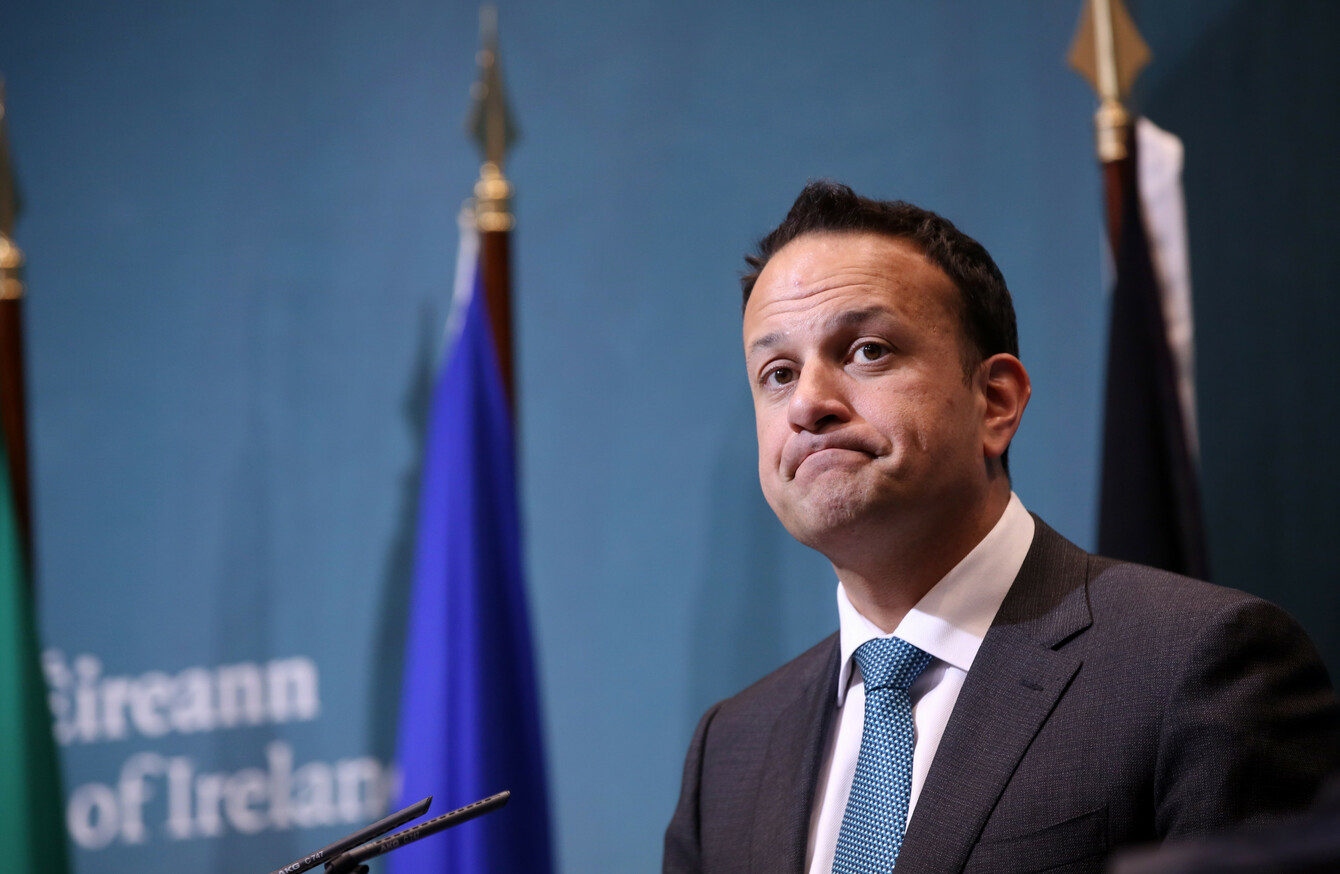 Image: Sam Boal via RollingNews.ie
Image: Sam Boal via RollingNews.ie
A NEW OPINION poll suggests that Fine Gael is maintaining a strong lead over opposition parties. 
The latest Irish Times/Ipsos MRBI opinion poll also found that support for Sinn Féin almost matches that for Fianna Fáil.
With much talk of the government's confidence and supply deal in recent weeks, the poll found that voters are divided on whether they want to see an extension of the agreement between Fine Gael and Fianna Fáil.
46% of voters want to see an extension of the deal, while 44% would prefer to see a general election. 
Last week, Fianna Fáil leader Micheál Martin wrote to Leo Varadkar and told him he thinks it's best if they both agree not to bring down the Government and force an election.
Popularity
Fine Gael has risen two points (compared with the last poll in December) to 33% and Fianna Fáil is down one to 25%. 
Meanwhile, Sinn Féin is up two points to 24%, Labour is down one to 4% and Independents/others are down two points to 14%. 
When looking at the core vote of the largest parties (before undecides were excluded), compared with the last Irish Times poll in April, the poll is a significantly more close-run thing, with Fine Gael at 26% (+2%), Fianna Fáil at 20% (-1%), Sinn Féin at 19% (+1%), Labour at 3% (-1%) and Independents/others at 11% (-1). Undecided voters were at 21 per cent, unchanged since the last poll.
The poll was conducted between Wednesday to Friday last week, among a representative sample of 1,200 voters aged 18 and over in face-to-face interviews at 120 sampling points in all constituencies. The margin of error is plus or minus 2.8%. 
Budget
Almost one in five (19%) said the budget will leave them better off, while 14% said they will be worse off. The poll found that a large majority said it will make no difference. 
When asked if the Government was right to favour public spending increases over tax cuts, 42% were of the opinion that the Government was right, while 47% said they would have rathered more tax cuts.
Meanwhile, government satisfaction has declined by five points to 39% since April, while Taoiseach Leo Varadkar's approval rating has dropped by four points to 51%.