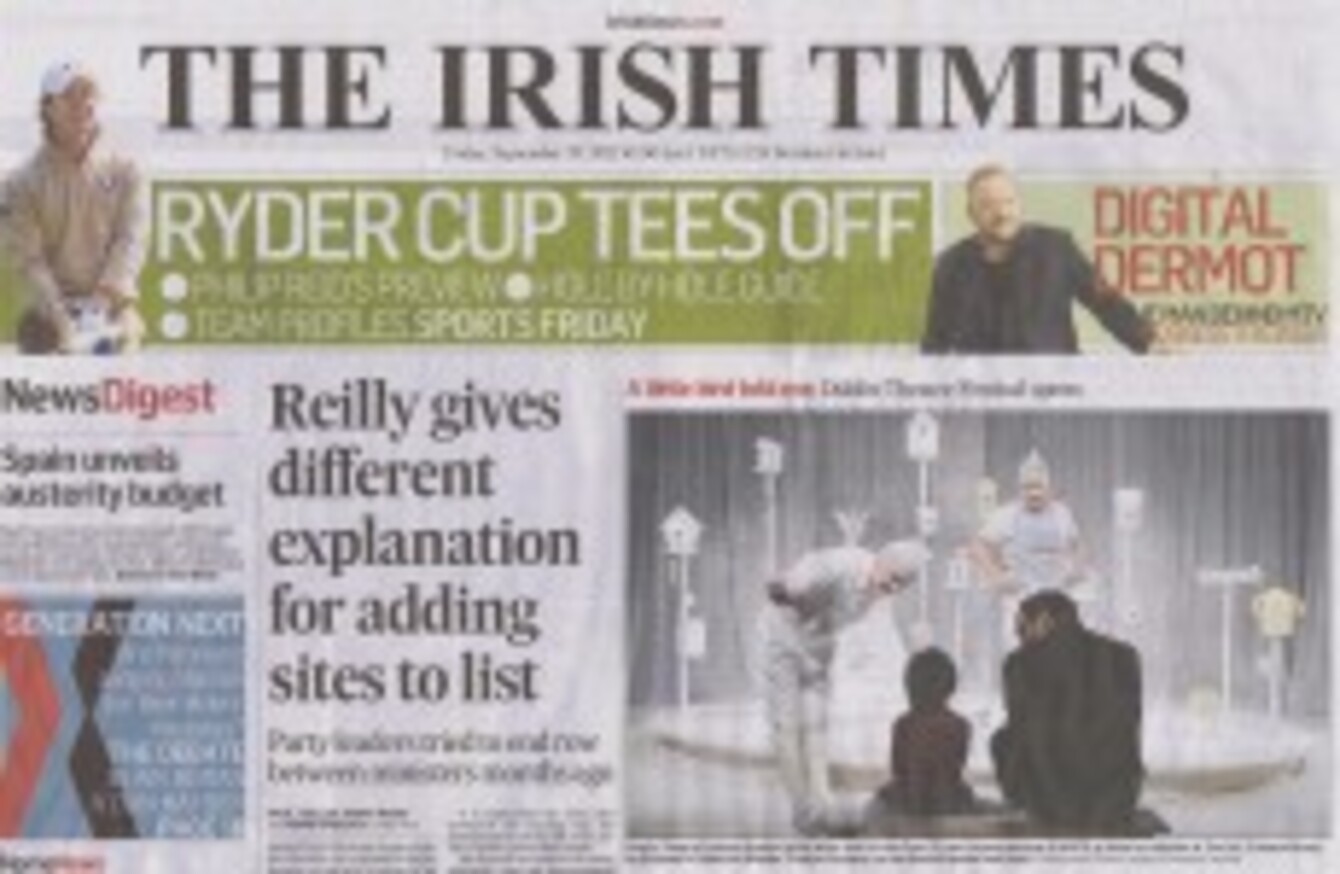 Image: Photocall Ireland
Image: Photocall Ireland
READERS OF THE Irish Times are in for a change: the newspaper is launching its new format tomorrow with narrower pages and an overhaul of its layout and design.
Editor Kevin O'Sullivan said the new format will be the biggest single change the newspaper has made since it launched its entertainment supplement The Ticket and Saturday magazine twelve years ago.
The new front page will see the traditional news digest along the left hand side move to the bottom of the page. The newspaper and Saturday magazine will both use a new typeface and the text will be slightly bigger than it currently is. There will also be colour-coded sections and more use of photographs and graphics throughout the paper.
The newspaper will still be broadsheet but pages will be narrower, making it one of just two newspapers in the country which will be that specific shape and size.
The redesigned newspaper comes weeks after the paper launched a major marketing campaign, and is part of a series of ongoing changes at the newspaper. Managing director Liam Kavanagh said in August that the company is planning to introduce some kind of paywall for certain access to online content in the future but did not give a date for when this will happen.
In an email sent to some readers, the Irish Times described tomorrow as "a date with change".
"The challenge for us was to remain true to our quality journalism while at the same time finding a modern print format for today's readers," said Kevin O'Sullivan in a statement. "We hope the newspaper, together with our digital offerings, will continue to play an essential role in informing our readers".
The new format will see more use of readers' comments in the Weekend Review section to reflect online debate over the course of the week.
"We have talked to readers about how they read the paper, their preferences and what engages them," O'Sullivan said.
"The new format will allow readers to gravitate to their areas of interest easily and quickly. We have taken on board extensive research on the case for change in presentation of our journalism today, notably in response to how people consume news through a wide variety of devices and yet retain an affinity for print".
"The changes are balanced carefully to retain the core elements that make The Irish Times so compelling to readers – our values and our independence".

(Video: IrishTimes/YouTube)