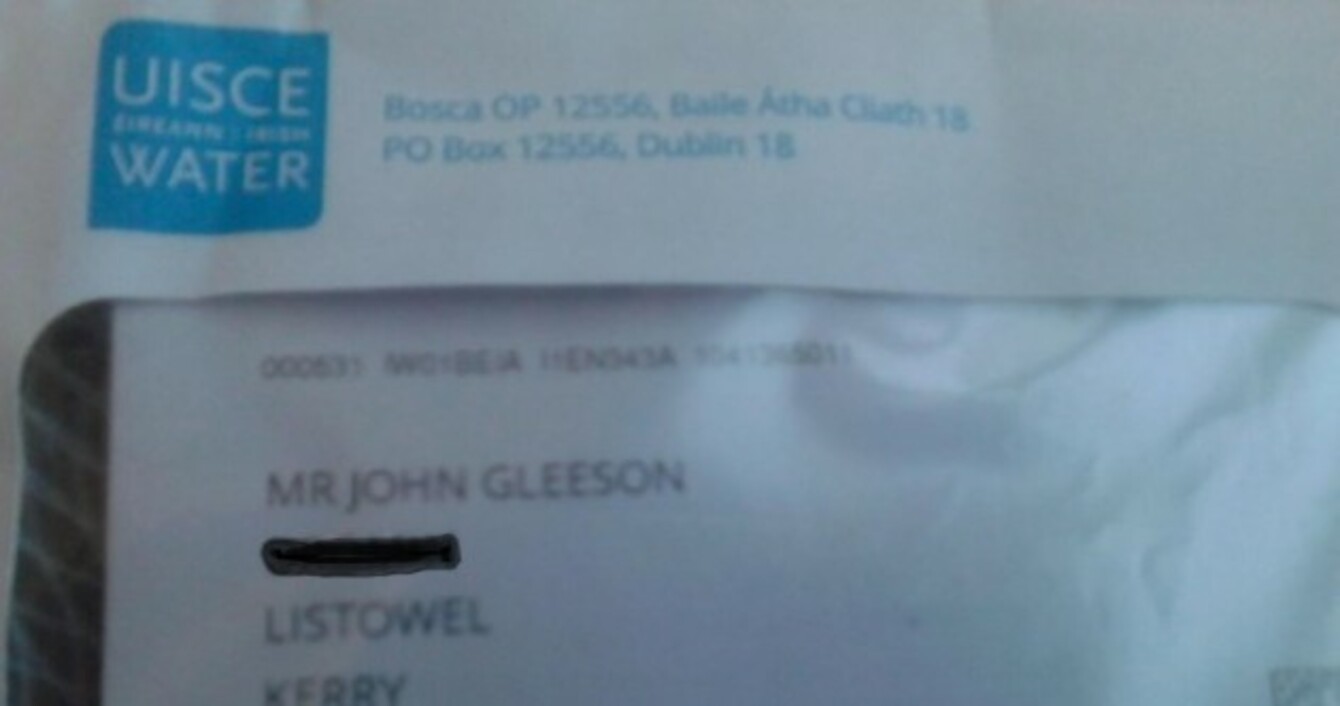 Image: Betty O'Sullivan-Halpin
Image: Betty O'Sullivan-Halpin
Updated 7.30pm
A WOMAN HAS received an Irish Water bill in the name of her deceased partner, five days after the 11th anniversary of his death.
Betty O'Sullivan-Halpin received the bill at her home in Listowel in County Kerry in the past week.
Betty said the incident "brings it all back" and left her "very, very hurt".
She said sending correspondence to people who have died is "ignorant and irresponsible" and "very, very disrespectful".
Betty added that the house has been in her name for seven or eight years so she doesn't understand how the letter was sent to her late partner, John Gleeson.
She said the last time she received post in his name was several years ago, so this came as quite a shock.
Betty said she doesn't plan to register with Irish Water as she "works long hours" and her wages have been cut, adding: "We're taxed enough."
Apology
A spokesperson for Irish Water said sending bills to 1.5 million people is "a significant task" and the utility expects to "face challenges where we have incomplete customer information, where customers have not yet registered or where customer information needs to be updated".
"In asking people to register, Irish Water used a number of pre-existing data bases, in order to compile a data base of all those on the public water network in Ireland. Such a data base has not previously existed."
We fully understand and sincerely apologise for upset caused by incorrect customer information. Customers can contact Irish Water and provide us with their information at any time.
Local Sinn Féin TD Martin Ferris said that sending a bill in the name of a person who died 11 years ago is "quite extraordinary and insensitive".
The house has been in her name for several years so there really is no excuse for this. People might understand that mistakes will be made where someone has passed away in the last year or two but this is well beyond that.
Ferris said the error "further highlights the complete shambles the government has made in setting up this disastrous and bloated quango".
Irish Water recently apologised after a Wexford mother of two received two letters addressed to her deceased husband. They included 'RIP' after his name.