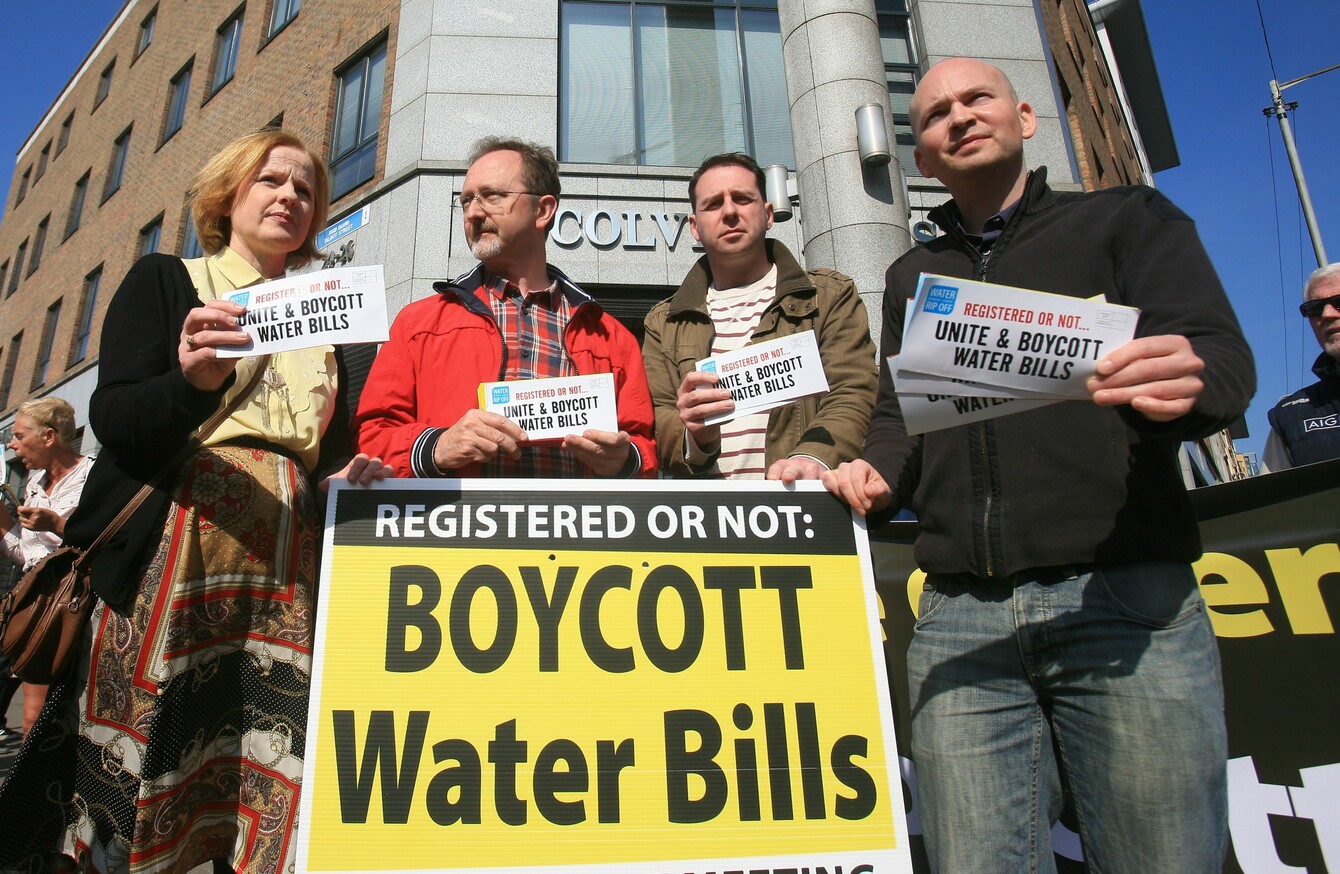 A protest outside Irish Water headquarters (File photo)
Image: Photocall Ireland
A protest outside Irish Water headquarters (File photo)
Image: Photocall Ireland
JUST OVER A fifth of people plan to pay their next water bill in the wake of the general election and the uncertainty over the future of charges, according to a new poll.
Nearly half of people say they will not be paying their next Irish Water bill, according to a Claire Byrne Live/Amárach Research poll carried out earlier today.
The poll asked respondents if they intend to pay their water bill to which 22% said Yes, 49% said No and 13% said they did not know.
The remaining 16% said that water bills do not apply to them. In Dublin, 56% of people said they will not pay their next bill compared to 21% who said they will.
Irish Water, which has 1.5 million customers, has said that 745,000 made a payment in the second billing cycle, which is more than the 675,000 who paid in the first cycle.
The company has said it will levy fines on households who don't pay a bill for more than a year.
The poll findings come in the wake of the general election result which saw gains for Fianna Fáil, Sinn Féin and the Anti-Austerity Alliance-People Before Profit, all of whom have pledged to scrap water charges and abolish Irish Water.
Fine Gael and Labour, who introduced water charges, suffered a combined loss of 42 seats with the coalition government failing to win re-election.
The uncertainty caused by the election result led to Agriculture Minister Simon Coveney suggesting on RTÉ's Prime Time last Tuesday that Fine Gael was "willing to talk about water".
However, he later backtracked and said that scrapping charges would be a "a big mistake". Taoiseach Enda Kenny said that it would be "a seriously costly and seriously historic mistake" to scrap Irish Water.
Coveney apologised to his Fine Gael colleagues, many of whom were considerably angered by the remarks having defended Irish Water and water charges on the doorsteps.
Fianna Fáil has committed to scrapping water charges for at least five years and winding down Irish Water. Responsibility for the provision of water would be given back to local authorities with a new oversight body, similar to the National Roads Authority, established.
Fianna Fáil has remained coy on whether the issue is a red line in any government negotiations, insisting there are no red line issues as negotiations have not begun.
Sinn Féin has said that water charges and Irish Water must be abolished and said they will not enter government without this commitment.
Meanwhile, a separate poll carried out today finds that 39% of people favour a coalition between Fine Gael and Fianna Fáil while slightly more people, 42%, want a second election.
Just under a fifth of people, 19%, said they don't know when asked if they would prefer a coalition between the two largest parties in the 32nd Dáil or a second election.
The poll was conducted by Amárach Research on Monday, 7 March. The survey panel comprises more than 1,000 adults who all own a smartphone. More details here.