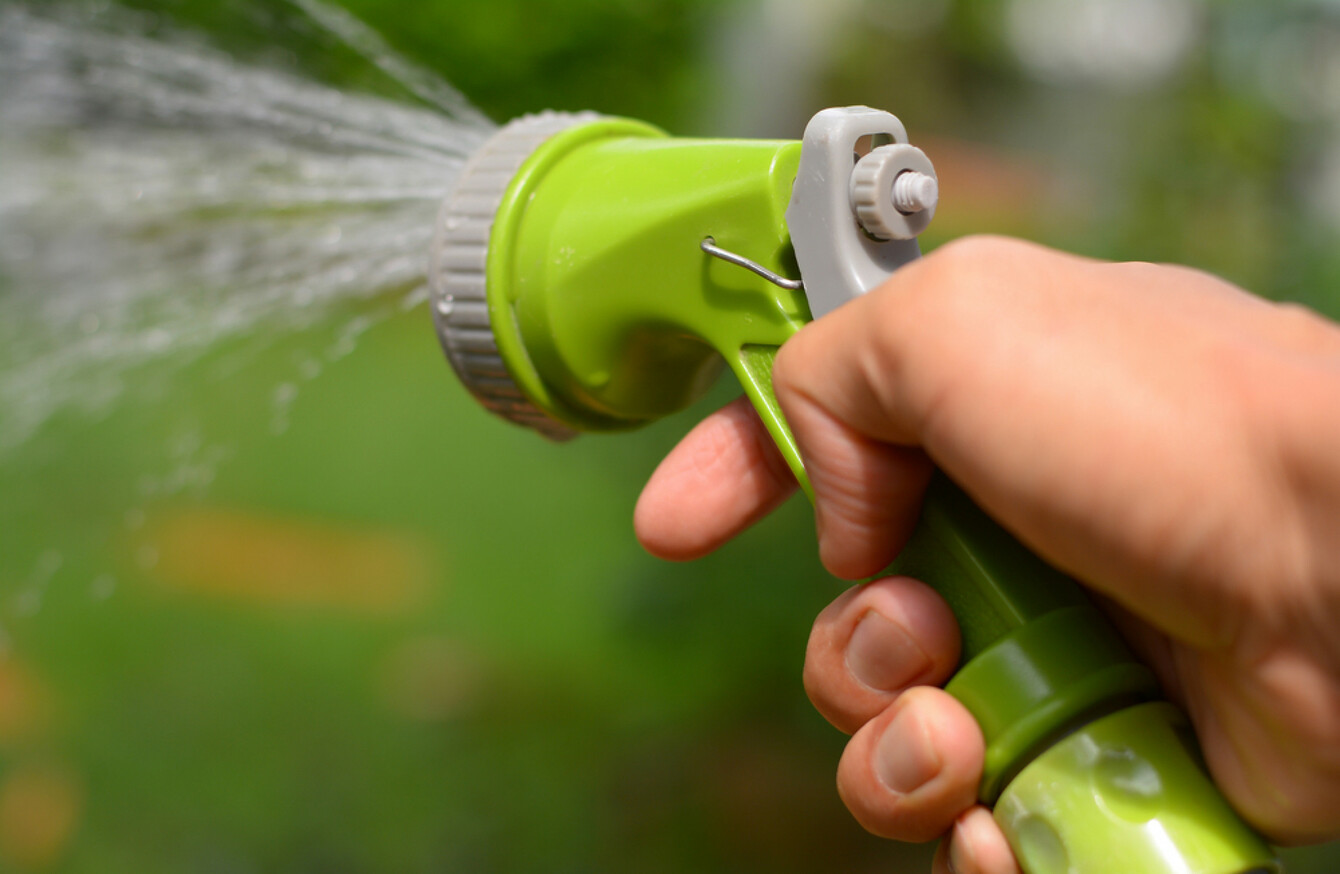 Image: Shutterstock
Image: Shutterstock
IRISH WATER HAS said a hosepipe ban will be put in place from Monday 2 July in the Greater Dublin Area.
As demand continues to outstrip supply and the warm weather looks set to continue, Irish Water said it has taken the extra step to use the legal options open to it.
Section 56 (16) of the Water Services Act 2007 allows for an effective 'hosepipe ban'.
The Water Conservation Order will be in place until 31 July but Irish Water said it will keep the situation under review and may have to extend the period of time the order is in place.
The prohibited use will apply to the use of water drawn through a hosepipe or similar for the purpose of:
watering a garden
cleaning a private motor-vehicle using a domestic hosepipe
cleaning a private leisure boat using a hosepipe
filling or maintaining a domestic swimming or paddling pool (except when using hand-held containers filled directly from a tap)
filling or maintaining a domestic pond (excluding fish ponds) using a hosepipe
filling or maintaining an ornamental fountain (with the exception of such use for commercial purposes)
use of water for filling or replenishing an artificial pond (excluding fish ponds), lake or similar application.
This order applies to the Greater Dublin Water Supply Area.
Irish Water said it will examine the over 100 at risk schemes around the country for possible application of a Water Conservation Order.
Speaking about the legal move, Irish Water's corporate affairs manager Kate Gannon said: "Imposing a Water Conservation Order is a measure that Irish Water now consider appropriate. It is essential that our water supply resource are conserved if we are to avoid restrictions and outages over the coming weeks and months.
The legislation actually requires us to demonstrate that there is an urgent need for the Water Conservation Order and that it can only be applied where and when it is necessary. Therefore we are considering such orders on a scheme by scheme basis.
Irish Water said it is "mindful of the impact that a Water Conservation Order might have on businesses and the tourist industry and for that reason the prohibition is mainly limited to domestic users with the exception of gardens".
"We are really grateful for the measures that people have taken to conserve water so far and we hope that placing a Water Conservation Order will make people more mindful of their responsibilities and the impact their water usage is having on their neighbours and communities," Gannon said.
Gannon added that the utility has been in touch with large commercial users in the last two days who have committed to conserve water.
"We are very grateful to them for their efforts," she said.
"Businesses will also be subject to the hosepipe ban for the purpose of watering gardens but we are also appealing to them to limit all non-essential water use to avoid using hosepipes or power washers where possible, particularly if it is for cosmetic reasons."