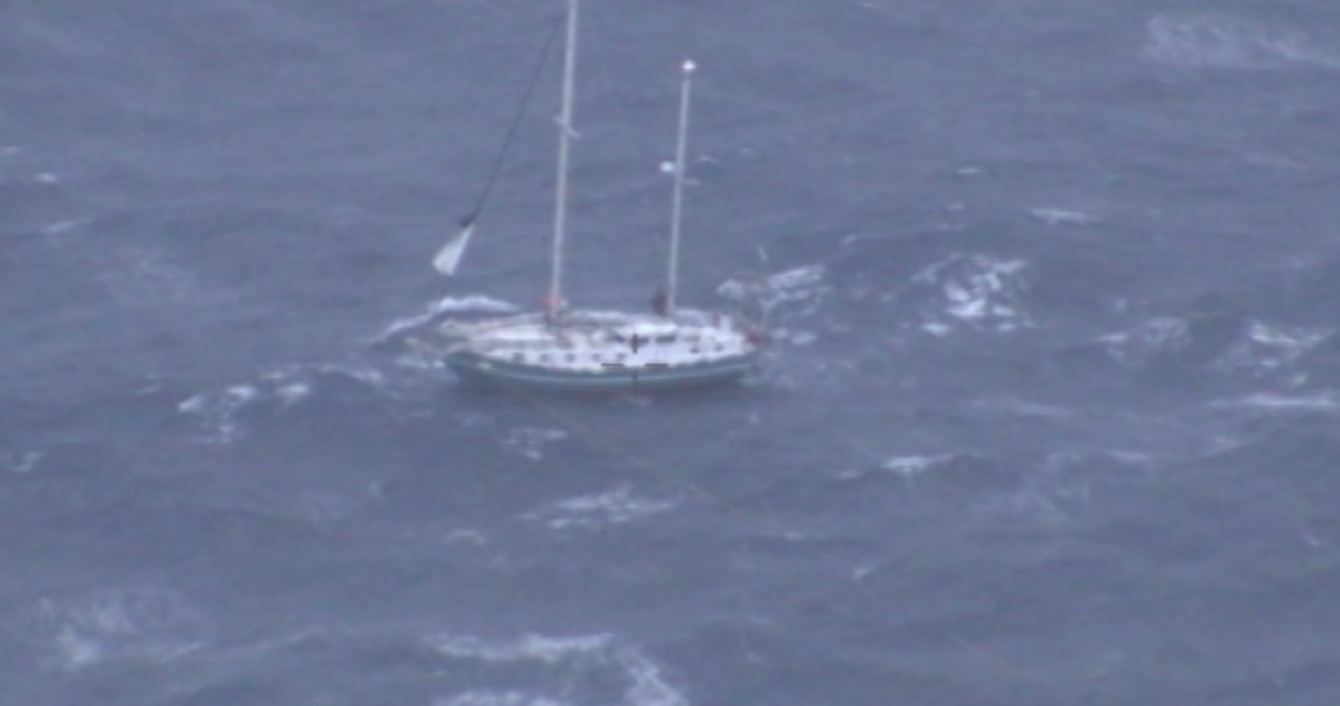 Updated 3:45pm
AN IRISH MAN and French woman have been rescued after a yacht capsized off the Australian coast, as part of what the man's sister described as an "enormous" effort from emergency services.
Nick Dwyer (55) and Barbara Heftman (44) were on a 40-foot yacht that was travelling from New Zealand to Australia as part of a 10 year-long circumnavigation of the globe.
It happened in the Tasman Sea, on their way to Sydney on Tuesday. They activated an emergency beacon when the yacht "rolled" after the rudder had broken previously in high seas.
It took the rescue boat over 13 hours to get to them. The New South Wales vessel was launched at 7pm on Tuesday and reached the yacht at 8.30am on Wednesday.
NSW police, who took part in the rescue along with seven officers from the Australian Maritime Safety Authority, described the conditions as treacherous with six-metre swells and gale-force winds.
Dwyer told reporters,"We encountered enormous seas, waves the size of buildings coming at you constantly, winds that you can't stand up in, seas breaking, whiteness everywhere.
We weren't sure whether we were going to be rolled again and each time a wave hit, we thought 'is the one that's going to take us?
"It wasn't really until the low (pressure system) hit us and we got capsized that we felt we really couldn't survive this one without assistance."
Dwyer described the rescuers as "absolute heroes".
The pair told BBC News they will stay in Sydney while figuring out what to do next. Dwyer said:
Our home's gone, we're alive, I expect to live a little bit longer and that'll be okay.
Speaking to RTÉ's News at One, Dwyer's sister Sarah Byrne said that the rescue effort undertaken by the Australian authorities was "absolutely enormous", and hailed it as "extraordinary".
The whole family are relieved that both Dwyer and Heftman are safe and well, after having to wait all through the night before it was confirmed that both had reached land unharmed.
Dwyer has used the past few hours to catch up on some sleep, but his sister said there was no doubt what his next move would be.
Despite this ordeal, the pair are eager to get back out onto the water, Byrne said.
Absolutely [they're going to continue]. One thing about sailors is that we enjoy a bit of weather, even if that was a bit extreme… Even if they don't recover [the boat], they'll still go back out there to live the dream.
Additional reporting by AFP and Sean Murray