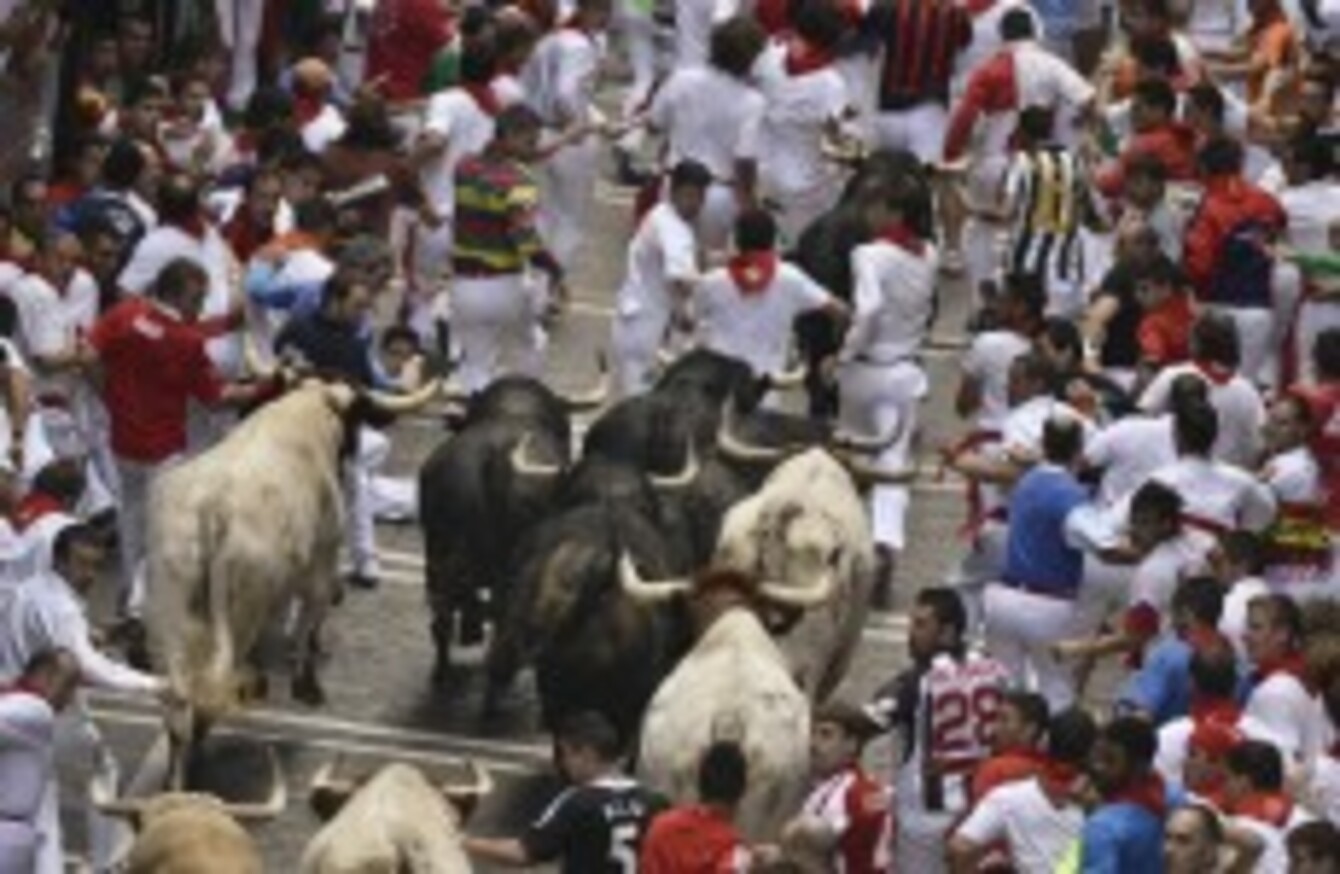 Image: Alvaro Barrientos/AP/Press Association Images
Image: Alvaro Barrientos/AP/Press Association Images
AT LEAST 21 people have been hospitalised after they were crushed in a pile-up during a bull run at the San Fermin festival in Pamplona, Spain earlier today.
An Irishman is reported to be among one of those who has less severe injuries with one Spanish teenager described as being in a serious condition with a chest trauma that has caused him breathing problems.
The Department of Foreign Affairs was not immediately available to confirm that an Irishman was involved.
Television pictures showed a pile of runners, in traditional white shirts and red neckerchiefs, blocking the entrance to a bullring, the end point of the frantic dash through the town's cobbled streets.
Runners trip and fall ahead of the bulls blocking the entrance to the bullring (AP Photo/Josu Santesteban)
The pile-up blocked several of the animals from charging into the arena, with panicked runners scrambling over the heads of those in front of them and others trying to pull the fallen free.
Two of the beasts – of the six bulls and the six steers that ran – leapt over the pile, crushing runners under their hooves. The others were herded to the arena through a side passage.
Several people were also trampled under the bulls' hooves during the crowded 850-metre (930-yard) dash through the city's narrow streets, which took four minutes and 15 seconds.
It was the sixth day of the fiesta in this northern town, which draws festival-goers and daredevils from around the world for a week of drinking and perilous bull-runs.
Javier Sesma, a doctor from the emergency unit of the local Navarra Hospital, told reporters that 21 people were injured in the run and the pile-up overall.
Last year, a 16-year-old Irish teenager died after being attacked by a bull during the annual bull running festival in the northern city of Huesca.
- additional reporting from AFP