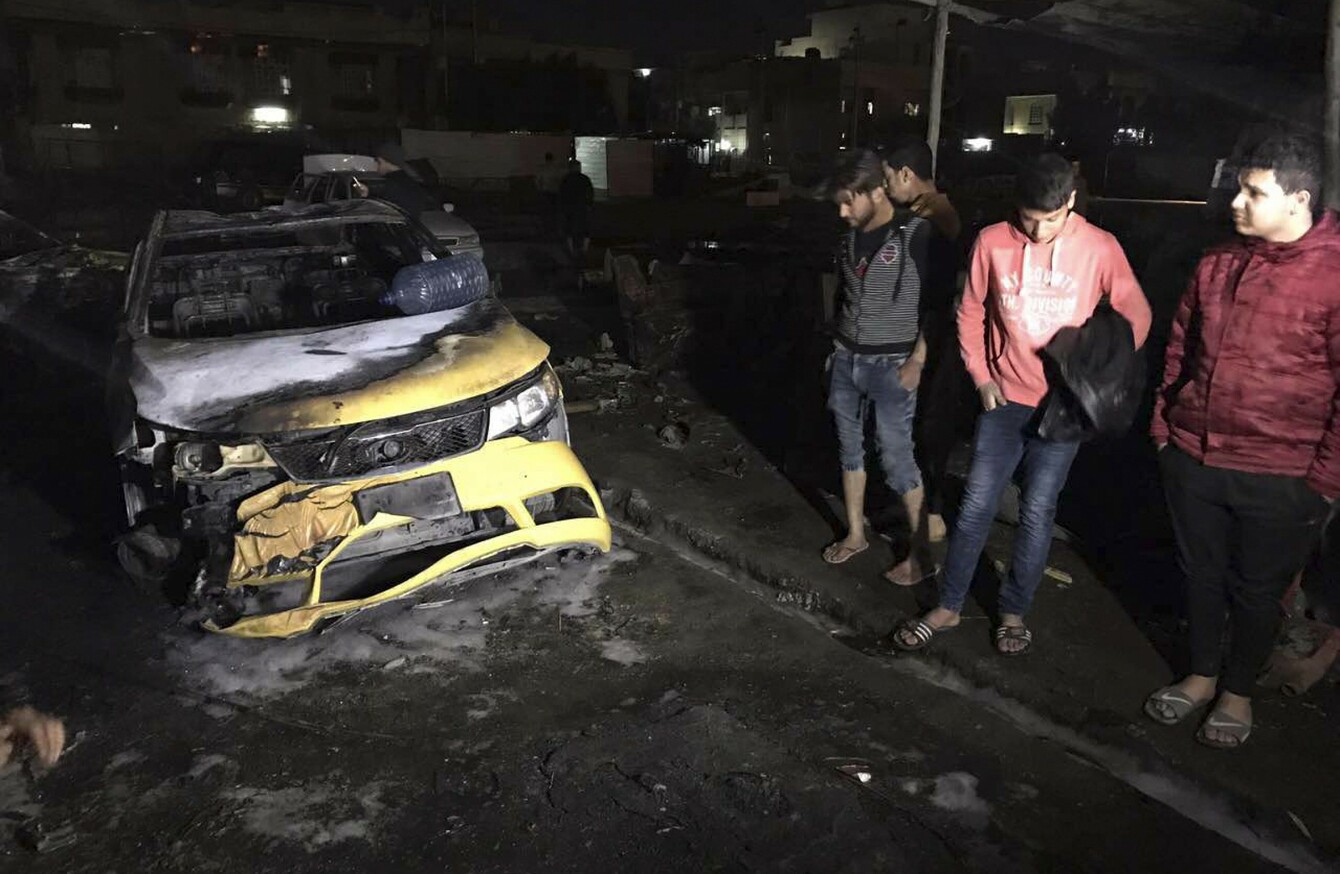 The scene of the car bomb in Baghdad
Image: Ali Abdul Hassan AP/Press Association Images
The scene of the car bomb in Baghdad
Image: Ali Abdul Hassan AP/Press Association Images
THE ISLAMIC STATE group has claimed responsibility for bombings in Iraq and Pakistan today, which killed at 52 and 70 people respectively.
Pakistani shrine
At least 70 people died today when a bomb ripped through a crowded Sufi shrine in Pakistan, police said, in the deadliest attack to hit the militancy-plagued country so far in 2017.
The Islamic State group claimed the attack in a statement carried by the Amaq propaganda agency linked to the Sunni Muslim jihadist group.
Pakistan's leaders vowed revenge for the attack on the shrine in the town of Sehwan in Sindh province, some 200 kilometres northeast of the provincial capital Karachi, which came after a bloody week of extremist assaults shook the country's growing sense of security.
A police source said a suicide bomber had entered the shrine of Lal Shahbaz Qalandar, a 13th century Muslim saint, and blown himself up among the devotees.
The shrine would have been crowded on a Thursday, considered a sacred day for prayers.
"So far 70 people have been killed and more than 150 wounded," Inspector General of Police for Sindh province A.D. Khawaja told AFP.
Many wounded people are in critical condition and they will be shifted to Karachi as soon as Navy helicopters and C-130 plane reach nearest airport.
Emergency services are basic in Sehwan, with the nearest main hospital some 130 kilometres away. Provincial health minister doctor Sikandar Maindro said an emergency had been declared in Karachi hospitals.
Baghdad car bomb
A massive car bomb ripped through a used car market in the south of Iraq's capital, killing more than 50 people in the deadliest such attack this year, security officials said.
The Amaq propaganda agency linked to the Islamic State jihadist group (IS), which has claimed nearly all such attacks recently, reported the blast and described it as targeting "a gathering of Shiites".
The explosion, which sent a thick plume of dark grey smoke billowing into the sky above Bayaa neighbourhood, sowed carnage and caused extensive destruction.
"A terrorist car bomb attack struck near car dealerships in Bayaa," a spokesman for the Baghdad Operations Command said in a statement.
An interior ministry official gave a death toll of 52 and said that more than 50 other people were also wounded. Hospital officials confirmed the figures.
He said the emergency services were struggling to cope with the scope of the attack, which ripped through the busy car market at around 4:15 pm (13:15 Irish time), and warned that the death toll may yet rise.
Security officials could be seen inspecting the site before the sun went down, while some distressed civilians searched for relatives and others took pictures with their mobile phones of the large crater caused by the blast.
"There are so many victims, not just one or two," said Nasser, a young man wearing blood-stained surgical gloves who was near the site of the explosion and rushed to the scene to help the wounded.
"There was one here, we carried him," he said, pointing to a spot behind him. "We found a hand here, a leg and heart over there, everything."
The site of the bombing is an open space used as a second-hand car market where hundreds of private sellers park their vehicles and wait all day to discuss prices with prospective buyers.