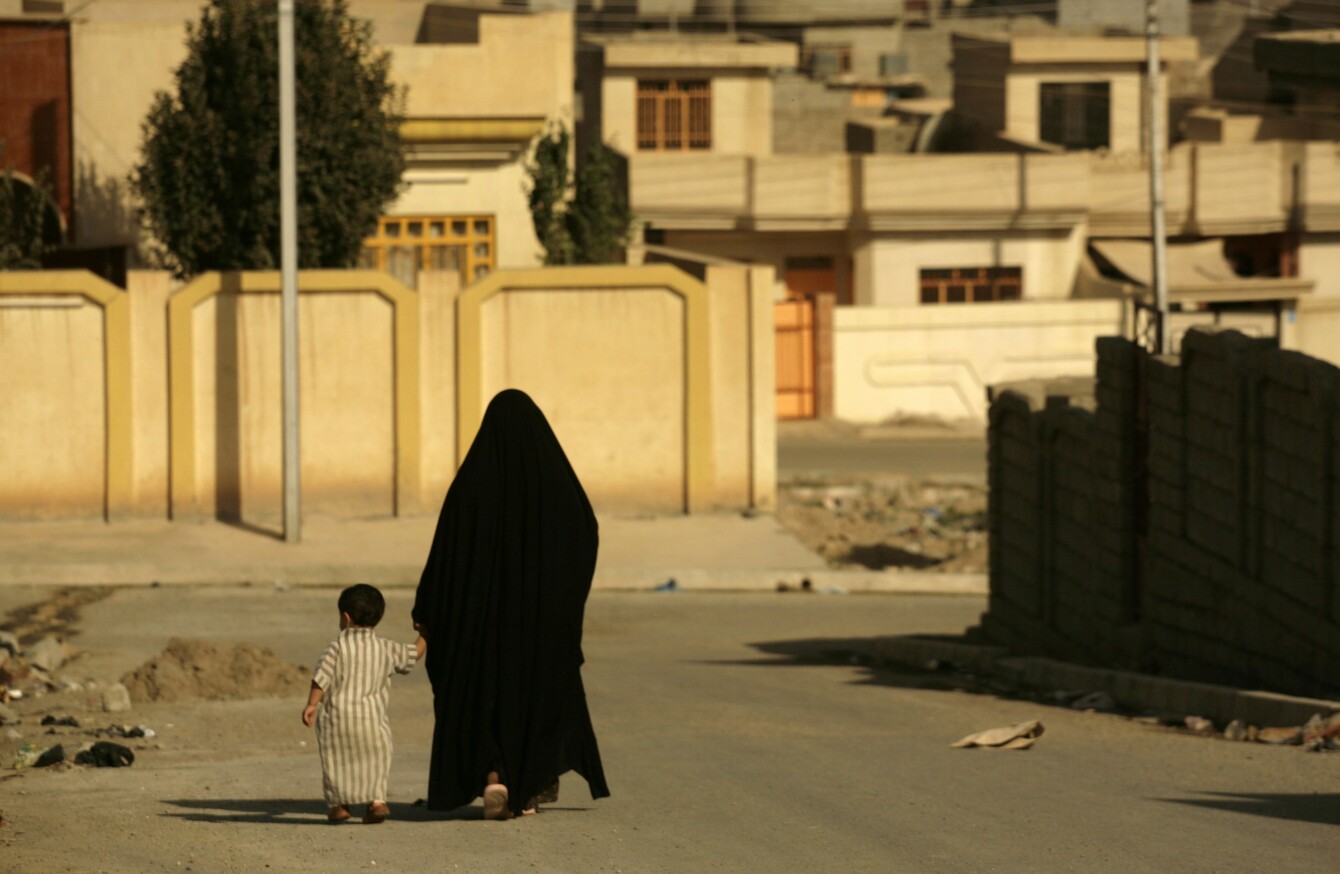 A woman and child walk in Mosul in 2009, before it was taken over by IS.
Image: AP/Press Association Images
A woman and child walk in Mosul in 2009, before it was taken over by IS.
Image: AP/Press Association Images
WHEN RASHEED* FIRST came to Ireland in 2009, he didn't intend on staying here.
Travelling from his home country of Iraq to study at university, the plan was to finish his studies and return home.
Rasheed emigrated from Mosul, a city in northern Iraq about 360 kilometres from Baghdad and close to the border with Syria.
In 2009 Mosul was a large city with a population of about 2 million. It had a university and a renowned Medical College, where Rasheed's father worked as an assistant professor.
His family had lived for years in Baghdad – the Iraqi capital – where Rasheed was born.
Following the 2003 invasion of Iraq and the toppling of the dictator Saddam Hussein, life in Baghdad became increasingly unstable.
Sectarian divisions in a city rife with violence and danger had forced Rasheed's family to relocate to Mosul in 2007, searching for a more peaceful life.
Rasheed's family are Sunni Muslim, as is the majority of Mosul.
Rasheed (36) then left his country in 2009 to study in Ireland for a few years. He liked it here, met a European woman, fell in love and started a family.
Today, Rasheed is an Irish citizen, has two young children and lives and works in a skilled job in Dublin.
For his family who stayed in Iraq, however, things have been much different.
Their home city of Mosul has since been taken over by the Islamic State (IS) terrorist group and his father and 17-year-old brother have been brutally murdered.
The remainder of his family have been forced to flee to Turkey, where they live between a single room in Istanbul, unable to work or provide for themselves.
Rasheed desperately wants to get his mother to Ireland to live with him so he can care for her. She has suffered a number of nervous breakdowns from the trauma of what she has been through and is on medication.
However, he is not being allowed to do so by the Irish State.
Rasheed's story
Rasheed's father was an assistant professor at the Medical College at the University of Mosul when Islamic State (IS) stormed through northern Iraq and Syria in the summer of 2014.
IS capitalised on the political instability in the area to take over several cities and declare a caliphate between the two countries.
Rasheed's family were caught up in the middle when Mosul – a city already with huge problems – was overtaken.
"My father was a professor in the College of Medicine," he told TheJournal.ie.
"He was working but when Isis (another term for IS) came in 2014, he just refused to work.
Because, you know, if you have principles you will not cooperate with these people.
His family originally left Mosul after IS took over in June 2014 – travelling to the Kurdish area of Dohuk north of the city.
However they received a message from IS via a neighbour that they would destroy their home and all their possessions if they did not travel back to Mosul. Rasheed said IS would threaten do this to any family that had left the city.
As it was the early days of the occupation by IS, the family decided to travel back to protect their home. Once back in Mosul, they were forbidden from leaving again.
Rasheed said his family received "threat after threat" but his father refused to work under the terrorist organisation.
"They told him if you are not working we will do something with your family," he said.
Sometime in August of last year, IS militants came to Rasheed's family's house and took his father and youngest brother away. His family never saw them again.
One time they took my father, they took my youngest brother he was 17-years-old and we don't know anything about them and then they said they are gone… They have passed away.
Rasheed said he only found out about his father and brother being killed about two weeks after the fact.
Communication is very limited in Mosul. IS have destroyed signal towers and receivers so there is no proper internet or phone signal.
"My family would go to a Kurdish area and they would get signal and they would call me, but if Isis ever caught them they would shoot them," he said.
The remainder of Rasheed's family – his mother, brother, brother's wife their one-year-old son – felt they had no choice then but to flee the country and try to make it to Turkey.
They left Mosul in October 2015, paying smugglers to navigate their passage across the border to Turkey at a cost of about €5,000 each. Rasheed said if they were caught fleeing by IS they would have been killed.
They sold much of their furniture and belongings and Rasheed said he was able to cover the rest of the cost.
The family travelled from Mosul to Isis-controlled territory in Syria, and from there onto Turkey.
Humanitarian aid 
When they reached Istanbul, the family registered for a humanitarian residence permit in Turkey, which grants them a year-long stay in the country on humanitarian grounds.
They live between a single room in Istanbul, speak no Turkish, and are not permitted to work legally.
The permit expires on 1 October of this year, after that Rasheed says he does not know what will happen.
"I don't know. Nobody knows," he said.
There are options for a renewal of the permit, but Rasheed says he doesn't believe his family would be granted one.
"I don't think [they could be given a renewal].
When you enter they give you a chance. One year to bring your documents after that [your chances are done].
Rasheed's mother's passport expired in May of last year. She was unable to have it renewed while living under IS rule.
Rasheed said she applied last October through the Iraqi consul in Istanbul to renew her passport, but due to a massive backlog of Iraqis applying her request is still being processed.
With the country in a dire situation, he said he does not know when a valid passport will be granted to her, saying it could be years.
The same situation applies for the rest of his family.
He said his family can obtain travel documents in order to return to Iraq, but that is not an option. If they were to return to Mosul, they would certainly face persecution from Isis for leaving in the first place.
Having lived under Isis rule in Mosul for a year, Rasheed said it would be dangerous for his family to return to Baghdad.
"We are coming from Mosul, so if we went back to Baghdad, this would be dangerous for us," he said.
"Because we were under Isis for two years now, they will have investigation and we don't know what will happen to them.
I wish it would be safe… But no, we're afraid.
Rasheed says it costs him hundreds of euro every month to finance his family's meagre existence, which is putting a big strain on his finances. He feels it would be much more financially viable for him to support them here.
His mother, who is 52 years old, has suffered a number of nervous breakdowns as a result of the stress and trauma over the past 13 months and is on medication.
While he would like his entire family to be moved to Ireland, Rasheed desperately wants his mother to be allowed to come to Ireland to be with him.
His family has the option of registering with the UNHCR as refugees, however, according to the Turkey-based Refugee Solidarity Network, this process can take years.
Rasheed said he does not want his mother to undergo this lengthy process, believing that if she continues to live in cramped conditions in Istanbul her health will deteriorate further.
He said she is fully dependent on him, and since his father and brother were murdered, he wants her to be close to him.
The laws 
Irish citizens have no statutory rights to be joined by their non-Irish families in Ireland.
Instead, a set of guidelines issued by the Irish Naturalisation Immigration Service (INIS) – which is part of the Department of Justice – sets out the criteria needed to bring a family member from outside of Europe to live here.
This is in contrast to refugees, who are entitled to reunification under the Refugee Act (1996) or EU citizens resident here who have legal rights.
However, in both of these circumstances immediate family (spouse or child) are seen as the main priority of reunification. In the case of a mother, for example, it would have to be proven that she is fully dependent on the refugee living here for support, with permission to travel here rarely granted.
Under the INIS guidelines for reunification, an Irish citizen can apply to have their family member come to Ireland, with each case decided on its merits by an immigration officer and the ultimate decision resting on the discretion of the Minister of Justice.
In the case of Rasheed's family, people from outside the European Economic Area (EEA) need to apply for a visa to travel to Ireland.
His mother had applied for a visa on two occasions to come here in the past for his marriage and when Rasheed's children were born, before IS had taken over.
Rasheed said his mother was refused as he could not satisfy INIS officials that she would not overstay when she arrived.
The INIS has told him now that his mother cannot travel here without a visa. However his mother cannot apply for a visa as she has no valid travel documents.
Over the course of the last two years, Rasheed has repeatedly contacted officials in the Justice department and the INIS trying to emphasise the urgency of his family's situation.
He has requested a meeting with Justice Minister Frances Fitzgerald but has not been granted one.
He has had meetings with former Justice Minister Alan Shatter (in his capacity as a TD), and has lobbied Sinn Féin TD Sean Crowe and AAA-PBP TD Paul Murphy.
In a response to a Parliamentary Question by Paul Murphy, Fitzgerald said that she had been briefed on the situation of Rasheed's family by the INIS.
"I am advised by the Irish Naturalisation and Immigration Service (INIS) of my Department that the persons referred to are of a nationality required to hold a valid visa in order to travel to Ireland," said the minister.
I am also advised that an official from INIS was in touch with their family member to advise on the procedure for making visa applications. However, it appears that the persons involved do not currently hold valid travel documents and it is therefore not possible to process visa applications until such time as they do.
In an email dated 23 May 2016 and seen by TheJournal.ie, an official from the INIS acknowledged the situation faced by Rasheed's mother, saying that they understood the difficulties but could not process her application without a visa.
#Open journalism No news is bad news Support The Journal

Your contributions will help us continue to deliver the stories that are important to you

Support us now
"I wish to confirm as previously stated that your mother will have to obtain a replacement passport before she may make a visa application to come to Ireland.
I know that you have explained the difficulties and delays involved. However it is still not possible to make an application without being in possession of a current national passport.
As part of the INIS guidelines regarding family reunification, a means test of the sponsor (in this case, Rasheed) is carried out to show they can fully support a family member coming here.
Rasheed believes that even if his mother had a valid passport, she would not be able to come here as his means would not be deemed high enough.
He said he was quoted that he should be earning about €60,000 a year to be deemed able to care for his mother financially. His income is currently just under €40,000 per year gross.
However, he said he owns his own apartment, and would be prepared to sign any document pledging to fully support his mother if she came here.
Rasheed has pleaded with the INIS the take the special circumstances of his case into account.
Section 14 of the INIS guidelines deals with people applying for reunification who are dependent on Irish citizens living here. The relationship between Rasheed and his mother would appear to fall into this bracket.
The guidelines state:
The degree of dependency must be such as to render independent living at a subsistence level by the family member in his/her home country impossible if that financial and social support were not maintained.
The financial support must be not just welcome but must be essential for the on-going support and subsistence of the family member.  It must be at a level where the absence of the sponsor in the home country of the family member makes independent life unsustainable.
Section 18 of the INIS guidelines concerns elderly dependent parents (while Rasheed's mother is not classified as elderly, he says she is fully dependent on him).
The section states that the "onus of proof as to dependency" rests entirely on the sponsor and dependent.
Rasheed said the State is refusing to acknowledge the special circumstances in his case.
Namely, that his father and brother have been killed and his mother is fleeing a war-torn country, has few other options, is fully dependent on him for survival, and is suffering with ill-health.
Discretion
Rasheed said his own life and health have suffered hugely as a result of his family's situation.
"That is the life now. So this is making me very stressed in work and everything," he said.
During all this they thought I had heart problems. I went to hospital twice but they discovered I don't have anything – only stress.
According to Catherine Cosgrave, legal services manager at the Immigrant Council of Ireland, laws surrounding family reunification need to be properly developed in order to ensure consistency of decision-making across applications.
"Each case is very, very different," she said.
"I have seen very positive decisions being taken in situations where you wouldn't have expected it to be done. But equally I've seen it where people seem to meet criteria and they are refused and having to appeal.
Within the overall parameters of a discretionary system, consistency of decision-making and clarity, etc. is lacking.
The Immigrant Council has submitted recommendations in the past calling for family reunification for Irish citizens to be included in law.
As there is no primary law governing the process, there are situations where the strict criteria can be waived.
Cosgrave said that there have been decisions made in the past where all the criteria have not been met, but a positive decision was granted.
"Within the whole system because it is discretionary, the minister does have authority to waive the criteria that might ordinarily be applied and for a visa to be granted because the circumstances are compelling," she said.
Over the years we would certainly have seen positive decisions being issued in that regards where the general criteria would not have been met.
However, Cosgrave said that in general these cases would apply to more immediate family, for example reuniting a young child with a parent.
Irish citizen
AAA-PBP TD Paul Murphy told TheJournal.ie that Rasheed's case should be dealt with simply by the Government.
"[This man] is an Irish citizen. His brother and father were killed by Isis," he said.
"For the Government to treat this like any other visa application is unreasonable and inhumane.
It's simple. Grant temporary travel documents so they can travel here and apply for refugee status.
I don't full understand why they haven't done this. They have the power to make this right very quickly by granting valid documents.
You're talking about an Irish citizen and his mother who are fleeing from murderous Isis.
In response to a query from TheJournal.ie, a spokesperson from the Department of Justice said that it did not comment on individual cases, and directed attention to "the comprehensive statement of Irish national immigration policy" set out in the INIS guidelines.
Rasheed said that he is proud to be an Irish citizen and has worked hard since he came here, and has never asked for anything from the State.
He said he is happy to raise his family here and feels like a member of society.
However, he said he feels that as an Irish citizen his rights are not being realised and that he is being let down by the State.
"I am part of this society and I am very proud and happy to be part of this society," he said.
"I'm paying tax and I'm doing my duties but I don't get my rights.
All I want is my mother… I lost my youngest brother and my father I don't want to lose anymore, you know?
Rasheed's name has been changed as he did not wish to reveal his identity.