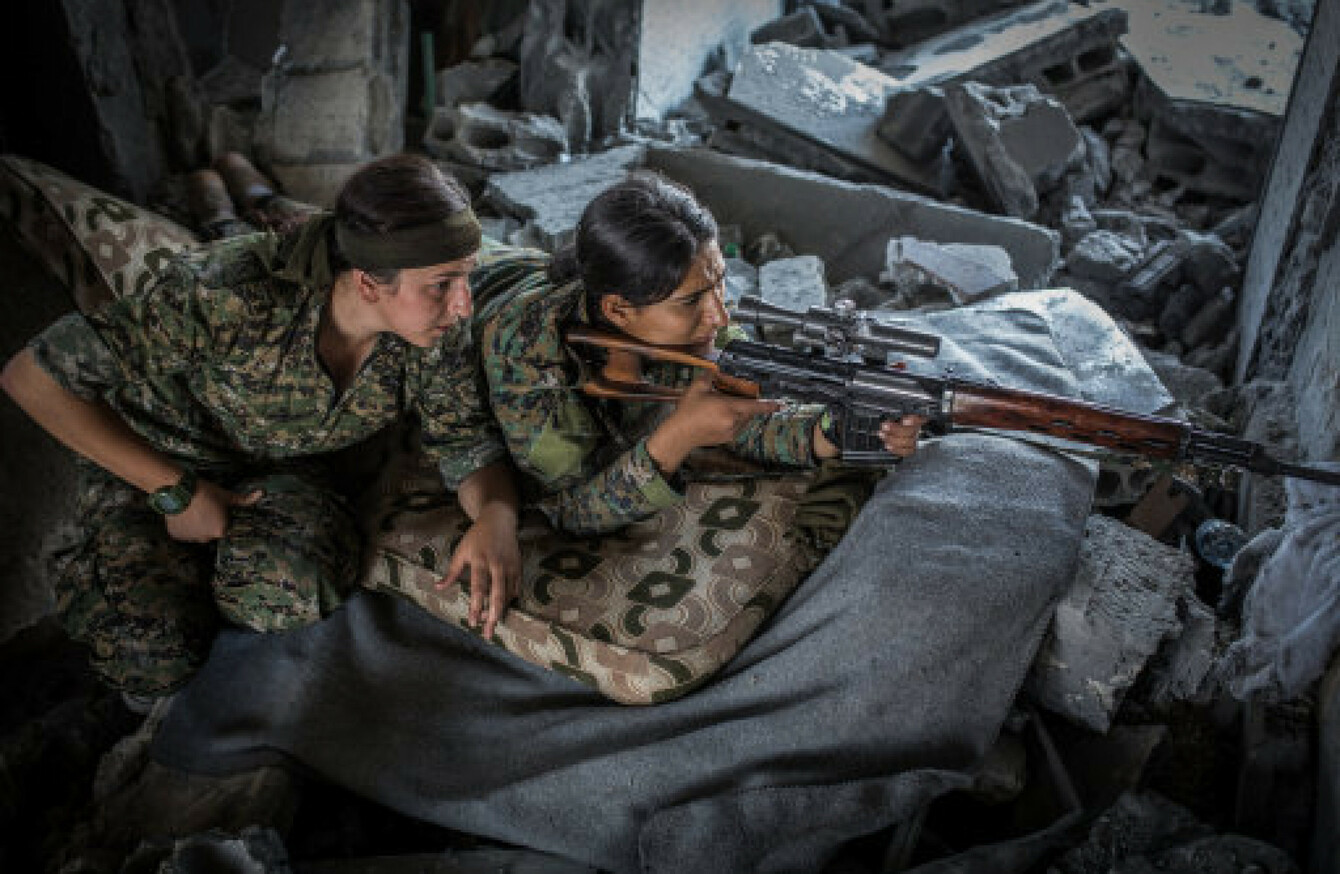 Soldiers of the Women's Protection Units (YPJ) targeting IS fighters in Raqa.
Image: Morukc Umnaber/PA Images
Soldiers of the Women's Protection Units (YPJ) targeting IS fighters in Raqa.
Image: Morukc Umnaber/PA Images
US-BACKED FORCES have taken full control of Raqqa from the so-called Islamic State group, defeating the last jihadist holdouts in the de facto Syrian capital of their now-shattered "caliphate".
The victory caps a battle of more than four months for Raqqa, and hammers another nail in the coffin of the jihadist group's experiment in statehood, which has collapsed in the face of offensives in Syria and Iraq.
Inside Raqqa, overjoyed fighters from the Kurdish-Arab Syrian Democratic Forces celebrated and raised their yellow flag in the city's Al-Naim traffic circle, which became known as "Hell Roundabout" after jihadists used it for gruesome public executions.
Raqqa had become a byword for atrocities carried out by the jihadists and it was from the city that IS organised devastating attacks it has claimed abroad like the Paris massacres in 2015 or August's attacks in Barcelona.
"Hell Roundabout is now Al-Naim Roundabout again," the fighters in Raqqa cheered, surrounded by crushed buildings and charred cars damaged in the ferocious battle for the city.
Rojda Felat, the SDF's commander for its Raqqa operation, flashed a wide grin as she waved a huge yellow flag emblazoned with the militia's name, her rifle hanging from her shoulder.
"God willing, joy will return to the whole city," said fighter Sevger Himo, his eyes gleaming.
The defeat of IS in Raqqa was a victory "the whole world was waiting for," said Omar Alloush, a member of the Raqqa Civil Council formed to run the city after its liberation.
Raqqa has been devastated by fighting and emptied of civilians, with the last few thousand departing under a deal implemented over the weekend.
'Thank God, Thank God' 
For Umm Abdullah, a Raqqa native who fled the city three years ago, news of its capture was overwhelming.
"I can't describe my happiness," the 44-year-old told AFP in the town of Kobane, 100 kilometres north of Raqqa.
"When my sister told me it had been freed, she started to cry, and then I started to cry. Thank God, thank God."
Source: FRANCE 24 English/YouTube
The SDF broke into Raqqa in June, after months of fighting to surround the city, and on Tuesday flushed the last few hundred IS fighters from their remaining positions in the main hospital and the municipal stadium.
"Everything is finished in Raqqa, our forces have taken full control of Raqqa," the alliance's spokesman Talal Sello told AFP.
He said the SDF was combing the city for any remaining jihadists who had not surrendered or been killed.
"The military operations in Raqqa have finished, but there are clearing operations now under way to uncover any sleeper cells there might be and remove mines," he said.