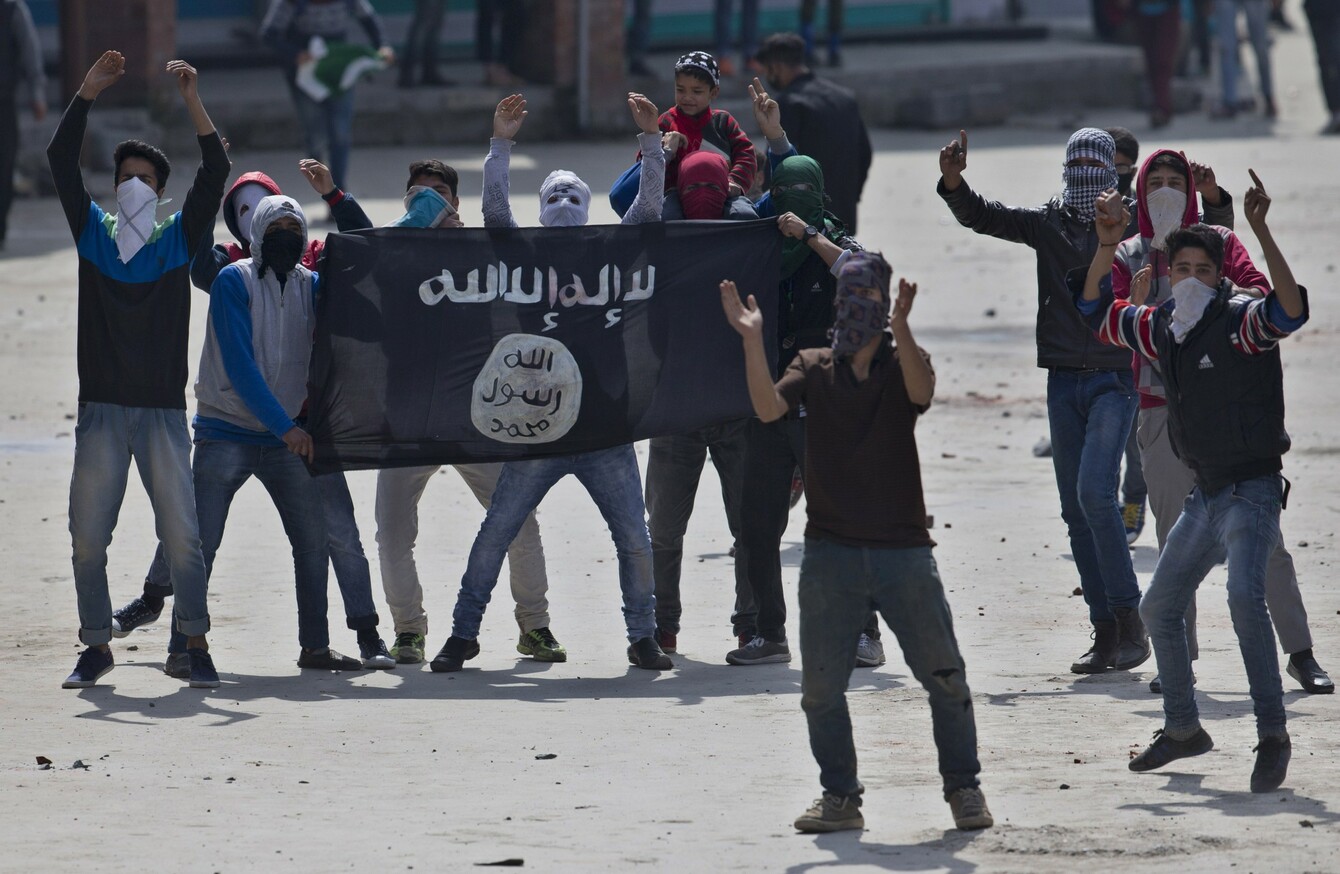 Kashmiri Muslims hold an Islamic State flag aloft.
Image: AP/Press Association Images
Kashmiri Muslims hold an Islamic State flag aloft.
Image: AP/Press Association Images
A RADICALISED PRISONER allegedly carved an Islamic State slogan into the forehead of a fellow inmate in Australia, reports said, but officials denied extremism was a problem in the jail system.
The 18-year-old, named as Bourhan Hraichie, has been charged with causing grievous bodily harm and intentional choking following the incident after lockdown at the medium-security Kempsey prison north of Sydney last week.
He reportedly assaulted his cellmate, then used a razor blade to carve "e4e" into his head, an apparent reference to the Islamic State group's "eye for an eye" mantra, before placing a towel on his face and pouring boiling water over him.
The cellmate, who was rushed to hospital with injuries to his head and burns to the face, was initially reported to be a former soldier, although officials later distanced themselves from the claim.
New South Wales Corrections Minister David Elliott said he was outraged by the alleged attack.
"I will ask the Inspector of Custodial Services for a full and thorough investigation of the management of radicalised prisoners in the system, including the assault," he told reporters.
The manager of the facility has been suspended but the state's Corrective Services Commissioner Peter Severin denied Islamic radicalisation was a big problem in the prison system.
"What we are dealing with is not a systemic issue," he told the Sydney Daily Telegraph.
Yes, we have a range of inmates who are clearly at risk of being radicalised, but we also have robust strategies.
Steve McMahon, a spokesman for the Public Sector Association, which represents prison guards, told reporters Hraichie should have been segregated.
"The 18-year-old, in our belief, had presented enough information and bad behaviour to have been segregated, or at the very least, been put in a single cell," he said.
The teenager, who has been transferred to a maximum security prison, is due to face court in May.