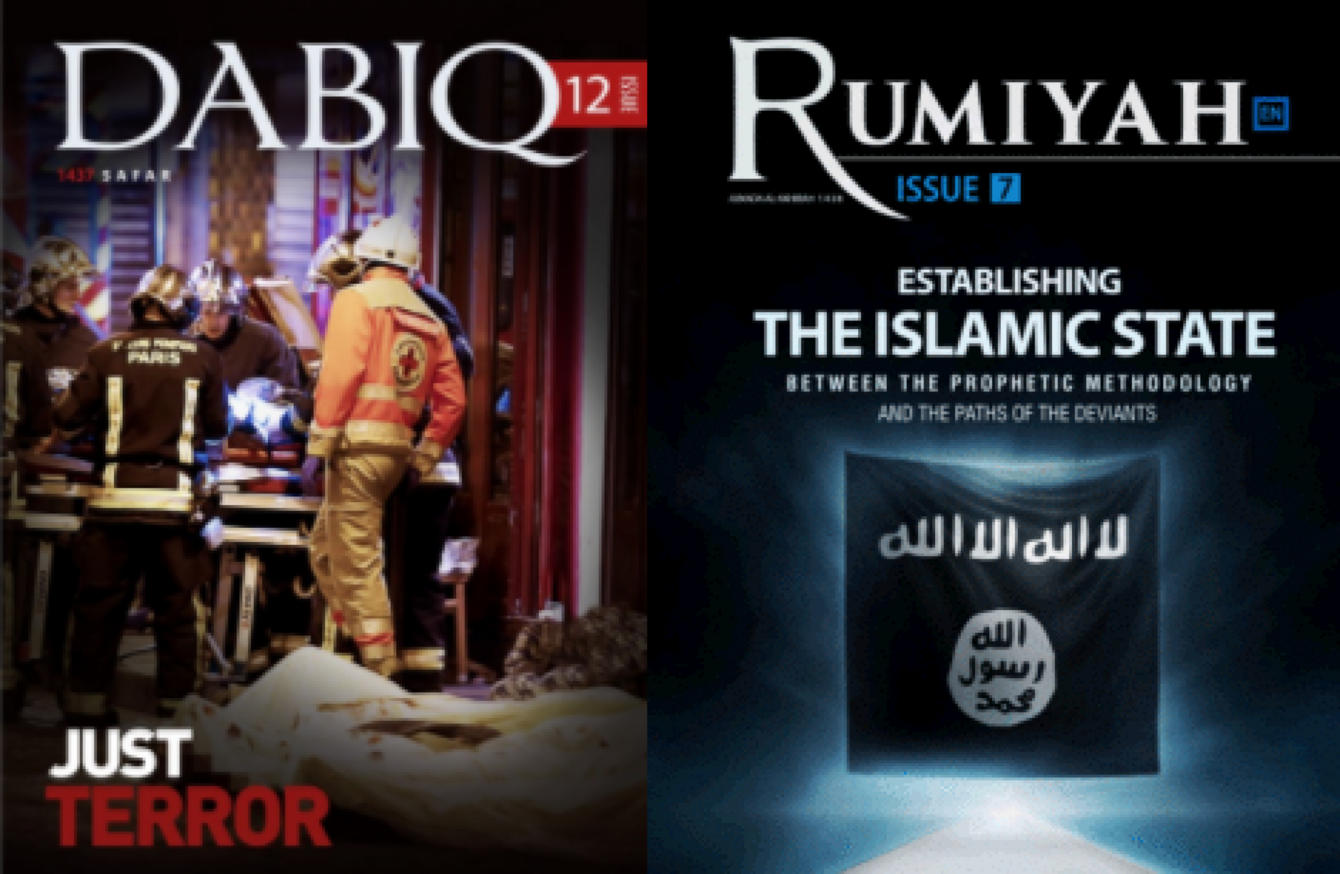 THERE HAS BEEN a surge in interest in Islamic State propaganda magazines from Irish internet users recently, as data trends show 150 searches for these publications in one week this month.
Though these numbers remain small, counter terrorism researcher Tom O'Connor has expressed concern this week as he highlighted the growing interest.
O'Connor compiled a report on searches for these magazines for the Irish Muslim Peace Integration Council. He said the peaks in Irish searches appear to correlate with release dates for the two magazines, Dabiq and Rumiyah.
The analyst described the publications as "high quality propaganda".
"They justify attacks in the past, like Paris, basically saying why they were done and why it's right. It's really glorifying fighting for Islamic State," he told TheJournal.ie.
All of the soldiers are made to look really cool and it shows their brotherhood and how they're comrades. They've actually taken covers from some popular Playstation games and put ISIS fighters into them, appealing to teenagers.
An analysis of searches for these magazines on Google Trends shows there was a large peak in Ireland in interest in Dabiq back in November 2015, the week after the Paris attacks at a concert hall, stadium, restaurants and bars that left 130 people dead.
There was also increased interest in this magazine in October last year, with almost 300 searches over the month.
Searches dropped off since then until last week, when there were 50 searches for Dabiq magazine.
The data shows searches for Rumiyah, the name of the newer and lesser-known publication, also peaked that week. There were 100 searches by Irish users for this term the week starting 4 June.
UK data also shows a much higher proportion of searches in Northern Ireland than in the mainland.
'Linked to serious figures'
O'Connor said he first started researching the online activity of Islamic extremists in Ireland in 2015 and this ideology has "now grown significantly" here.
He said there are a number of extremists Facebook groups that Irish users post in or are members of.
"All of these people are linked and there are groups in the main college here, all networked with one another. The scary thing is that these groups with Irish members, they're linked to serious figures in the UK," O'Connor said.
"It's like peeling back an onion. You'll have lots of people here, all linked, and one serious fundamentalist guy who's tied to someone in the UK."
Shaykh Umar Al-Qadri, the imam of the Irish Muslim Peace and Integration Council, publicly called out members of one of theses groups, posting screengrabs on Twitter.
This Facebook group, which had hundreds of members, has since been deleted.
Al-Qadri has warned that extremists are targeting vulnerable young Muslims in Ireland and urged the government to consider putting in place a system for 'deradicalisation training'.
Arrests in Ireland
In recent months there have been a number of arrests in Ireland relating to terrorism activities or individuals involved in extremism.
A man was charged in Waterford in April as part of an investigation into the alleged funding of terrorism. More recently, two men were arrested in Limerick and Wexford after they were found with documentation linking them to Rachid Reduane, one of the London attackers.
There were fresh claims about extremist activity in Ireland at a press conference attended by TheJournal.ie at the Islamic Educational and Cultural Centre in Blanchardstown last week.
A Limerick woman who claimed she spent time with Islamic extremists here told reporters that Kuram Shazad Butt, one of the three men who carried out the recent attack on London Bridge, visited this country several times.
Source: TheJournal.ie/YouTube
It is understood gardaí are now investigating these claims and are keen to speak to this woman who identified herself only as 'Sr Aaliya'.
Gardaí have sought to reassure the public that they are prepared for a potential attack, though they do not believe one is likely to be carried out. Deputy Commissioner John Twomey told reporters recently that gardaí conducted a "paper exercise" to test their response times to an incident in Dublin city centre.
"We are happy we would have nine armed units in the city centre and that a response would have been a similar time to that of the UK," he said.
The government is now considering establishing an Irish version of the UK's Cobra (Cabinet Office Briefing Room A) committee.
This committee would be made up of ministers, senior civil servants and intelligence chiefs and it would meet in response to national emergencies with the aim of effectively responding to a crisis and coordinating the government response as quickly as possible.