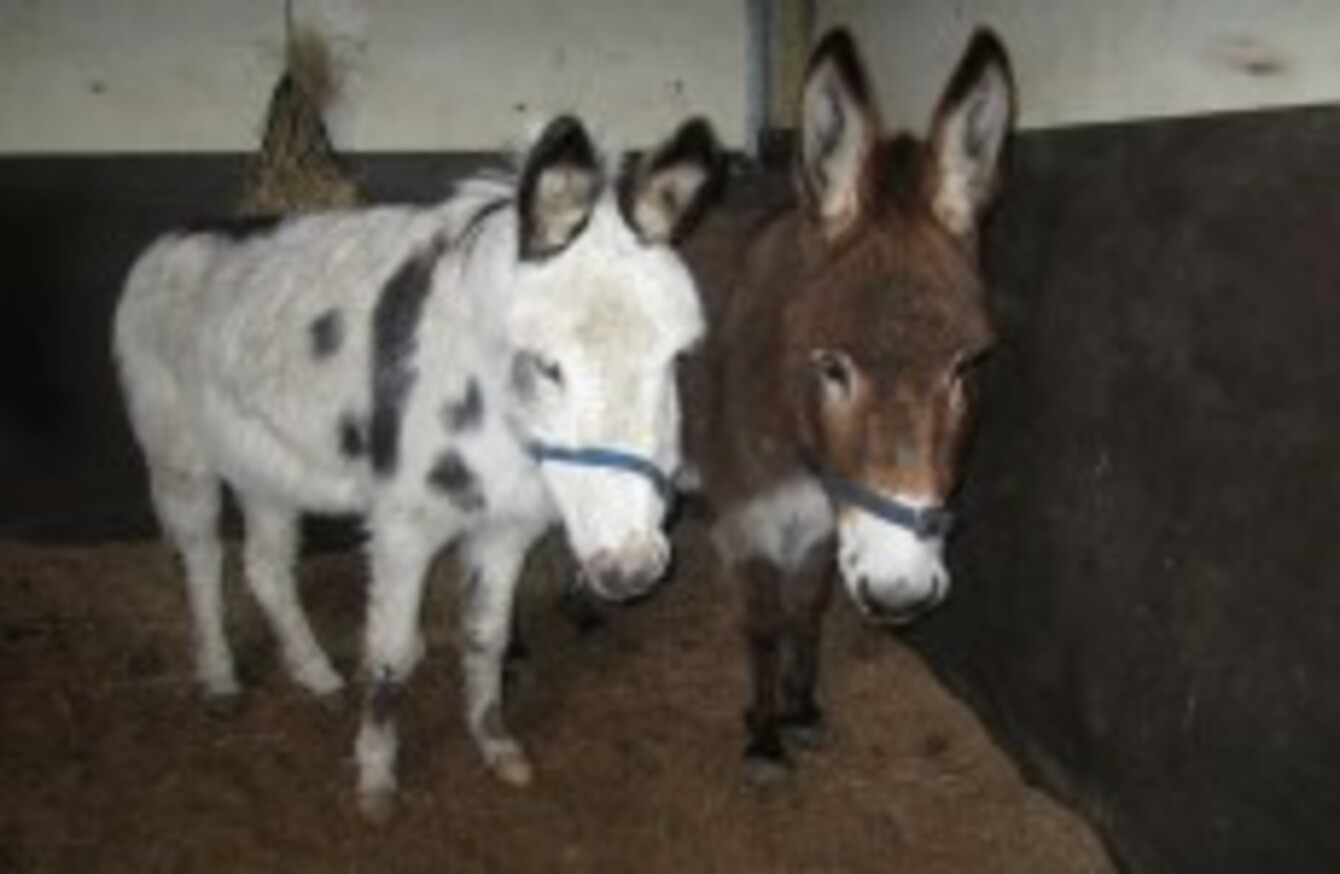 Hugo and Hugs, rescued from Sligo
Image: ISPCA
Hugo and Hugs, rescued from Sligo
Image: ISPCA
THE IRISH SOCIETY for the Prevention of Cruelty to Animals rescued five neglected donkeys in various parts of the country last week.
The ISPCA said that despite the milder conditions this winter, it continues to encounter widespread equine welfare issues.
It is normally vulnerable animals of less value such as the donkey that are most severely affected, the organisation said.
In Donegal, an inspector discovered a 7-year-old brown donkey mare with overgrown hooves, severe rainscald, lice and worms. Just days from death, Shae was very lame, thin and weak when she was rescued.
She was surrendered to the care of the ISPCA and removed to the National Animal Centre where she is recovering very slowly. A file is being prepared in relation to the matter for submission to the Director of Public Prosecutions.
Two more donkeys were seized by the same inspector – Kevin McGinley – in Sligo last week. One senior equire care staff described the discovery as "by far the worst case of donkey neglect in my time at the ISPCA".
Hugo, a white 7-year-old stallion, and Hugs, a two-year-old brown colt, were found in "very poor condition". They were lame with horrendously deformed hooves.
Hugs was emaciated and anaemic, as well as having raw skin and bleeding from severe, infected rainscald. Equine supervisor Cathy Griffin described the pair:
These are two of the nicest gentlest donkeys I have ever met. Hugo is recovering well but Hugs, although getting a little stronger by the day, is not out of the woods yet and will require intense care for some time yet.
In county Kildare, Inspector Brendan Hughes rescued another two neglected donkeys who had been abandoned in a forest.
Rose and Cupid were found with severely deformed hooves that had been cut back with a saw, angle grinder or similar tool. Neither had received proper farrier treatment, said the ISPCA.
Both girls are very lame and will require prolonged farrier care under sedation. Both are timid but kind donkeys and will be looking for a home together when rehabilitated.
Image: ISPCA
Meanwhile, the charity had a good news story today as two rescued fillies have been adopted and moved to a new home with horsewoman Merja Sumiloff.
Cheyenne and Feather were rescued in May 2010 after being discovered roaming feral over 100 acres of land. Both had overgrown and deformed hooves as they had never received any farrier treatment. They were lame and terrified of human contact.
It took a team of experienced staff and volunteers two days to safely herd and catch the pair.
After months of physical rehabilitation and sympathetic handling, both made good progress and were spotted by Sumiloff.
"As we suspect these girls are sisters and are very attached to each other we were delighted to see them go to a fabulous home together  with a person who can appreciate them and continue their training in a manner they were accustomed to," the ISPCA said, before thanking Sumiloff for adopting both horses together.
Cheyenne and her new owner