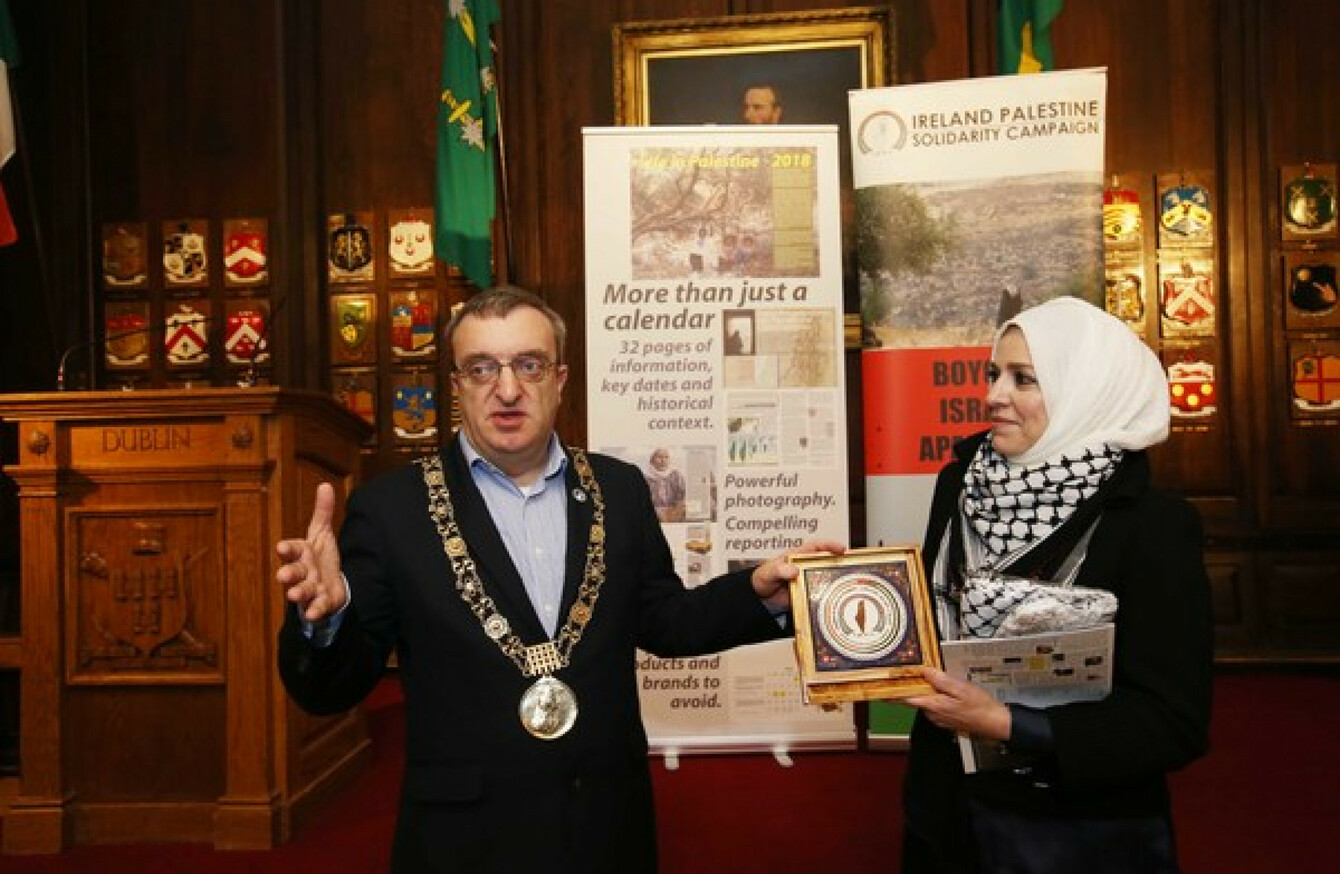 Lord Mayor Mícheál Mac Donncha, file photo.
Image: Sam Boal
Lord Mayor Mícheál Mac Donncha, file photo.
Image: Sam Boal
DUBLIN'S LORD MAYOR Mícheál Mac Donncha is under fire from Jewish groups and Israeli authorities for attending a conference in Palestine.
Cogat, a branch of the Israeli Ministry of Defense, tweeted a photo of Mac Donncha at the Ramallah conference sitting in front of a backdrop which featured the image of Amin Al-Husseini, a Palestinian leader who met Adolf Hitler.
Mac Donncha travelled to the conference at the invitation of the Palestinian Authority.
He said the purpose of the conference was to focus on the status of Jerusalem after US president Donald Trump announced last year that the US would recognise the city as the capital of Israel.
Maurice Cohen of the Jewish Representative Council of Ireland labelled Al-Husseini "one of the most egregious anti-Semites of the twentieth century".
He said Mac Donncha's attendance at the event can only be explained by either ignorance or antisemitism:
If the Lord Mayor's presence at the conference was not out of ignorance, then we can only conclude that we are witnessing our Lord Mayor displaying blatant antisemitism.
Israel has taken issue with recent motions taken by Dublin City Councillors in relation to Israel and Palestine.
Two motions passed on Monday called for the Israeli ambassador to be expelled and pledged support to the boycott of Israel.
The Israeli embassy accused Mac Donncha and Dublin City Council of "waging a campaign of hatred and discrimination" against the State of Israel.
"The Government of Israel expects an official public response from the Government of Ireland with regard to the conduct of the both the Dublin city council and of the lord mayor," the embassy said.
Speaking to TheJournal.ie Mac Donncha described the accusations as "shocking".
He said he was disappointed in the statement from Maurice Cohen of the Jewish Representative Council:
I hosted and spoke at the annual Holocaust Memorial Day ceremony on 28 January in the Mansion House which Mr Cohen attended. I completely reject any notion that I am in any way anti-Semitic.
The Lord Mayor said he did not know who Al-Husseini was and the issue was being used as a distraction from the need for a shared Jerusalem and a two-state solution to the Israel-Palestine conflict.
"Once again, justified criticism of the policy of the Israeli government is spuriously equated with antisemitism. I stand on my record in this regard," he concluded.