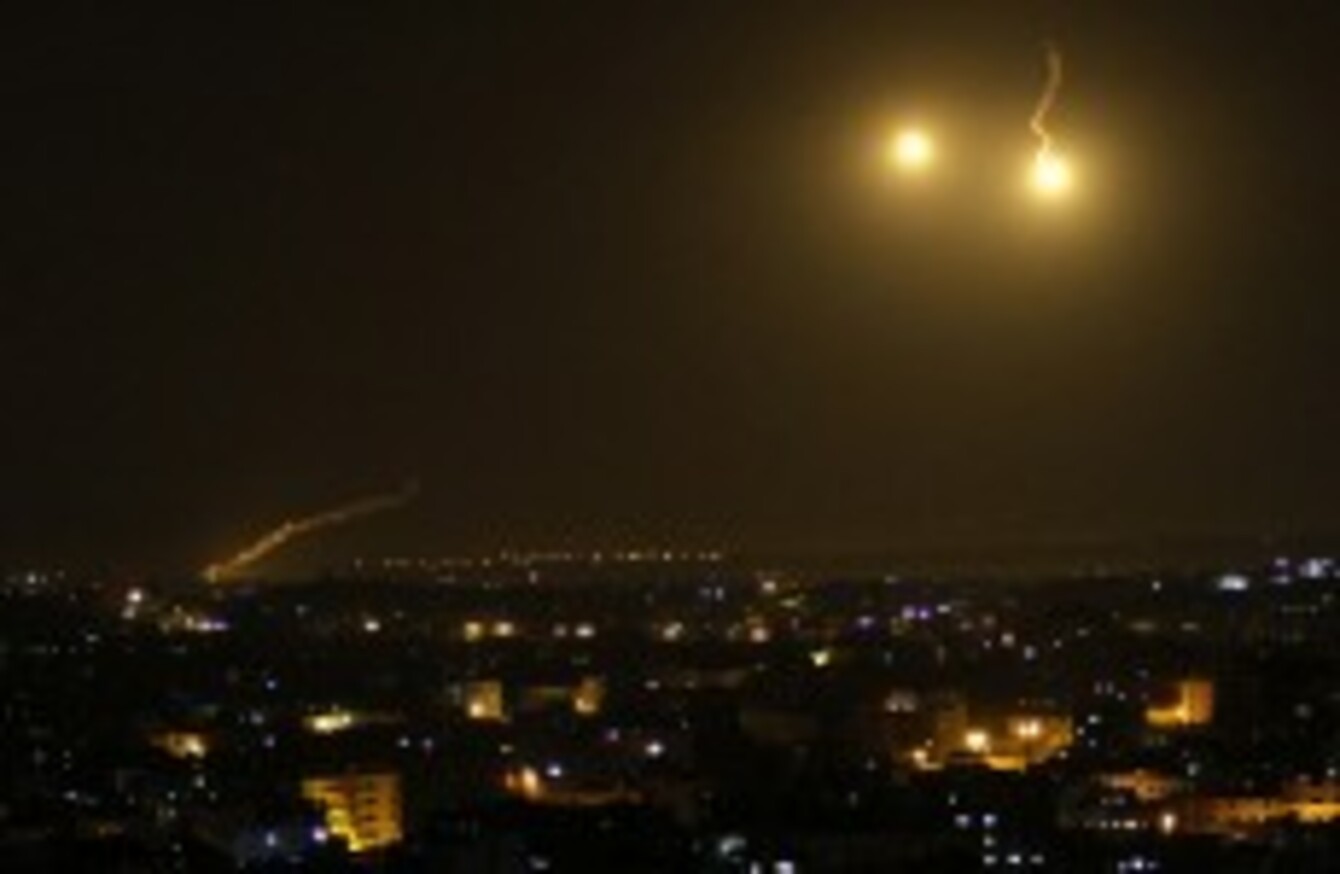 An Israeli illumination round is seen along the Israel and Gaza borders as it lights the sky east of Gaza City
Image: Hatem Moussa/AP/Press Association Images
An Israeli illumination round is seen along the Israel and Gaza borders as it lights the sky east of Gaza City
Image: Hatem Moussa/AP/Press Association Images
GAZA MILITANTS SAID a Cairo-brokered truce in their seven-day war with Israel would be announced later Tuesday, as Israeli Prime Minister Benjamin Netanyahu urged them to choose between "the sword" and peace.
The emerging signs of a deal to end seven days of violence that have claimed the lives of 127 Palestinians came as the Israeli army confirmed its first fatality from a rocket attack while another missile landed harmlessly just south of Jerusalem.
Negotiations
Negotiators said a deal may be announced in Cairo later Tuesday following days of negotiations brokered by an Egyptian government that is keen to make sure the unrest does spill over to its volatile Sinai territory.
"There will be a joint press conference between Hamas and Islamic Jihad and the Egyptian mediators tonight to announce the truce," an Islamic Jihad source told AFP in Gaza City. A Hamas source separately confirmed the announcement.
But Hamas later said in a statement that Israel had still not responded to the Palestinian proposal as of 8pm (6pm GMT). Egypt, its new Islamic government now seen as the Palestinians' main protector, also said the Israeli "aggression" would end within hours.
Egyptian President Mohamed Morsi said:
The farce of the Israeli aggression will end today, Tuesday, and the efforts to reach a ceasefire between the Palestinians and Israelis will produce positive results within a few hours.
Later, a spokesman qualified the president's optimism, saying that Morsi "hopes there will be a settlement soon."
On the ground, the bloodshed showed no signs of abating as the military pressed on with its bombardment of northern Gaza positions from which most of the militants' rockets have been launched, resulting in scenes of panic on Israeli streets.
Another 22 Palestinians were killed today in attacks that also claimed the lives of two cameramen of the Hamas-owned Al-Aqsa TV station. Netanyahu said that it was now up to Hamas, the Islamist movement which rules Gaza, to choose between peace and further bloodshed.
Our hand is outstretched in peace to those of our neighbours who want to make peace with us," Israel's rightwing premier said in a statement. "And the other hand is firmly grasping the sword of David.
A senior Hamas official told AFP in Cairo that a key sticking point was whether Israel would begin easing its six-year-old blockade of Gaza coinciding with the truce or at a later date.
A compromise solution is for there to be agreement on lifting the siege, and that it would be implemented later at a specified time.
The rocket fired at Jerusalem crashed into an olive grove near Jabba village, in an attack claimed by the armed wing of Hamas, the Ezzedine al-Qassam Brigades, the second such attempt to hit Jerusalem in five days.
Nobody was hurt but the sirens halted traffic and prompted people to urgently evacuate to bomb shelters.
But another rocket strike on in the Eshkol regional council killed a soldier, bringing the Israeli death toll since Wednesday to four, after three civilians were killed last Thursday.