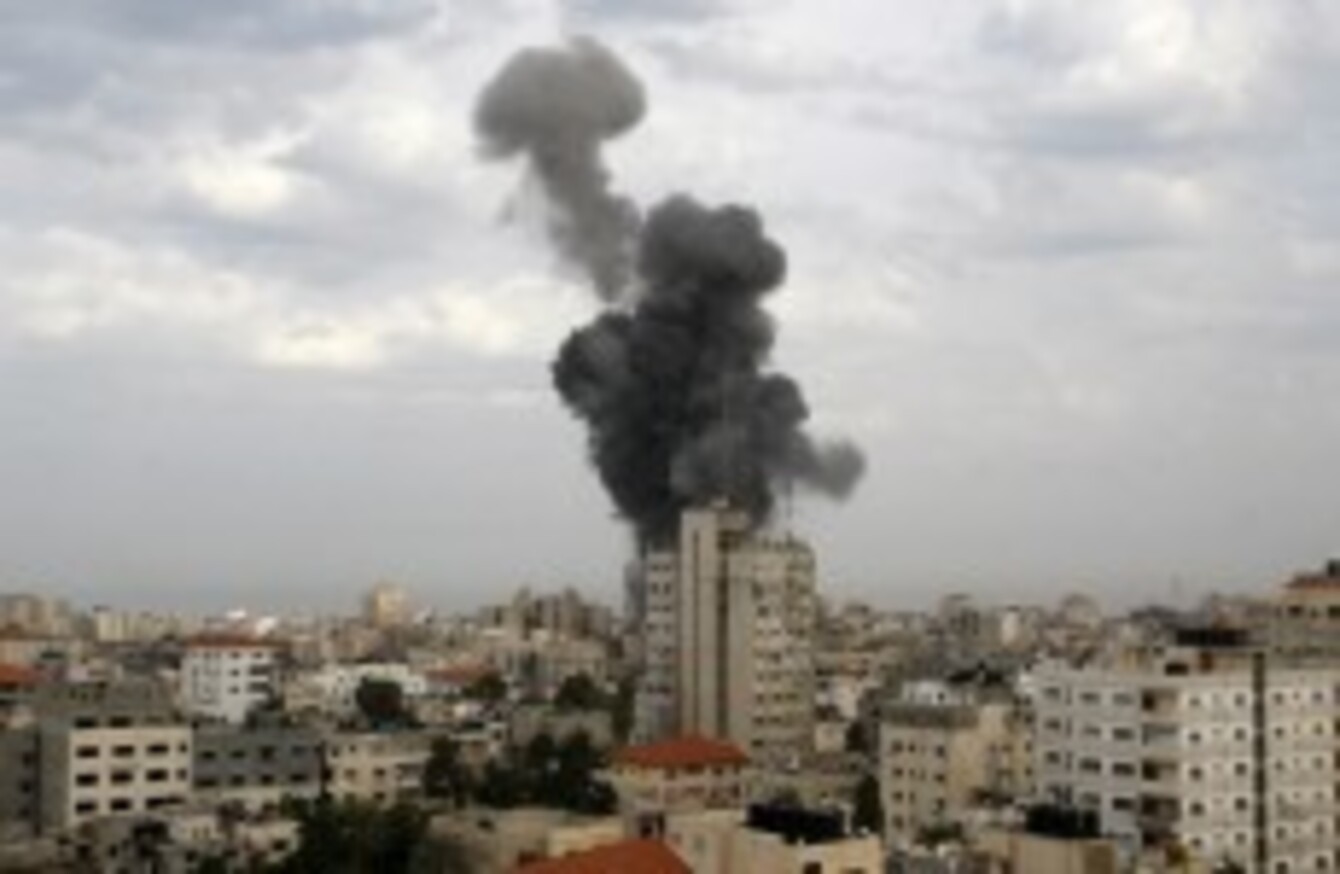 Explosion and smoke rise following an Israeli strike in Gaza City
Image: AP Photo/Hatem Moussa
Explosion and smoke rise following an Israeli strike in Gaza City
Image: AP Photo/Hatem Moussa
ISRAELI STRIKES ON Gaza killed nine Palestinians and destroyed the Hamas government headquarters today as Israel called up thousands more reservists for a possible ground war.
After Palestinian militants fired rockets at the heart of Israel on Friday, around 180 air strikes were carried out overnight, Israeli television reported.
Campaign
Palestinian medics said 39 Gazans have been killed and 345 wounded since Israel launched the aerial campaign on the Palestinian enclave on Wednesday, with at least four militants among the nine people killed in the latest raids.
Since the start of its operation, the Israeli army says militants have fired more than 600 rockets over the border, of which 404 hit and 230 were intercepted by the Iron Dome defence system.
In the same period, three Israelis have been killed and 18 injured, including 10 soldiers, while the army say it has carried out more than 830 air strikes in its operation "Pillar of Defence."
Today, four Israeli soldiers and five civilians were hurt in separate rocket attacks on the south which hit a building and a car, police and the army said.
The military said it had sealed off all main roads around Gaza and declared a closed military zone, in the latest sign it was poised to launch a first ground offensive on the Palestinian territory since December 2008-January 2009.
Overnight, the Israeli air force hit Gaza City, targeting the headquarters of prime minister Ismail Haniya and other government buildings including the interior ministry and the police compound, as well as militant training facilities and "dozens of terror sites," a statement said.
Haniya's Islamist government said four strikes "completely destroyed" its headquarters and that neighbouring houses were damaged. Correspondents at the scene said the building had been flattened and reduced to a pile of rubble but there were no reports of casualties.
Air strikes
Air strikes on Rafah in southern Gaza killed five people and three people died in an Israeli raid on a refugee camp in central Gaza, medics said. Another man died of injuries sustained in a morning strike on Gaza City.
Saturday's violence came as Tunisian Foreign Minister Rafik Abdessalem paid a brief solidarity visit to Gaza, a day after a similar trip by Egyptian Prime Minister Hisham Qandil.
The world must stop Israel's "blatant aggression," Abdessalem told AFP on his arrival in Gaza City, where he visited the ruins of the cabinet building where a day earlier Haniya had received Qandil.
The Tunisian minister called on the Arab League to act to halt the aggression as it gathers for talks in Cairo.
Also in Cairo, Turkey's Prime Minister Recep Tayyip Erdogan arrived for talks with President Mohamed Morsi, who shares Islamist roots with Hamas and has vowed to stand by the people of Gaza.
Both leaders have been asked by the United States to press Hamas to stop firing rockets into Israel.
AFP correspondents in Gaza City reported a heavy bombardment in the city's west, after raids on the Hamas police headquarters in the same area and the government's internal security headquarters in the north.
#Open journalism No news is bad news Support The Journal

Your contributions will help us continue to deliver the stories that are important to you

Support us now
President Barack Obama reiterated US support for Israel's right to defend itself during a telephone call with Israeli Prime Minister Benjamin Netanyahu.
Late on Friday, Israeli ministers approved the call-up of as many as 75,000 reservists several hours after Hamas's military wing said it fired a rocket at Jerusalem, and another crashed into the sea off Tel Aviv.
The two rockets were the farthest Gaza militants have ever fired into Israel.
Neither caused any casualties or damage, but they sowed panic in both of the Jewish state's main population centres, setting off warning sirens and sending people scurrying to shelters.
Caution advised with the following slideshow – contains some strong images
Israel - Palestinians

Israel - Palestinians

Israel - Palestinians

Israel - Palestinians

Israel - Palestinians

Israel - Palestinians

Israel - Palestinians

Israel - Palestinians

Israel - Palestinians

Israel - Palestinians

Israel - Palestinians

Israel - Palestinians

Israel - Palestinians