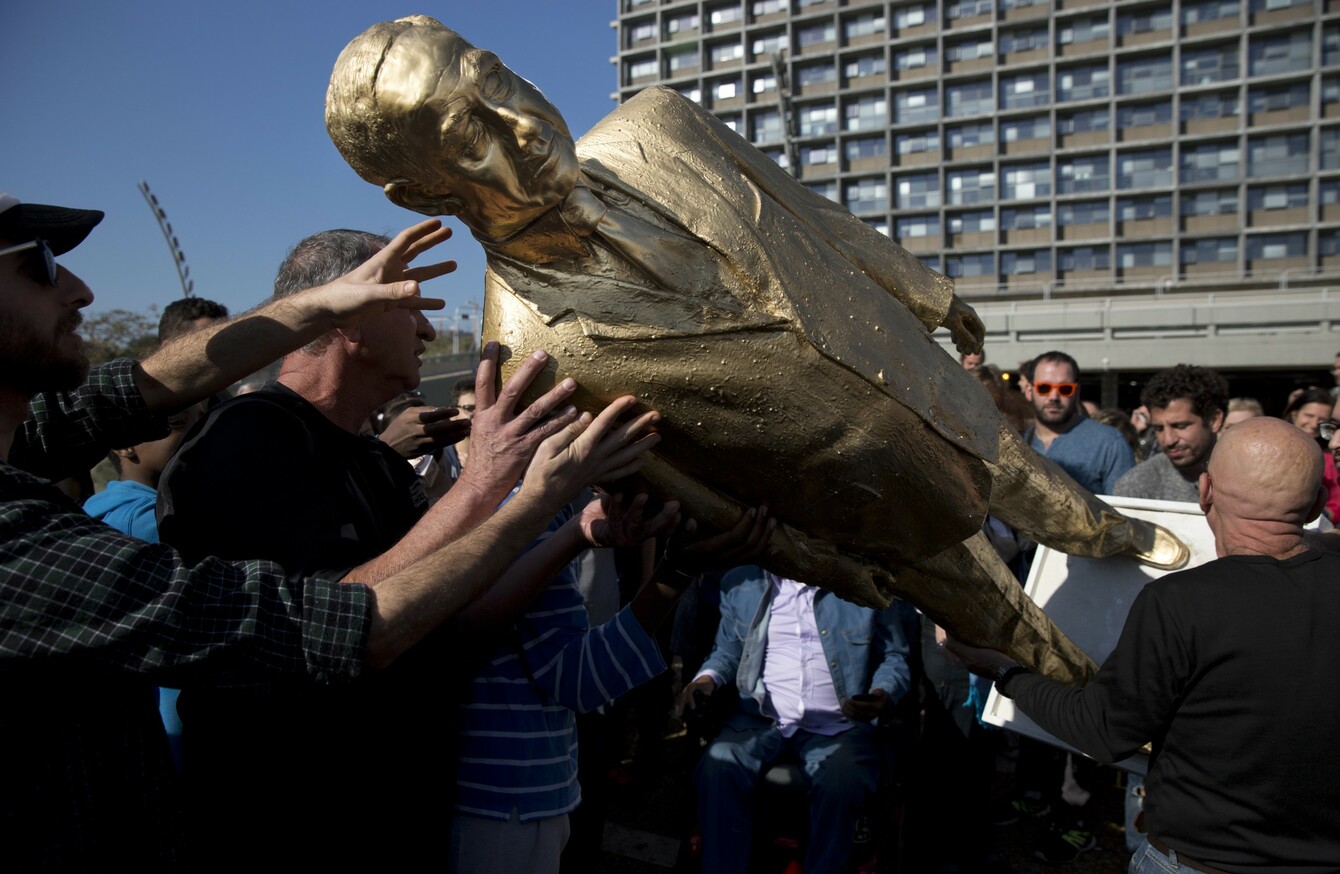 People carry a statue of Israeli prime minister Benjamin Netanyahu.
Image: AP/Press Association Images
People carry a statue of Israeli prime minister Benjamin Netanyahu.
Image: AP/Press Association Images
A GOLDEN STATUE of Israeli prime minister Benjamin Netanyahu that stood over four metres high was raised secretly in a Tel Aviv square in a free speech protest yesterday – and has been promptly pulled down
It was put up illegally early yesterday morning in the centre of the Israeli commercial capital in a square named after former premier Yitzhak Rabin, who was assassinated in 1995 by a Jewish extremist.
Israeli artist Itay Zalait claimed responsibility, saying he wanted to spark a debate on freedom of speech by replicating the kind of statue erected by dictatorial regimes.
Passers-by gathered out of curiosity yesterday, with some taking selfies in front of the 15-foot depiction of the controversial right-wing leader, erected as a commentary on the idolatry he inspires among some conservative Israelis.
"I did it to check one thing: can I do it?" Zalait told AFP.
Will this work be allowed and will there be sanctions?
The response was immediate. Culture Minister Miri Regev hit back on Facebook, denouncing the statue as an "expression of hatred" towards Netanyahu, who has been nicknamed King Bibi for his taste for fine dining and authoritarian tendencies.
"How an artist can be disconnected from reality!" she wrote.
Referring to the biblical episode in which the Israelites are punished by God for idol worshipping, Regev added:
Israel is a democracy, one of the freest countries… the hatred of Netanyahu is their only true Golden Calf.
Saddam
Within hours the Netanyahu statue had been toppled, apparently by a member of the public.
On social media, Israelis joked that it was reminiscent of the iconic Saddam Hussein statue pulled down after the US-led invasion of Iraq in 2003.
Left-leaning artists have accused Netanyahu's government of seeking to muzzle them, particularly with Regev's promotion of a bill to cut subsidies to cultural institutions deemed not "loyal" to the state.
Netanyahu also leads what is seen as the most right-wing government in Israeli history, and critics accuse him of consolidating power.
In addition to being premier, he also holds the economy, foreign affairs, communication and regional affairs portfolios.
Hammer
Zalait said he wanted to open a debate around Israeli attitudes to Netanyahu by placing the statue at the spot where Rabin, who won the Nobel prize for his peace efforts with the Palestinians, was killed.
He said:
The reaction of the Israelis interests me, from those who say they would like to see more statues like that on the squares of the country to those who want to demolish it with a hammer.
In the United States in August, a group of artists installed giant and unflattering statues in several American cities of Donald Trump, with the then presidential candidate entirely naked.
- © AFP, 2016 with reporting from Darragh Peter Murphy.