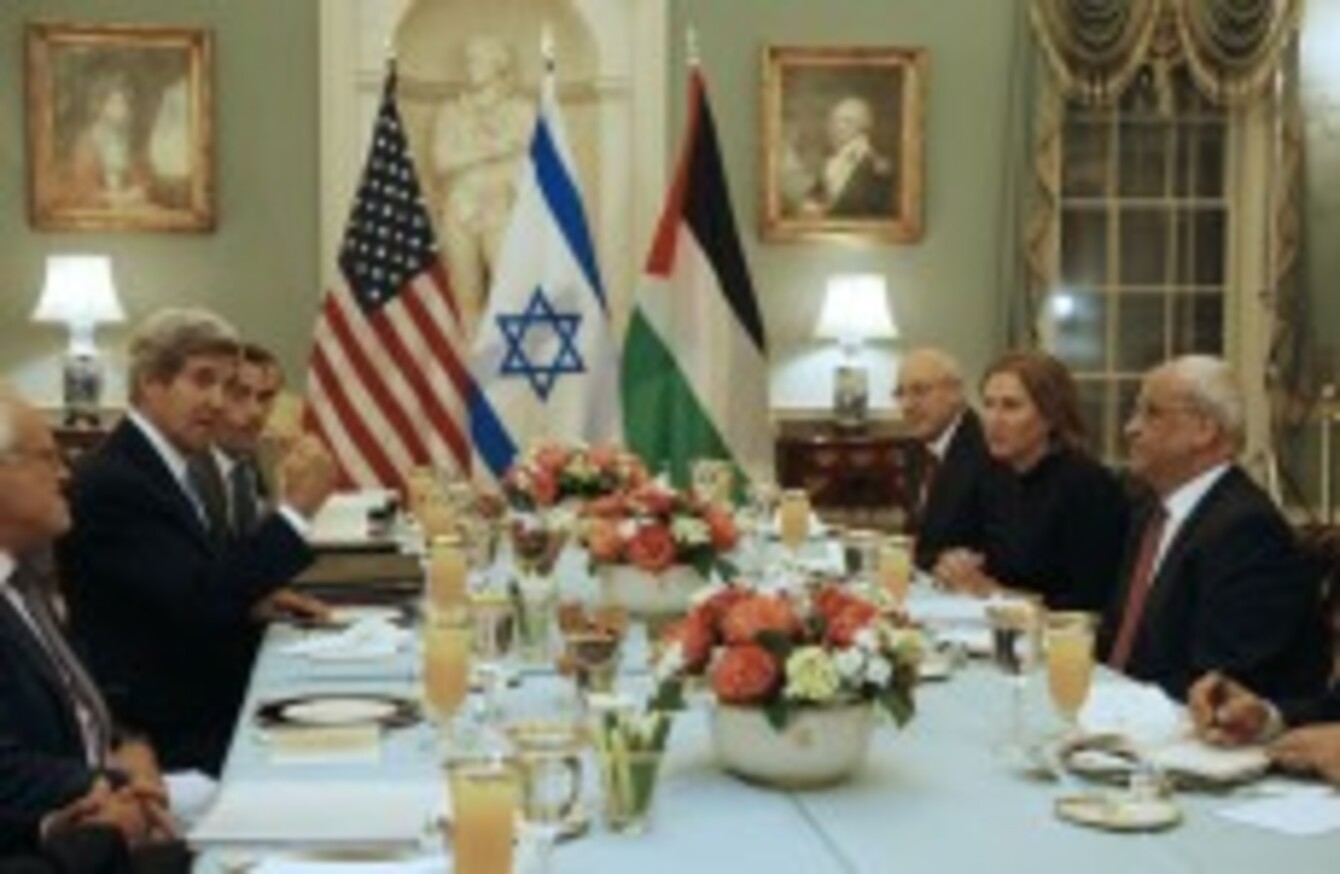 US diplomat John Kerry (left) with Palestinian and Israeli negotiators at dinner last night
Image: AP Photo/Charles Dharapak
US diplomat John Kerry (left) with Palestinian and Israeli negotiators at dinner last night
Image: AP Photo/Charles Dharapak
ISRAEL'S CHIEF NEGOTIATOR, Justice Minister Tzipi Livni, hailed a "positive" mood at resumed peace talks with the Palestinians in Washington, the first in three years.
"The atmosphere was positive," she told public radio early on Tuesday Israel-time after a dinner with her Palestinian counterpart Saeb Erakat hosted by US Secretary of State John Kerry.
"All issues are on the table, but we decided that what was said will stay in the negotiating room and will not go outside," she said.
She said the talks were resuming "not just in response to US pressure but because it's in the interest of both parties."
However, Livni recognised that disagreements within Israel's right-leaning governing coalition could pose an obstacle to any deal.
"There are ministers who don't want an agreement," she acknowledged.
Hardline ministers have openly opposed the creation of a Palestinian state and have pledged to continue building Jewish settlements on occupied Palestinian land.
Settlement building was the key issue that led to the breakdown of the last round of talks in September 2010 just weeks after they started.
Deputy interior minister Zeev Elkin, a hawkish member of Prime Minister Benjamin Netanyahu's right-wing Likud party, told public radio "any change (following a peace agreement) is not necessarily positive for Israel's security, and could make it worse."
"The Palestinians aren't ready to make the smallest concession," he charged.