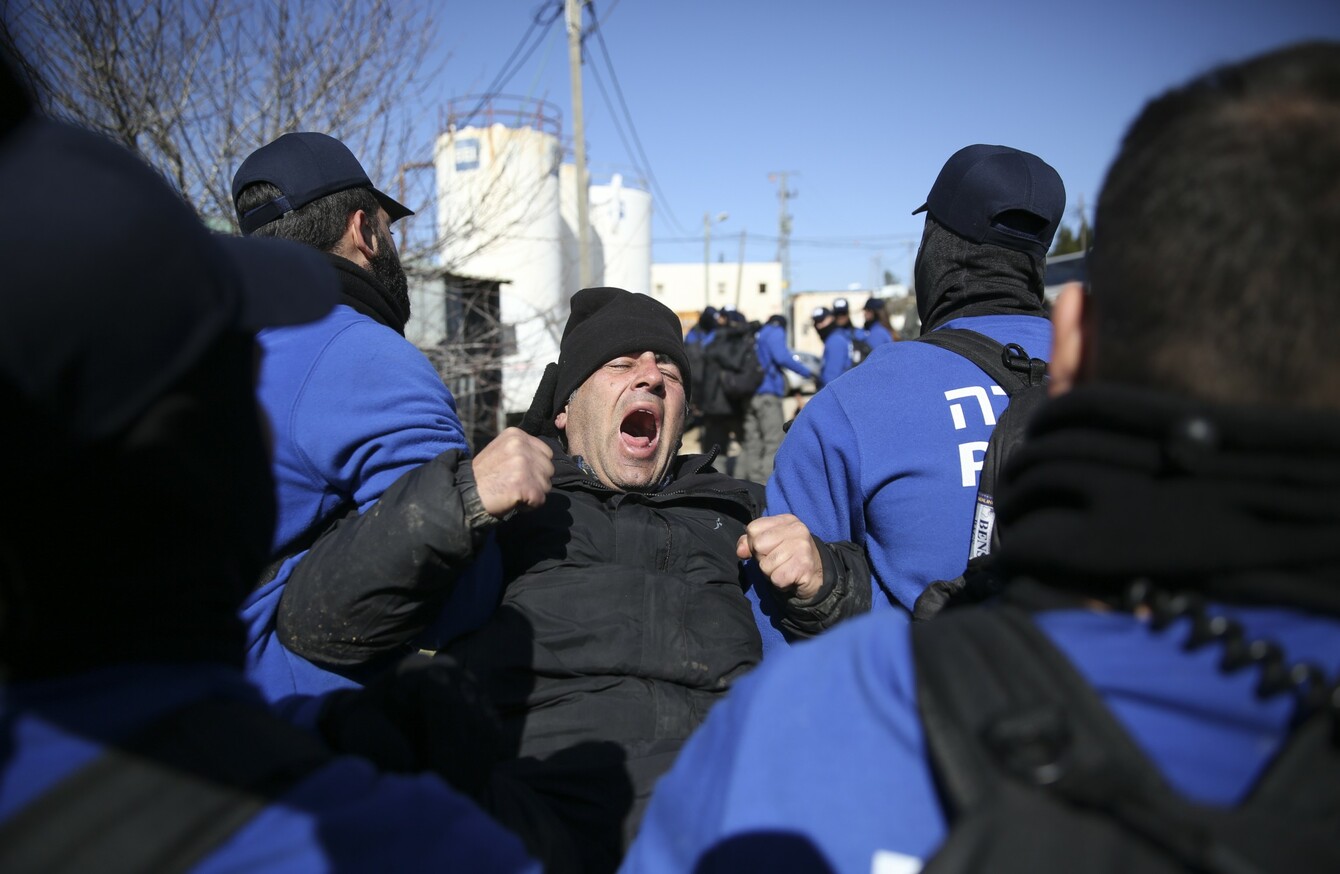 A settler being led away by police at a protest this morning.
Image: Oded Balilty AP/Press Association Images
A settler being led away by police at a protest this morning.
Image: Oded Balilty AP/Press Association Images
THE ISRAELI GOVERNMENT has unveiled plans for 3,000 new homes in the West Bank, as Prime Minister Benjamin Netanyahu welcomes the softer stance adopted by President Donald Trump to the region's political turmoil.
When announcing the latest round of new settlements, Defence Minister Avigdor Lieberman said Israel was entering a "new era" in which settlement building would return to normal.
All Israeli settlements are illegal under international law, with much of the international community seeing them as a major obstacle to peace as they are built on land the Palestinians see as part of their future state.
The announcements have deeply concerned those seeking to salvage a two-state solution to the Israeli-Palestinian conflict.
EU foreign policy chief Federica Mogherini warned yesterday that the quickening expansion of Jewish settlements risked making a two-state solution to the Middle East conflict impossible.
In a telling break with the Obama administration, Trump's White House has not condemned Israel's settlement expansion.
Israel has now approved more than 6,000 new homes for settlers since Trump took office.
The news came as Israeli police moved to follow a court order to remove settlers from the Amona West Bank outpost. This is despite attempts by the government to overturn the court ruling for the last few months.
Yesterday, police managed to remove all but one of the 42 families living in the Amona outpost near Ramallah in line with a High Court order that found that it was built illegally on private Palestinian land.
Today, large numbers of police moved in to evict the last remaining family, carrying them and supporters out of a house one by one with the mother screaming loudly as she was dragged away, an AFP correspondent reported.
Police had tried to negotiate the voluntary departure of dozens of "anarchists" who had barricaded themselves inside a nearby synagogue, but entered after talks broke down.
Hundreds of far-right activists slipped past army roadblocks early yesterday in a show of support for the Amona residents.
Police said they removed 800 people, making 13 arrests.
They said 24 officers sustained minor injuries in scuffles with protesters, some from rocks and glass bottles thrown at them, others with chemical burns from cleaning fluid launched by the activists.
Around 100 police were positioned today outside the synagogue wearing protective glasses with the first line of officers carrying shields.
Eliana Passentin, a spokeswoman for the Benjamin Regional Council which covers settlements, told AFP that police were being "very violent", and "very different from yesterday."
"We condemn violence on both sides but people here have a right for peaceful civil disobedience," she said.
Police said they intend to finish the eviction by the end of the day, after which the defence ministry would begin to remove residents' possessions before bulldozing the structures.