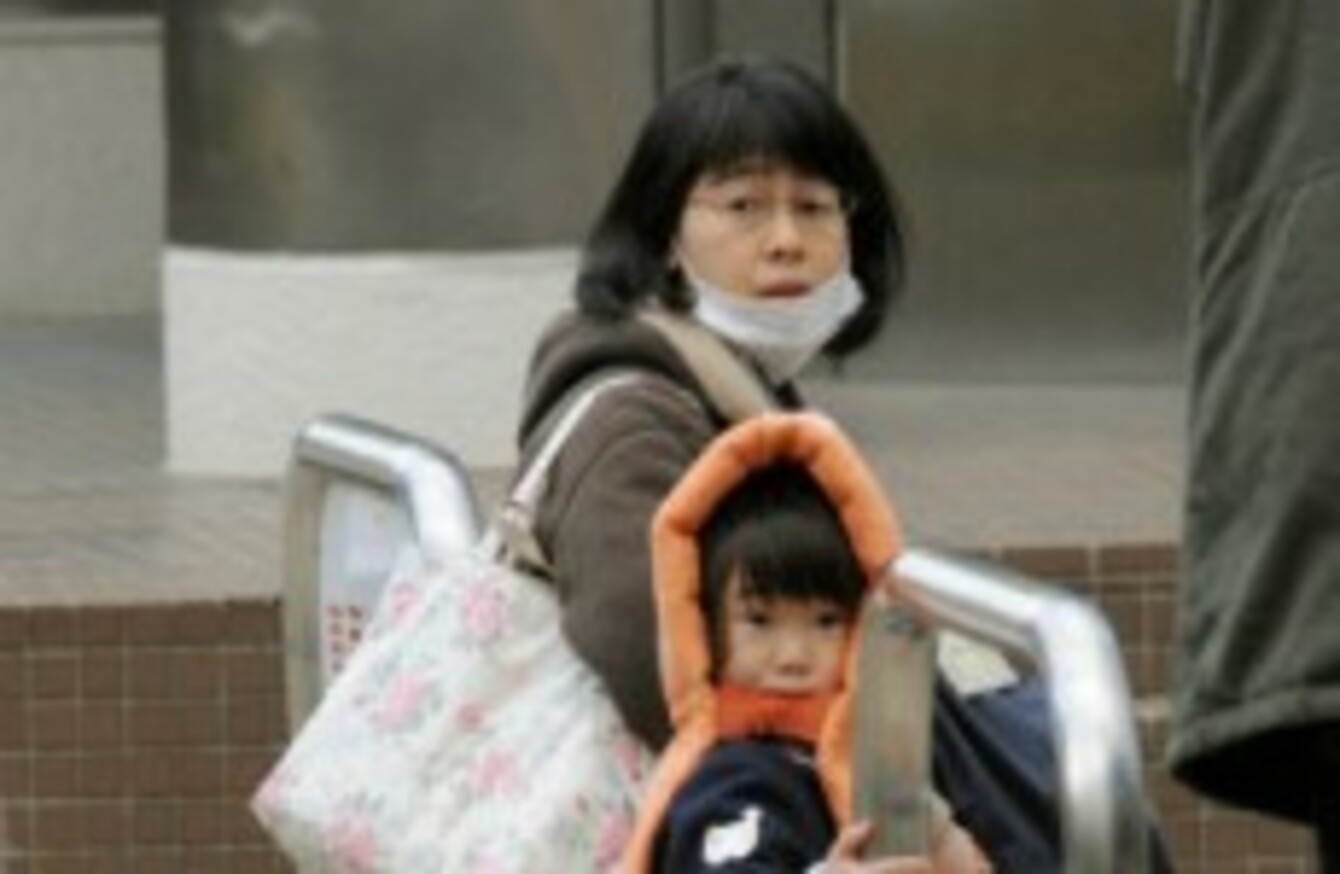 A mother and child crouch on a street in Tokyo while an earthquake hits Friday, March 11, 2011.
Image: Press Association Images
A mother and child crouch on a street in Tokyo while an earthquake hits Friday, March 11, 2011.
Image: Press Association Images
AT LEAST ONE person has been confirmed dead after a 8.9 earthquake hit Japan earlier today, after a building collapsed in Takahagi, in Ibaraki prefecture.
The Los Angeles Times reports that eyewitness Anthony Weiss, a 29-year-old from Florida studying Japanese in Tokyo, told a friend of his ordeal by email: "The train was rocking sharply back and forth," said Weiss, who was on a train when the quake hit. "People covered their heads with their bags as dust and small debris fell. Something sprung a leak, as there was a lot of water on the platform."
Another eyewitness, David Pierson, a 32-year-old US army helicopter pilot who was at Tokyo's Narita Airport, told CNN: "It felt like a jet had come too close to the window and everything started shaking and rocking, and there was a huge rumbling noise. All the signs started swaying and fixtures started popping out. When I saw the panic on people's faces, I made a move for the exit."
In downtown Tokyo, large buildings shook violently and workers poured into the street for safety. TV footage showed a large building on fire and bellowing smoke in the Odaiba district of Tokyo.
In central Tokyo, trains were stopped and passengers walked along the tracks to platforms.
The ceiling in Kudan Kaikan, a large hall in Tokyo, collapsed, injuring an unknown number of people, NHK said. Footage on NHK from their Sendai office showed employees stumbling around and books and papers crashing from desks. It also showed a glass shelter at a bus stop in Tokyo completely smashed by the quake and a weeping woman nearby being comforted by another woman.
Catherine Wallace, an eyewitness in the north of Japan told RTÉ's Morning Ireland: "The whole building started shaking. We all dived under desks and the building continued to shake quite alarmingly. There were sirens and helicopters. The public warning system is going."
The Department of Foreign Affairs says it is "closely following the situation" and is keen to establish contact with Irish citizens in the region to confirm their safety. It has issued an appeal for Irish citizens to get in touch by email, phone or fax.
Toyko embassy: tokyoembassy@dfa.ie
Embassy of Ireland, Japan: http://www.embassyofireland.jp/en/#
Consular emergency phone: +353 (0)1 408 2000
Four million homes and businesses are now without power.
Additional reporting by Aoife Barry and AP