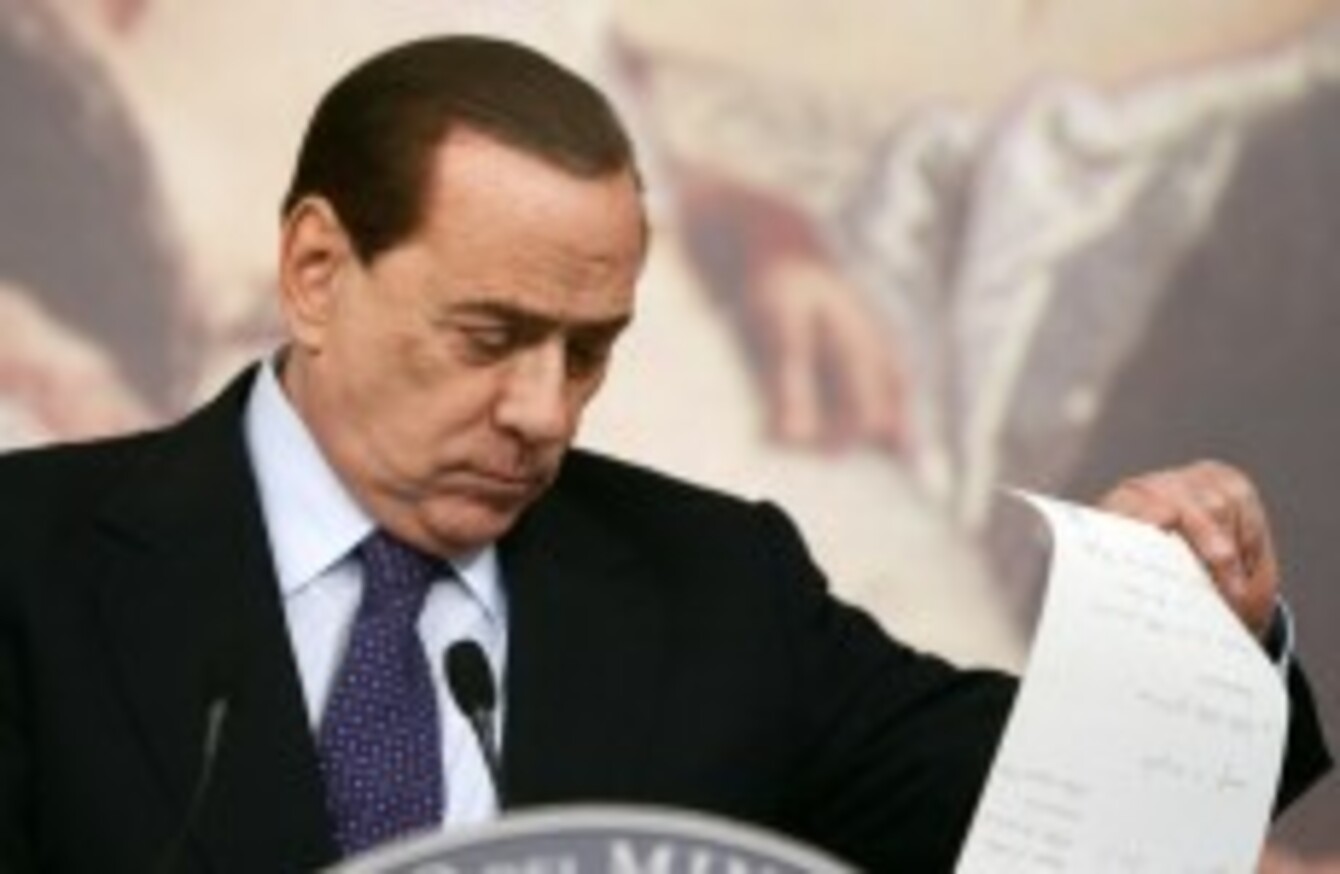 Italian Premier Silvio Berluconi during a press conference at the end of a Cabinet Ministers meeting on the approval of the new austerity measures, in Rome
Image: AP Photo/Riccardo De Luca
Italian Premier Silvio Berluconi during a press conference at the end of a Cabinet Ministers meeting on the approval of the new austerity measures, in Rome
Image: AP Photo/Riccardo De Luca
ITALY'S GOVERNMENT HAS  approved €45.5 billion in emergency austerity measures over two years to balance the budget by 2013 in response to demands by the European Central Bank.
The Cabinet approved the package of cuts and new taxes despite fierce resistance from local government officials, who denounced the measures as socially unjust and as damaging to economic growth.
"It wasn't easy. We're personally pained to have taken these measures, but we are satisfied", Premier Silvio Berlusconi told a news conference after feverish talks with the opposition, regional governors and big city mayors.
The measures were whipped together in response to the ECB, which demanded a balanced budget a year earlier than anticipated as well as structural reforms to promote growth.
The Cabinet approved €20 billion in cuts for 2012 and €25.5 billion for 2013.
The measures include an extraordinary "solidarity" tax for high-earners. Anyone with an income over €90,000 a year will be assessed an additional 5 percent tax in each of the next two years. The rate will be 10 percent for incomes over €150,000.
Berlusconi insisted that the measures were "fair" and said:
Our hearts are bleeding. This government had bragged that it never put its hands in the pockets of Italians but the world situation changed.
The solidarity tax was reminiscent of another by former Premier Giulio Amato, who in July 1992 siphoned money out of every Italian bank account at a rate of 6 lire per 1,000 lire as the old Italian currency faced collapse.
Just months later, Italy abandoned the European currency system and allowed the lira's value to be dictated by market forces during a period of intense currency speculation.
Berlusconi's "solidarity" tax could encourage greater tax evasion, as those who don't draw a declared salary from an employer would be tempted to hide income through cash payments to avoid the levy.
Berlusconi held urgent meetings with key parties to pass the cuts before a long holiday weekend, when most of the country shuts down.
But the hasty news conference by regional, provincial and city authorities held after the meeting with Berlusconi and his finance minister, Giulio Tremonti, did not bode well for broad acceptance for new sacrifices.
The proposed cuts to such critical services as local transportation and welfare would have "a depressive … effect," hurting most the underclasses and inhibiting the productive north of contributing to national GDP, Roberto Formigoni, the governor of the northern Lombardy state, told reporters.
Rome passed a €70 billion austerity package last month, but the government has said the financial situation has deteriorated significantly since then and is seeking new measures.
Under intense pressure from the European Central Bank and eurozone political leaders, the government agreed to bring forward its goal of balancing the budget to 2013 instead of 2014 as originally planned, and to come up with structural reforms that stimulate investment and growth.
In exchange, the ECB has been buying Italian bonds on the secondary market to hold down borrowing costs threatening to topple Italy's notoriously high public debt.
Local administrations were being asked to cut €6 billion in spending next year, Formigoni said. That's from total additional proposed cuts of euro20 billion in 2012. Austerity measures in 2103 would total euro25 billion.
Formigoni and other officials want to draft alternatives to the government cuts. Formigoni said that Lombardy, one of Italy's most economically productive regions, would see its GDP suffer — which in turn would hurt national growth.
"We are facing cuts, not to the political class, not to the administration, but to social services," said Rome Mayor Gianni Alemanno.
Both Formigoni and Alemanno are conservatives and allies of Berlusconi.
The government is seeking to stimulate Italy's stagnant economy — which is expected to grow only by about 1 percent this year. And while Italy's debt is among the highest in the eurozone — at nearly 120 percent of GDP — poor growth is a key factor hindering Italy's ability to improve its public finances.
Italy's Central Bank on Friday said public debt topped €1.9 trillion for the first time in June.
Responding to increasing market nervousness, last week members of key lawmaking committees were called back from its summer recess. And the full houses of Parliament might reopen in August, ahead of schedule, because although government decrees become effectively immediately, they still need to be converted to law by Parliament within 60 days.
Tremonti's presentation to lawmakers Thursday failed to convince some of his own allies, a sign of possible rifts within the coalition. The opposition accused Tremonti of being too vague, and insists Berlusconi must resign.
Italian borrowing costs remained way below the levels they struck last week before the European Central Bank intervened in the markets to get them down. The yield on the 10-year bond is below 5 percent compared with over 6 percent last week. The drop now makes it easy for Italy to keep up on its debt payments.
-AP