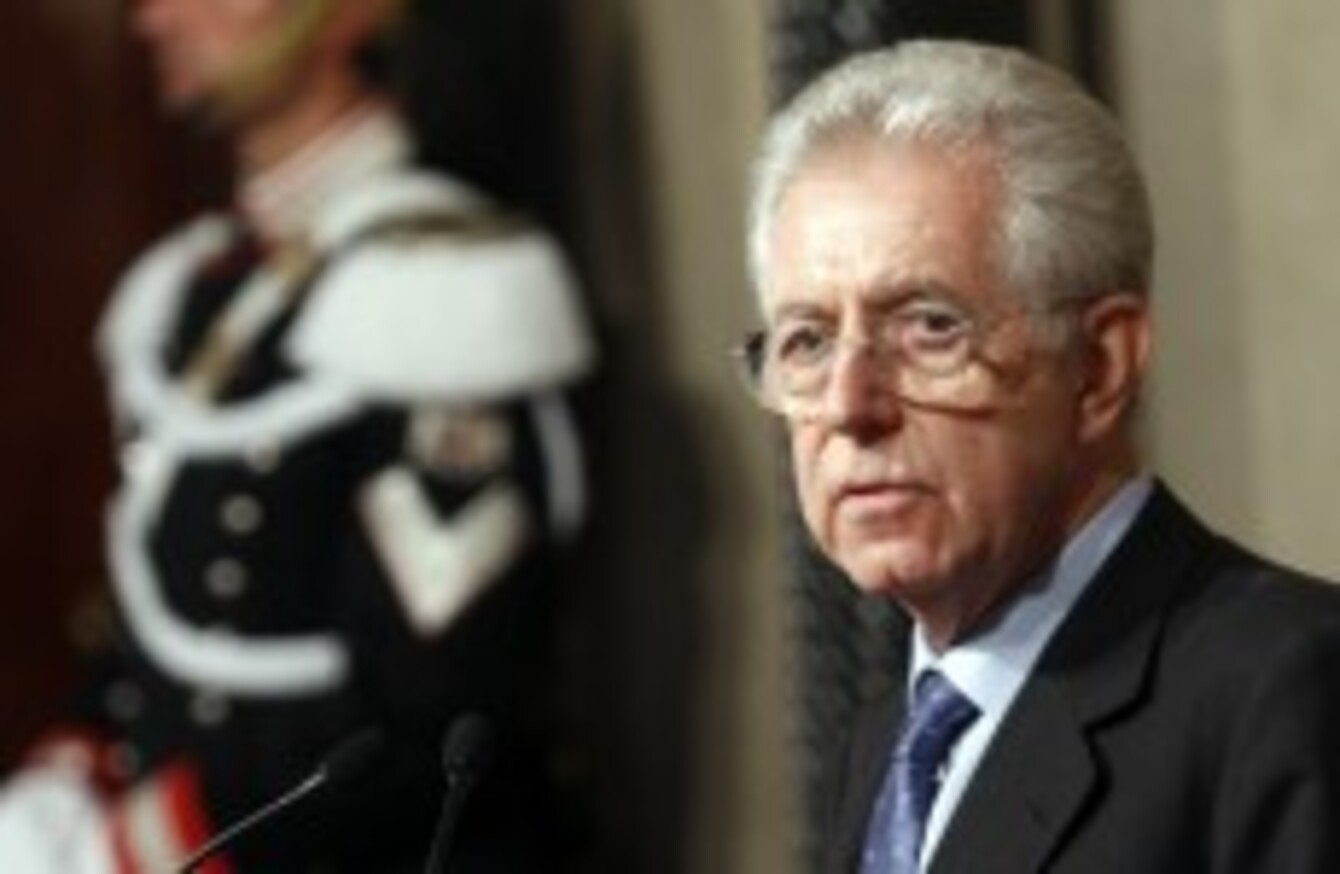 Image: Pier Paolo Cito/AP
Image: Pier Paolo Cito/AP
Updated, 10.33
THE ITALIAN GOVERNMENT has raised €3bn in funding from the world's money markets this morning – paying a high premium for the loans, but a lower one than it may have faced.
This morning the Italian government successfully raised €3bn in a new issue of 5-year bonds – but had to pay 6.3 per cent interest for the privilege.
That is a particularly high price for five-year borrowing – but is significantly lower than the price it would have paid only last Wednesday, when five-year bonds traded at 7.71 per cent.
This morning the cost of 10-year bonds has also fallen for the government, slipping from 6.45 per cent to 6.4 per cent.
The bond prices are the markets' first reaction to the news that Mario Monti, an independent economist and former European commissioner, is to be the next prime minister, succeeding Silvio Berlusconi.
Investors demand a higher interest rate when they are fearful of their money not being returned in full – with lower rates meaning the inverse.
The 10-year rate is still worryingly high, however – with the high costs underlined by the cost of borrowing for Italy when compared with Germany.
This morning, Germany would be asked to pay 1.867 per cent for a 10-year bond – meaning the so-called 'spread' between Italian and German bonds remains close to an all-time record, at just above 4.5 per cent.
Similarly, Germany would this morning pay only 0.979 per cent interest for a five-year bond – underlining how the markets now view Italy as a high-risk investment by comparison to the European benchmark.
The stock market in Milan responded well to Monti's designation as the PM-in-waiting, with the FTSE MIB index up by 2.1 per cent in the first 15 minutes of trading, before peeling back much of those gains later in the morning.
Asian stock markets were all in positive territory, seemingly encouraged by the appointment of new administrations in Greece and Italy, who are tasked solely with imposing austerity measures.
Markets elsewhere in Europe were down, however, with the FTSE 100, CAC 40 and DAX indices all showing modest losses. In Dublin, the ISEQ index of Irish shares was up by 0.6 per cent at 10:30am.
The Euro has also risen back to $1.372 against the dollar, having been as low as $1.35 last week.