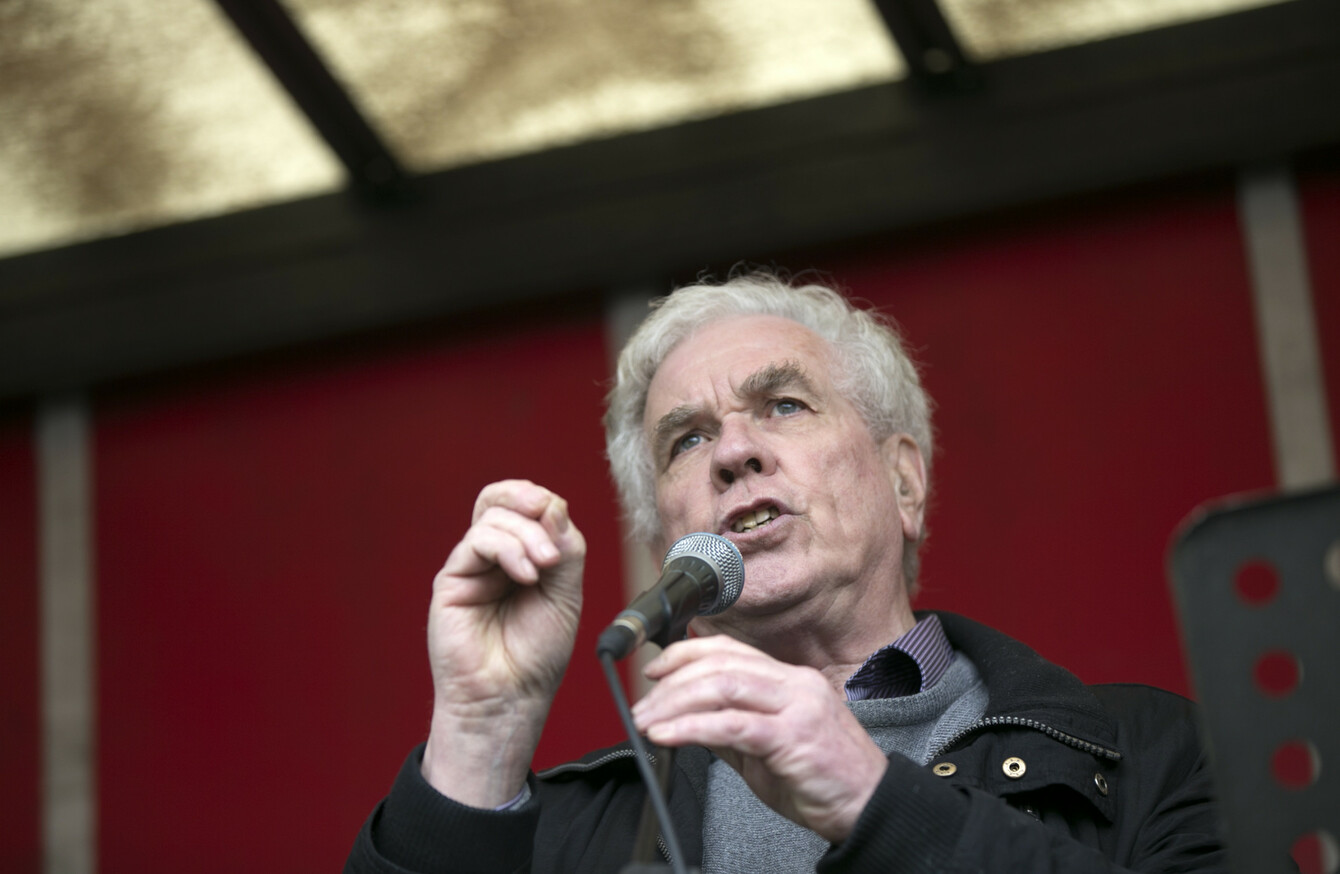 Fr Peter McVerry addressing a protest for the building of more public housing.
Fr Peter McVerry addressing a protest for the building of more public housing.
FATHER PETER MCVERRY has said that the possession of drugs for personal use should be decriminalised and should be done "as fast as possible".
Speaking at a press conference today for the CityWide Drug Crisis Campaign, the veteran homelessness campaigner said that distinction between illegal drugs and legal drugs is "a totally arbitrary distinction".
"The argument is that we should treat all drugs the same way and abolish the distinction between illegal and legal drugs.
"When someone has an alcohol problem we don't ring the police, we try to get them into treatment. And it's the exact same thing with drugs such as heroin or crack cocaine.
It should be treated as a health problem and not a criminal problem.
The CityWide press conference urged members of the public to show their support for decriminalisation by making a submission to the Department of Health.
The Department's public consultation period has been extended by two week until 13 July. Over 14,000 submissions have been made to date.
The Department's Working Group established last July under the national drug strategy Reducing Harm, Supporting Recovery has been asked to make recommendations to Ministers for Health and Justice and Equality by the end of this summer.
Anna Quigley, the CityWide Drug Crisis Campaign's coordinator, said that in 2017 there were 12,211 recorded offences for possession of drugs for personal use in Ireland.
"This figure represents 72% of all drug offences for that year.
"Significant State resources are tied up in dealing with such offences including policing time, legal fees and court time."
Quigley said that a change in the law would be a step towards reducing the criminalisation of and stigmatisation of disadvantaged communities.
Senator Lynn Ruane echoed this sentiment as she told the press conference that looking back at her time as a drug user, she could have been prosecuted at any stage and not be where she is today.
Ruane, who was elected to the Seanad in 2016 after serving as the president of the Trinity College Dublin Students Union, previously worked as an addiction counsellor and has spoken publicly about her past drug use on a number of occasions.
"When I moved into drugs services I realised that the prosecution of drug use was actually the criminalisation of marginalisation.
We all talk about how drugs are used across the board but our prison system is not full of people from across the spectrum in society and that's because that is a class issue.
Ruane added that drug dealers can use people in addiction to ferry drugs up and down the streets, which she says is unfair.
"People in addiction have been used by drug dealers for years so this will not create a new thing but the substance will still be illegal, it's the prosecution afterwards that won't exist."
Ruane insisted that decriminalisation was not taking a soft approach to drug laws.
No vulnerable person should be held up as a moral example.
We do not punish people to teach other people a message. People in addiction should not have their lives used as an example to keep people off drugs you teach people through education and youth services.
Portugal 
Portugal decriminalised the use of illegal drugs in 2001, a move which experts have said has led to a "spectacular" reduction in the number of infections among intravenous users and a significant drop in drug-related crimes.
Under the Portuguese system, possession of drugs for personal use is decriminalised only for quantities that would be considered use for 10 days. Possession of more than this stated amount is still considered a crime.