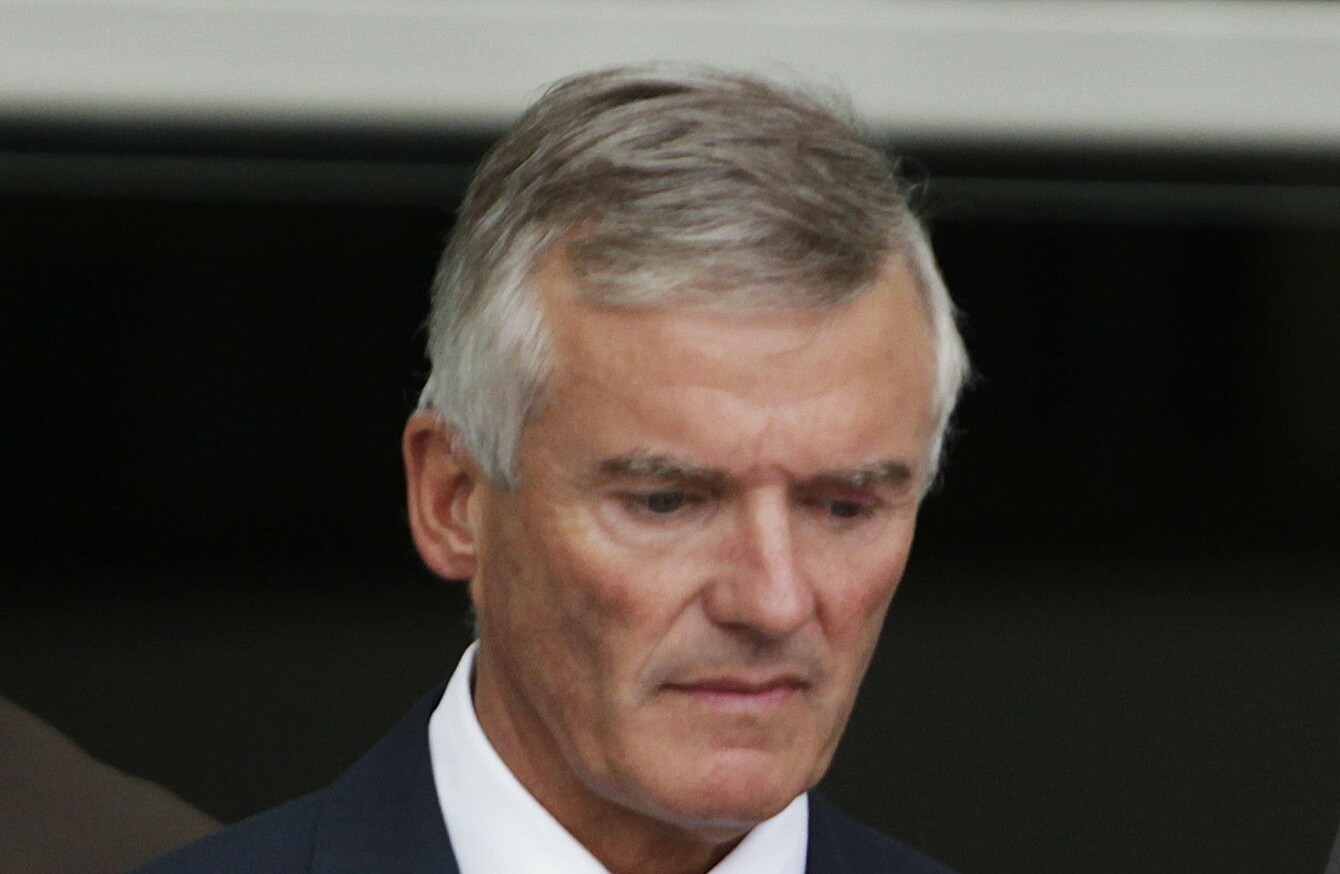 Image: PA Archive/Press Association Images
Image: PA Archive/Press Association Images
A JUDGE HAS ordered the arrest of former politician Ivor Callely who failed to turn up to court to face an action to have him jailed for non-payment of a debt.
The ex-Fianna Fail politician and Minister of State was jailed for five months in 2014 for using false invoices to claim expenses €4,207.45 at Leinster House between November 2007 and December 2009 while he was a member of the Seanad.
In an unrelated case, Callely (57) of St Lawrence's Road, Clontarf, was supposed to appear before Judge Michael Coghlan at Dublin District Court on Tuesday.
However, he did not show up resulting in a bench warrant being issued for his arrest.
This set of proceedings results from his failure to comply with terms of a 2013 district court judgement compelling him to pay a €1,755 debt to Galway based accountants Gallagher & Company who have asked the judge to issue a committal order.
Solicitor Mark Newman told the court today that Callely had not complied with another order made last month which required him to provide documentation outlining his income and expenditure.
Callely was not present when the case was reached and it was put to "second calling".
'Simply issuing a warrant for his arrest'
After dealing with other matters, his case was called again but Judge Michael Coghlan was told that Callely was still not present.
"I had required documentation to be in court today, I had indicated there would be certain consequences if he failed to provide that documentation. Insofar as he is not here, I am simply issuing a warrant for his arrest," Judge Coghlan said.
Last month, Callely, who claims he has needs a €2,500 a month "for a reasonable living", had told the court he had done his best to contact the creditor but Judge Michael Coghlan had told him he was in contempt of court orders.
During that hearing, on 19 April, Judge Coghlan had held off proceeding with a committal order.
However, threatening to jail him, the judge had said he was not impressed with his evidence and he wanted proof of Callely's income and expenditure.
He had also given the former TD and senator a "formal warning" that he would issue the committal order if he did not provide the court and the creditor with adequate information in advance of today's hearing.
Debt piles
The court heard that €1,755 was owed by him to the accountancy firm. There was also a successful application to increase the amount outstanding by another €150, a result of expenses from hiring a private investigator to establish the whereabouts of Callely who also spends time in Northern Ireland and also has an address at Howth Road, Killester, Dublin 3.
The court had also been told he had not notified lawyers for the accountancy firm of a change of address.
The court heard he did not keep in touch with accountants Gallagher & Company after the original judgement was given in the district court in June 2013. The ruling included an instalment order stating Callely had to pay €100 a month to clear his debt.
Last month, the former politician provided the court with a statement of his means which he said had been vouched by an assets management agency. However lawyers for Gallagher & Company said they had not been furnished with Callely's income and expenditure documents.
In evidence he had said that he has an income of €7,683 a month. He pays €4,800 a month on a lease for a commercial property in Dublin which he lets out but he explained it was difficult to find tenants able to afford the rent.
At present a hardware owner is paying him €5,200 a month to use the premises.
Over €16 million owed
Judge Coghlan has said Callely's vouched statement of means did not stand up to scrutiny and that the court needed to see the lease agreement.
Explaining why he has not paid the debt Callely said that his lawyers were also looking for a payment of legal fees arising out of his criminal charges and other proceedings which he was not in a position to pay.
The court heard he owes approximately €250,000 to the legal firm; he also said he owes €5 million to AIB and €11 million to another creditor.
It was put to him that in the three years since the district court judgement was made he never picked up the phone to contact Gallagher & Company and they were forced to make the court application.
"I try to be reasonable with everyone," Mr Callely had said. He had claimed he left numerous telephone messages but the court heard that the solicitors for the accountancy firm only received one message.
Judge Coghlan noted from his statement of means that Callely has €2,500 in living expenses. The former politician had said it was €800 a week, which he claimed was an amount set out by an insolvency advisor for "reasonable living".
Judge Coghlan had said that he was not satisfied with the documentation furnished by the ex-politician and told him that he was not interested in third party information which he  described as estimates. He said he was interested in forensic evidence.
He has told him that an installment order is in place and he has failed to make any repayments and this was nothing short of a contempt of at least two court orders, the judgement and the installment order.
As he adjourned the case on 19 April, he had said he was giving him a month to produce full explanations for "every penny of his income". The judge warned he was giving him a formal warning that he will require a "full root and branch" vouched statement of means setting out his income and a schedule of his expenditure.
Comments are disabled as legal proceedings are ongoing.